Exclusive Sneak Peek: Eye Opening Look Inside New Book on the Renowned...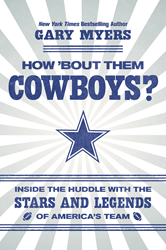 Welcome to Jerry World and an all-access pass to the most valuable sports franchise on the planet, the Dallas Cowboys. Many books have been written about the Cowboys, but there's never been an account like this one.
HOW 'BOUT THEM COWBOYS? INSIDE THE HUDDLE WITH THE STARS AND LEGENDS OF AMERICA'S TEAM (Grand Central Publishing | October 9, 2018) by respected NFL reporter and NY Times bestselling author Gary Myers, tells the story of the NFL's most successful franchise, with special access to its outspoken owner, Jerry Jones, his sons Stephen and Jerry Jr., daughter Charlotte, and dozens of interviews of current and former players and coaches, and characters from across Cowboy Nation.
"This book is a gem," says Peter King, NBC Sports, Pro Football Hall of Fame. "Of all the teams in American sports, the Cowboys are covered the most relentlessly. Gary Myers has filled this book with nuggets no one knew. Get ready to learn fifty such things we'd never heard before."
1. Who really came up with the name America's team?
2. Who arranged the secret lunch between Tom Landry and Jerry Jones leading to Landry's entry in to the teams Ring of Honor?
3. Why has the star on the helmet become iconic?
4. What was the worst business decision Jerry Jones ever made (and it wasn't firing Jimmy Johnson)
5. How did Jerry Jones turn a $154 million investment into a nearly $5 billion enterprise?
6. How much did Jerry Jones's Hall of Fame party cost?
7. What's Tony Dorsett's biggest regret as he battles memory loss?
8. How did Jason Witten and Tony Romo first meet, and what was the first thing Tony asked him?
9. What does Celine Dion have to do with the massive state of the art video screen at AT&T Stadium?
10. Why did Jerry Jones slap his son's Stephen's leg so hard it echoed around the room after the Cowboys defied him by not drafting Johnny Manziel?
11. Is Roger Goodell still on Jerry Jones's Christmas list?
12. Why was there not one permanent American flag inside the Cowboys new stadium when it opened in 2009?
13. Who will be heir to the Cowboys throne?
While tracking the successes and controversies of some of the biggest names in the NFL on and off the field, HOW 'BOUT THEM COWBOYS? remembers the legends of previous generations, and explains why the star on the helmet has become iconic, and how a little expansion team from North Texas has evolved into a global $5 billion brand.
"Gary is the gold standard against which other Cowboys reporters are measured.
HOW 'BOUT THEM COWBOYS? is a treasure box of fantastic stories from some of the most compelling figures in NFL history."
-- Ed Werder, former Dallas Morning News beat writer, ex-ESPN NFL analyst/reporter, Pro Football Hall of Fame
"From the practice field to the postgame parties, Myers understands where to dig for the little-known nuggets while engaging readers throughout.
--Tim Cowlishaw, Dallas Morning News columnist, Around the Horn panelist, ESPN Dallas radio talk show host
HOW 'BOUT THEM COWBOYS? delivers a fun and surprising account of America's Team, its greatest celebrities, its mercurial management, the vicious rivalries, and the enduring saga that makes this the most popular and polarizing team in sports.
To Pre-Order, visit: amazon.com
Related Articles View More Books

Stories
More Hot Stories For You