Dr. Neda Bahmadi Makes Her Debut Amongst the Exclusive Haute Beauty...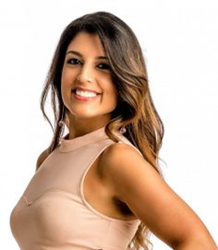 Dr. Neda Bahmadi, an elite cosmetic dentist of Miami has joined the esteemed Haute Beauty network.
The Haute Beauty Network, well known for their exclusivity, and luxurious lifestyle publication is privileged to present Dr. Bahmadi as a leading Cosmetic Dentist and our newest addition to the Haute Living partnership.
Dr. Bahmadi has always cultivated a passion for Dentistry; she truly enjoys being an artist and completely restoring a patient's smile. She finds gratification in being able to create the smile they have always longed for. She thinks of dentistry as an art form, her patient's satisfaction is her greatest reward.
Dr. Bahmadi believes that good health starts with good oral routines. "People underestimate the importance of healthy gums and teeth. Cardiovascular diseases can start from your mouth and can be easily prevented. By doing so you feel and look younger and healthier. A bright smile can go a long way."
Haute Beauty offers a prominent collective of leading doctors. The invitation-only exclusive publication maintains elite as ever, with only two doctors in every market. This partnership allows Haute Beauty to connect its prosperous readers with industry-leading cosmetic dentist located in their area.
About Dr. Bahmadi:
Dr. Bahmadi was born in Belgium from a Persian heritage; she has lived in the United States for more than half her lifetime. She attained her dental education at Nova Southeastern University and continued her clinical residency in New York City. After a few years in New York City, Dr. Bahmadi decided to move to Miami in pursuit of her dreams, opening up her own practice. Dr. Bahmadi went on to become the owner of two beautifully modern Dental practices. Ultra Smile Dentistry, which is located in Downtown Miami, and Ultra Smile Dentaspa located in Midtown Miami.
Dr. Bahmadi prides her self on offering incomparable service to each and every patient. She is very detail oriented and continues to educate herself and her team on the latest cosmetic dentistry techniques and materials available on the market. She wants to ensure that every patient leaves the practice feeling like they are walking out of a Spa; this is why they offer complimentary whitening to all of their patients. Dr. Bahmandi and her Ultra Smile team offer their clients flexibility to ensure they are optimizing the client's experience. Offering Flexible hours and financials plans allows the patient to customize their experience and it elevates the level of service.
Dr. Bahmadi and the Ultra Smile team are changing the general perception of dentistry. Long gone are the days of painful dentist visits and mediocre service. Dr. Bahmadi will continue to offer spectacular service with a beautiful smile.
Related Articles View More Books

Stories
More Hot Stories For You