Dominick's Pizza Shoppe Inducted into Pizza Hall of Fame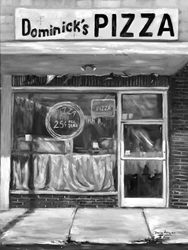 Dominick's Pizza Shoppe in Bridgewater, N.J., has been inducted into the Pizza Hall of Fame, which celebrates America's oldest and most beloved pizza restaurants.
Created by PMQ Pizza Magazine, the world's authority on pizza, the Pizza Hall of Fame, located at http://www.PizzaHallofFame.com, pays tribute to the rich cultural history of American pizza and honors the perennially popular U.S. pizzerias that have been in business for 50 years or longer.
Sicilian immigrant Dominick Scavo was a true pizza pioneer in his family; at just 17 years old, he opened his first pizzeria with brother Sal in Brooklyn, New York, in 1965. Two years later, the brothers established Dominick's Pizza Shoppe in Bridgewater, New Jersey, and Dominick soon passed the reins to Sal. The domino effect had begun: Dominick and his four brothers went on to open 50-plus pizzerias coast to coast, a tradition that continues today with networks of family members operating outlets in New York, New Jersey and Pennsylvania.
But Dominick's, the little location that could, is the oldest survivor, celebrating 50 years in 2017. "Pizza's in the family, in our blood," says Vito Scavo, son of Sal and owner of Dominick's. "My dad and his brothers spent their lives opening, running and selling pizzerias-a real rags-to-riches story, because they came from nothing and built an empire. But at one point my dad decided to keep just one location, and this has been our bread and butter, our rock."
Sal, though now less active in the business, still arrives regularly for his "pizza fix," offering input, ensuring perations are kept to standards and greeting longtime customers, some of whom have remained loyal for decades.
Conceptually, the Pizza Hall of Fame has existed for nearly 10 years, since PMQ publisher Steve Green inducted Lombardi's Pizza in New York on November 1, 2005. The Pizza Hall of Fame website was launched in October 2014 as part of National Pizza Month. All inductees have been featured in the "Pizza Hall of Fame" section of PMQ's print magazine.
"Pizza is such an integral part of the American experience," Green said. "We wanted to commemorate its role in our culture. Every pizzeria in the Pizza Hall of Fame-and each one that will be inducted in the future-is a local landmark. These pizzerias are more than restaurants-they are institutions in their communities."
Visit http://www.PizzaHallofFame.com to learn more about the Pizza Hall of Fame. For more information about PMQ Pizza Magazine, visit http://www.PMQ.com.
Related Articles View More Books

Stories
More Hot Stories For You