Chinese Marketplace Now Assessible to Small and Mid-Sized Businesses...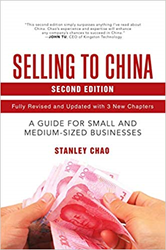 With 20+ years of experience, Stanley Chao is an expert when it comes to helping businesses succeed in China. His book, "Selling to China," offers all the tools necessary to develop a sound strategic plan – from the cultural and practical methods of doing business in China, to understanding the people and the role of the government, to negotiations and contracts. Chao provides step-by-step instructions to determine the feasibility of expanding into China, with guidance on how to determine if your product or service will sell, how to do a market analysis and create an action plan.
In an everchanging market, the rules can change without warning. This newly revised edition of "Selling to China," includes updates to every chapter, as well as the addition of three new ones—selling online, a quick lesson on the Chinese language, and forecasting China's future. It also features a list of rules for doing business in China.
When asked why a second edition was needed, Chao responds, "China is constantly changing, especially with the current economic and political situations with the US. This second edition addresses the changes and all the uncertainty that's facing foreign business wanting to go to China."
Clients are praising "Selling to China." As noted by John Tu, CEO of Kingston Technology, "This book is really a good primer for anybody thinking of entering China. It'll save you time, money and most of all, the headaches of doing business in China. Chao's consulting to Kingston Technology has saved us as well as made us millions of dollars in China. He should do the same for any company wanting to enter China."
About the Author
Stanley Chao has lived or worked in China for over 25 years and has performed over 200 consulting projects for over 100 companies. He is managing director for All In Consulting (allinconsult.com) that assists Western companies in their China business development. Chao speaks fluent English, Mandarin and Japanese and has degrees from UCLA, Columbia University and the University of Pennsylvania. He resides in Los Angeles. http://www.allinconsult.com
"Selling to China" by Stanley Chao, (ISBN 9781532052699, iUniverse 2018) is available at Amazon, Barnes & Noble and most major bookstores. For more information visit http://www.allinconsult.com and connect with him on LinkedIn, Twitter and Facebook. Publicity contact is admin@readerviews.com. Review copies available to the media upon request.
Related Articles View More Books

Stories
More Hot Stories For You