Author Presents Humorous Guide to Instinctual, Imaginative Cooking in...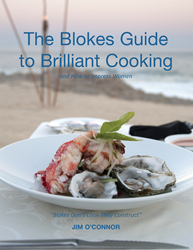 A writer, psychotherapist and food aficionado has published his unflinchingly humorous guide to constructing delicious dishes by tapping into one's imagination and instinctual genius. In "The Bloke's Guide to Brilliant Cooking and How to Impress Women," author Jim O'
Connor Delves
into the psychology of cooking and applies lessons learned in the kitchen to another important area of life: love and relationships.
Peppered with bite-size bits of wisdom from other sage blokes, O'Connor's book does not contain recipes, but rather teaches readers how to appeal to their inner "animal" by paying close attention to what their senses intuit from the food they make and offers helpful, easy-to-use tools to get them started on their journey to culinary greatness.
"This book was written to appeal to people who would love to learn how to cook without having to go to cooking classes," O'Connor said. "It's for people who just want to get in the kitchen and start cooking using nothing but their instincts, imagination, common sense and the skills they already possess. It teaches by showing people how to think differently about the culinary process."
Brimming with colorful photographs and motivational quotes, "The Bloke's Guide to Brilliant Cooking" presents a uniquely recipe-less approach to a subject that can benefit just about everyone and encourages readers to work with what they already have to become confident chefs who can deftly craft aesthetically pleasing and objectively delicious dishes.
"The Bloke's Guide to Brilliant Cooking and How to Impress Women"
By Jim O'Connor
ISBN: 978-1-4797-3462-7 (hardback); 978-1-4797-3461-0 (paperback); 978-1-4771-7639-9 (electronic)
Available through Xlibris, Barnes & Noble and Amazon
About the author
Jim O'Connor is a psychotherapist and corporate performance coach and educator with a keen interest in cooking, and he holds a master's degree in applied psychotherapy, bachelor's degree in health sciences, graduate diploma of counseling, certificate in workplace training and advanced certificate in clinical hypnotherapy. O'Connor has a passion for taking complex subjects and demystifying them by teaching them in simple, fun and effective ways using a bit of larrikin humor. He currently resides in Lane Cove, New South Wales. To learn more, please visit http://www.theblokesguidetobrilliantcooking.com or follow the author on Facebook.
General Inquiries, Review Copies & Interview Requests:
LAVIDGE – Phoenix
480-648-7557
dgrobmeier@lavidge.com
Related Articles View More Books

Stories
More Hot Stories For You