Association of Learning Providers Announces 2017 Award Recipients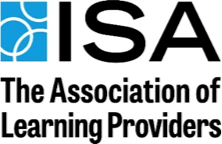 Two business leaders, a best-selling author and management guru, and one global leadership development firm were among the honorees this year at
[ISA-The Association of Learning Providers'
Annual Business Retreat in Scottsdale, AZ. The awards recognized the recipients' leadership and contributions to ISA and to the learning industry at large.
"This year's award winners have inspired all of us with their thought leadership, depth of expertise and commitment to helping people grow and adapt in an increasingly complex world," says Jeff Hayes, President and CEO of CPP, Inc., and Chair of the Awards Committee. "Not only that, they are true role models for what our association is all about-connecting, sharing knowledge and best practices, and innovating the future."
Selected by the Awards Committee based on an evaluation of category-specific criteria, the 2017 ISA Award winners are:

Center for Creative Leadership: ISA's 2017 Business of the Year
Patrick Lencioni, Founder and President, The Table Group, best-selling author of "The Five Dysfunctions of a Team," "Death by Meeting" and others: The Thought Leader Award
James Chisholm, Principal, ExperiencePoint: The Broomfield Award - The Spirit of ISA
Mike Esterday, Partner & CEO, Integrity Solutions: The Outstanding Contribution Award
"As the learning and performance industry continues to transform at an unprecedented rate, these honorees remind us that it takes a special combination of hard work, innovative thinking, selfless dedication and some timeless principles to stay ahead," says Pamela J. Schmidt, Executive Director of ISA. "Just as significant, thanks to the example set by our award winners, our association has never been stronger. They're helping us continue to raise the bar on the value we provide to members and, by extension, the leaders, teams and individuals around the world whose lives they touch."
Previous ISA award winners have included Dr. John Kotter, Peter Senge, Dr. John "Jack" Zenger and Dr. Joseph "Joe" Folkman, Stephen R. Covey, Power Speaking, Pivot Leadership, VitalSmarts, Crisis Prevention Institute, Acumen Learning, Root Learning, Management Concepts, The Ken Blanchard Companies, DDI, and leaders from all segments of the learning, training, and performance consulting community.
More information about each of the 2017 award recipients and the award selection criteria can be found at http://www.isaconnection.org.
About ISA - The Association of Learning Providers
ISA is the only industry-specific association devoted exclusively to helping executives in the training, learning and performance consulting industry grow their businesses. More than 70 companies comprise the membership of ISA, representing more than 5,000 employees and serving 15,000 clients across every industry sector and around the world. Members come together to learn key business insights, share their collective wisdom, expand their resources and enhance their results.
Related Articles View More Books

Stories
More Hot Stories For You