'3000+ Motives and Harmonic Deviations' Released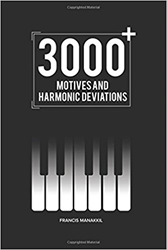 Francis Manakkil
believes many cultures and civilizations continue their music as melody untouched by harmony and polyphony. For him, Western musicians were not availed a chance to explore them in western music notation and some consider it alien to their understanding. This is the reason Manakkil writes "3000+ Motives and Harmonic Deviations" (published by Partridge India). For more details about the book, please visit
https://www.amazon.com/Motives-Harmonic-Deviations-Francis-Manakkil/dp/1543701094
.
The second book is a compilation of 3407 motives evolved from 72 music scales. This was possible through the improvisations by masters of music from various regions of India. The motives were indexed with beautiful names for easy recognition and recalling. There are cognates among them. The quest for improvisation among musicians from different era and regions is the reason for clones appearing under various scales. The study of motives is limited to native scales in the book. Briefing them under any migrant scale is avoided.
The layout of both the first book "72 Music Scales for Composers and Improvising Musicians" and the second book is similar. The format of the first book is precisely followed, with a hope of furnishing everything in Indian music. Musicians of India are familiar enough with the Raga base. They may refer the specific page briefing a Motif in the book. All the motives are indexed in alphabetic order from page 853. An exclusive glossary of pentatonic scales (page 837) and Hexatonic scales (page 845) are separately given for guitar players and musicians who love pentatonic combing.
"By notating the ragas I am merely documenting them in equal temperament system," Manakkil says. "I honestly do not want to write off such well-organized Raga base. Hence, by presenting in western music notation, the book serves the purpose."
"3000+ Motives and Harmonic Deviations"
By Francis Manakkil
Softcover | 6 x 9in | 896 pages | ISBN 9781543701098
E-Book | 896 pages | ISBN 9781543701081
Available at Amazon and Barnes & Noble
About the Author
Francis Manakkil is a music composer, music theorist and sound engineer. He has freelanced in the UK as a sound engineer and musician. He is an experienced guitar and keyboard tutor. He writes regular columns in leading magazines. He has associated in guitar symphony with American composer Glen Branca.
Manakkil's long standing friend and mentor, Jerry Amaldev, feels proud that a work of this magnitude has been brought out. It has been Jerry's privilege to hone the multi-faceted musical skills of Manakkil as guitarist, keyboard player, music director, composer, conductor and orchestrator. Manakkil's participation as the Bassist in Sing, India's concerts in Australia this year (2017) adds a feather to his cap. Readers can reach him through his LinkedIn account at linkedin.com/messaging/thread/I675506213_70/ or his Gmail account at francismanakkil@gmail.com
Partridge India, a Penguin company, is a leading provider of book publishing, marketing, and bookselling services for authors in India, all priced appropriately for the Indian market. Committed to providing the highest level of customer service, Partridge India assigns each author personal publishing and marketing consultants who provide guidance throughout the process. Partridge India shares its headquarters with Penguin Books India in New Delhi. For more information or to publish a book, visit partridgepublishing.com/india or call 000.800.10062.62. For the latest, follow @PartridgeIndia on Twitter.
Related Articles View More Books

Stories
More Hot Stories For You