Geva Theatre Center's 45th Season to Continue with THE OTHER JOSH COHEN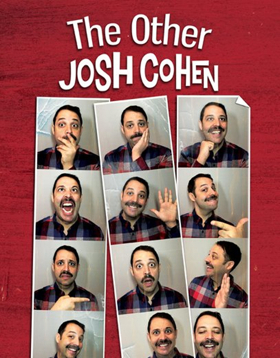 Geva Theatre Center's 2017-2018 Season continues with The Other Josh Cohen, by David Rossmer and Steve Rosen and directed by Hunter Foster, in the Elaine P. Wilson Stage from January 9 through February 4.
Josh Cohen just can't get a break (or a girlfriend). He's overweight, broke and underemployed. To top it all off, his apartment is robbed of everything but a single Neil Diamond CD. But then a mysterious letter arrives that could change his life forever. This hilarious and ingenious musical comedy by David Rossmer and Rochester native Steve Rosen was nominated for six Drama Desk Awards and the Lortel Award for Outstanding Musical.
David Rossmer and Rochester native Steve Rosen met at French Woods Performing Arts Camp and went on to create Don't Quit Your Night Job, a popular cabaret show featuring Broadway actors performing improv, sketch comedy and musical numbers. Don't Quit Your Night Job began as a one-off benefit for Theatrical Development Fund's Open Doors Program for high school students and grew into a 10-month sell out, followed by a commercial production and runs at New York's famed Zipper Factory, the Julia Miles Theatre and 54 Below. The show has featured such luminaries as Sting, Sutton Foster, Laura Benanti, Huey Lewis, Brian d'Arcy James, Jesse Tyler Ferguson, David Hyde Pierce, Lin-Manuel Miranda, George Wendt and many more. Over the years, the show has raised over $50,000 for Open Doors.
Their next collaboration premiered at the 2010 New York Music Festival under the early title of V-Day. It received a second production Off-Broadway at the SoHo Playhouse under the title The Other Josh Cohen. This 2012 production received a number of accolades including six Drama Desk Award nominations and the Lucille Lortel and Off-Broadway Alliance Award nominations for Outstanding Musical, becoming one of the hottest tickets in town. A 2014 production at Paper Mill Playhouse won huge praise from audiences and critics alike.
The Other Josh Cohen features Sarah Bishop (National tour of Roundabout Theatre's Cabaret); Allison Ann Kelly (American Idiot); James David Larson (Roundabout Theatre's production of Into the Woods, and national tours of Monty Python's Spamalot and The Buddy Holly Story); Angel Lin (National tours of Once and Kansas City Choir Boy; Rochester native Megan Loomis (Geva's world premiere production of The Road to Where, national tours of A Gentleman's Guide to Love and Murder, War Horse and Cabaret); Rochester native Steve Rosen (Geva's production of A Funny Thing Happened on the Way to the Forum and Broadway productions of Monty Python's Spamalot, The Farnsworth Invention and the 2009 Broadway revival of Guys and Dolls); Alan Schmuckler (New York productions of Nikolai and the Others and To Life: 50 Years of Fiddler on the Roof); and Jonathan Spivey (Geva's production of Pump Boys and Dinettes, the 2016 Broadway revival of The Front Page).
The Other Josh Cohen is directed by Hunter Foster (Director of Geva's 2017 sell-out production of Million Dollar Quartet) with Musical Director Jonathan Spivey. The creative team includes Paul Tate DePoo (scenic design), Nicole V. Moody (costume design), Josh Epstein (lighting design), Ian Hildreth (sound design), J. Jared Janas (Wig Design), Dan Lipton (Music Supervisor) and Jenni Werner (Dramaturg).
The 2017-2018 Wilson Stage Series is sponsored by ESL Federal Credit Union and Rochester Regional Health. The Honorary Wilson Stage Series Sponsor is Dr. Dawn Lipson. The Other Josh Cohen is produced with support from Associate Producer Gray Locey CPA, PC; Co-Producer Tasteful Connections and Media Sponsor News10NBC.
The Other Josh Cohen begins previews on January 9, opens January 13 and runs through February 4. Tickets start at $25. Call (585) 232-GEVA (4382) or go online at www.gevatheatre.org. Geva Theatre Center is located at 75 Woodbury Blvd, Rochester, NY 14607.
Founded in 1972, Geva Theatre Center is a not-for-profit, professional theatre company dedicated to creating and producing professional theatre productions, programs and services of a national standard. As Rochester's leading professional theatre, Geva Theatre Center is the most attended regional theatre in New York State, and one of the 25 most subscribed in the country, serving up to 160,000 patrons annually, including more than 16,000 students.
The 516-seat Elaine P. Wilson Stage is home to a wide variety of performances, from musicals to American and world classics. The 180-seat Ron & Donna Fielding Stage is home to Geva's own series of contemporary drama, comedy and musical theatre; Geva Comedy Improv; Geva's New Play Reading Series and the Hornets' Nest - an innovative play-reading series facilitating community-wide discussion on controversial topics. In addition, the Fielding Stage hosts visiting companies of both local and international renown.
Geva Theatre Center offers a wide variety of educational, outreach and literary programs, nurturing audiences and artists alike. Since 1995, the organization has been under the artistic direction of Mark Cuddy.