Tickets Now on Sale For The World Premiere of BECAUSE THE GRASS STARTED TO BREATHE
Tickets are on sale now through closing on September 4.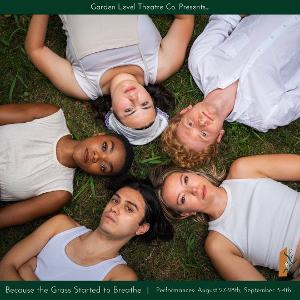 Garden Level Theatre Co. will share the world premiere of "Because the Grass Started to Breathe" by Max Mooney as part of their inaugural season. Led by two Jewish women, Dinah Rokhinson and Haley Fragen, Garden Level Theatre Co. (GLTC) is a grassroots arts laboratory seeking to merge the needs of both artist and audience to create a core of shared authorship through every production.
Performed in an intimate outdoor venue, "Because the Grass Started to Breathe" embodies GLTC's value of adapting form to content. Under the direction of Haley Fragen, this up close and vulnerable staging uplifts this story of loss, memory and the intimacy of family through immersive storytelling in a Bed Stuy backyard.
Honey brings her four siblings home to help them dig up what they buried a decade before- the body of their dead brother. Lying six feet under the fields they tended to and weeded their whole lives, Jacob has woken up below the ground and called out to them to find him so he can fill the cracks that formed between them when he died. As their shovels hit the ground, the truth creeps back into their fingertips from the dirt and threatens to swallow them all.
From the mind of writing wizard Max Mooney, the cast will feature Chloe Mutebi, Ben Hefter, Mia Walsh Corbett, Sophia Drapeau, and Julian Hermano. The team will feature set design by Jonathan Schatzberg, light design by Persephone Matlazihua Squires, sound design by Tommy Lynch, promotional photography by Matthew Szücs, and stage management by Dinah Rokhinson.
"It's the first rule of weeding, isn't it? Pull the root. If you don't get the root, you might as well have never started in the first place"
Tickets are on sale now through closing on Sept 4 and can be purchased here. Read more about the production and Garden Level Theatre Co. here.