BWW Review: Theater2020's SWEENEY TODD Triumphs No Matter Which Way You Cut It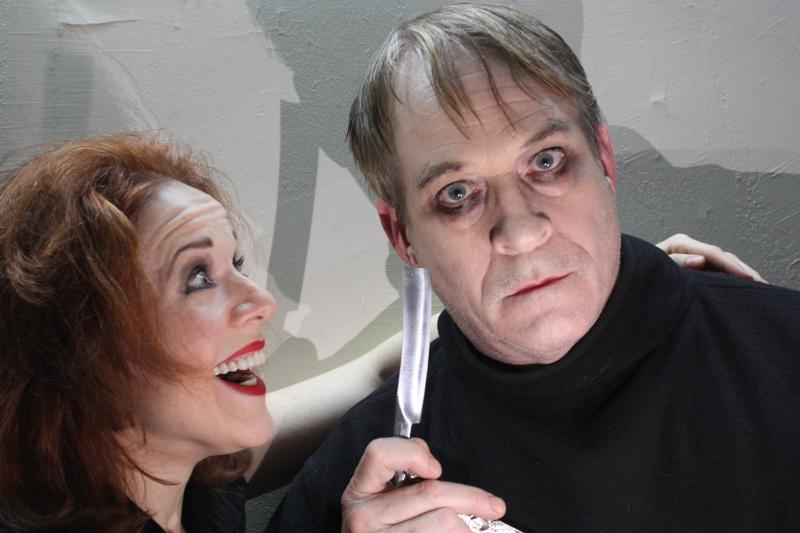 Sweeney Todd, The Demon Barber of Fleet Street has to be one of my favorite musicals of all time. Despite its gory nature, it is one of the most beautiful musicals out there, with the force of lost love driving a man to ruin his life in unthinkable ways - ways only Sondheim's music can turn cringingly beautiful. Sweeney is a show that makes your skin crawl with how deliciously evil it is. Every song is memorable, ever actor significant and how good the collaborative effort to make this one freak of a musical is proven by how devastated you are in the show's final moments. All of this comes together beautifully in Theater2020's production, which opened on February 10th.
Directed and choreographed by Judith Jarosz (who is also one of the theater's two Producing Artistic Directors) and with music direction by Tom Mcdonough, Theater2020 brings a beautifully executed production of Sondheim's musical to the first professional theater in Brooklyn Heights. With the slogan that boasts of "visions for a new millennium," the group continues its 2017 Winter Season in the confines of the First Unitarian Society of Brooklyn's intimate chapel - an ideal place for Sweeney for those of you who chuckle at the irony. With a cast made up of Equity and non-Equity members alike, Theater2020's current production proves that the effect of truly great theater can be had in the mere simplicity of a great performance.
With minimal set, costume changes and use of props, relying on mostly the immense talent on stage, a piano and some intense lighting, Sweeney takes perfect form in this production that does such a beautiful story proud. I truly hope that the cast saw me smiling from the first row.
"Attend the tale of Sweeney Todd," the first words spoken as the show begins and already begging the audience to engage in the story about to be told. From those first moments, this production hooks you instantly; especially with this show, the beginning is so crucial a tool in capturing the audience's attention. This story about a naïve barber named Benjamin Barker who was wrongfully imprisoned for fifteen years due to the tyrannical Judge Turpin's desire for the barber's beautiful wife, Lucy. Upon his return to the morose streets of 19th century London, he discovers that his wife has since poisoned herself and his young daughter Johanna has become the ward of Turpin himself. With the help of Mrs. Lovett, notorious for her highly unappetizing pies, Sweeney follows Barker's vengeful quest to kill the Judge under the name of Sweeney Todd. In the meantime though, Mrs. Lovett needs some better ingredients for her pies...
The McKinney Chapel is extremely intimate, and it is honestly so fitting for a show like Sweeney. Not only is the audience immersed in this story due to the proximity of the actors, but we also have the chance to heighten all of the senses while watching this performance. It is as though the "stink of evil," as the Beggar Woman says so eloquently, is all around us and won't let anyone relax until the story has been told. And actually feeling this show is so pivotal: from trying to figure out where the ensemble members will pop out from next, to having Mrs. Lovett gawk at Sweeney so near to my seat that I sincerely wanted to tell him what she's up to, I loved how well this space works, especially since it makes the show so wonderfully eerie...and that makes me or any fan of this show very, very happy.
Aside from the simplicity and intimacy of the space, there are so many different aspects of this show that impressed me: from the period costumes with some modern little additions (credit to Costumer Viviane Galloway), to the amazing light show that sets the mood at the turn of every pivotal moment in the show (thank you Giles Hogya), everything came together even before the cast appeared on stage. What truly impressed me, admittedly, were the actors.
With this show, I'm guilty to being amazed when actors come out of this musical unscathed by the difficulty that is Sondheim's lyrics and harmonies (the latter through which MD Mcdonough navigated like a pro); watching this current cast do so on opening night, to boot, is astounding. Not only that, they made it look easy.
Aside from how impressed I was from that alone, I cannot say enough good things about how talented this cast is; it was almost unexpected. David Fuller as Sweeney Todd (and who also serves as the theater's second Producing Artistic Director) makes the audience uncomfortable enough with his thirst for vengeance, but also portrays our title character with a few more intricate shades to his demeanor.
Fuller receives his wonderfully dark entrance as the "monster" whose soul is saturated with vengeance, but during such songs as "No Place Like London" is not necessarily seen as a bitter, unreachable man - you can almost see how he battles with having the force of hatred of the world in his heart and he still speaks to Anthony of his loss that makes him so utterly human. Fuller shows this very well during "By the Sea" as well, when he looks at Mrs. Lovett as she depicts their future lives together with an uncomfortable interest, smiling here and there to show he is acknowledging her enthusiasm, if not her words. Sweeney is not a true villain, and I love when actors can pinpoint this humanity in their portrayal of him.
I've also never seen Sweeney hand the razor to Toby. For me at least, that was something.
Lorinne Lampert as Mrs. Lovett was phenomenal. I've never seen her character portrayed from the start with so much energy; it's like she drank a Red Bull before the show, but it was a good kind of energy that made her character that much more...suspicious, perhaps? Watching her, one must question if she ever truly believed she did any wrong to an already wronged man, and if she would therefore maintain her enthusiasm for life when Sweeney discovers what she has done. I really loved Lampert's portrayal of Mrs. Lovett - she was made for the role!
Adam Baritot as Judge Turpin and Jefferson Behan as the Beadle were amazing as well; from their remarkable vocal ranges to how much they truly belonged together, let's just say that when you want one of these guys to fail, the other is right next to him on your list...as it should be.
Chrysten Peddie as Pirelli! This is the first time I've seen Pirelli played by a woman, and not only did she add spunk to the role, I just had to keep thinking "Is she going to sing the soprano version of those notes... is she??" Oh she did, and with a memorable beauty. John Jeffords as Tobias Ragg...I love the highlights. Such a beautiful voice, especially when not switching to falsetto during "Not While I'm Around" (which he nailed). I truly felt bad for him as he loses his mind over the kindness shown to him by Mrs. Lovett, and then over something a bit more disturbing.
Catherine Purcell and Zack Krajnyak as lovers Johanna and Anthony were wonderful, adeptly showing why romances worth dying for make for the most beautiful stories. With the bounce in their steps of young lovers and the beautiful voices that would make anyone swoon, they were ideal for the roles. Mary Thorne as the Beggar Woman shows just how tragic this story can get, and you have to enjoy her performance before figuring out just who, exactly, she is.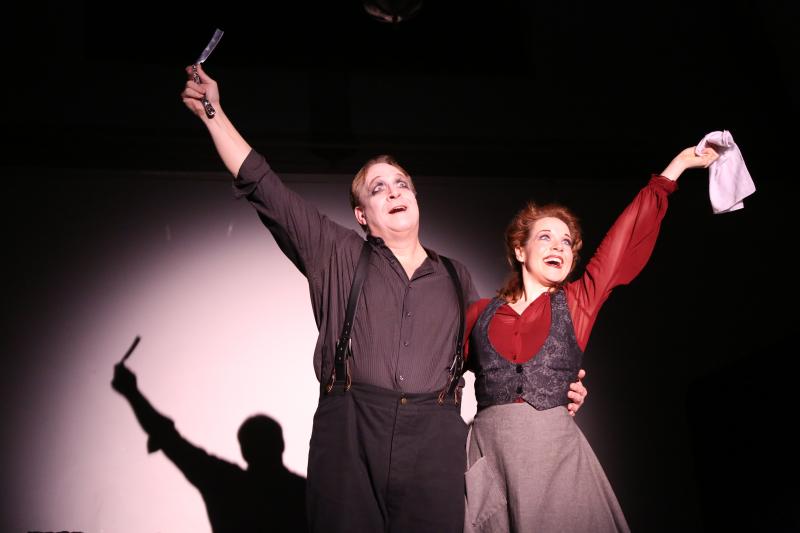 The ensemble, consisting of Amber Dewey, Samuel Floyd, Samantha Kronenfeld, James Neufeld and Tyler Whitaker all did their part to make this production just plain creepy. Really impressed by the strong voices. Every note that came out of their mouths was strong, accurate and will blow people away by how much these actors have trained to get themselves to sound like that.
Kudos to Ben Shipley, Meric Pope and Elena Kaye as well for their stage managerial duties!
So...thank you Theater2020 and its production of Sweeney Todd for giving people a true reason to love some Brooklyn theater!
Sweeney Todd, The Demon Barber of Fleet Street began performances at the First Unitarian Church (located at 116 Pierpont Street in Brooklyn Heights) on February 10th and will continue thru March 12th - a limited engagement of 16 performances. General tickets are $40 and $30 for seniors and students. The space is intimate and reservations are highly recommended. Tickets may be purchased online at http://sweeney.bpt.me or www.theater2020.com, or may be reserved to pick up at will call by emailing theater2020@gmail.com.
The performance schedule is as follows:
Thur. 2/16@8pm, (NO Fri), Sat. 2/18@8pm, Sun. 2/19@4pm Fri. 2/24@8pm, Sat. 2/25@8pm Sun. 2/26@4pm Thur. 3/2 @8pm, Fri. 3/3 @8pm Sat. 3/4 @8pm, Sun. 3/5@4pm Thur. 3/9 @8pm, (NO Fri), Sat. 3/11@8pm, Sun. 3/12@4pm
Enjoy the show!
Photo Credit: Gerry Goodstein and Judith Jarosz