Review: Everyone Deserves the Chance to See Theater 2020's ASSASSINS
Stephen Sondheim is one of the most influential figures in the realm of musical theater. He creates beautiful, thought-provoking and emotional pieces that have the unique ability of understanding the human psyche; this is to the extent that what should be black and white is now an uncomfortable but comprehensible "grey." Characters like Sweeney Todd, no matter how gruesome a turn his vengeance takes, is justified in his actions against humanity; audiences can comprehend why there is so much sorrow in his heart. People who have been wronged or just need to be noticed are allowed to feel important with that little "push" - that same push that releases a bullet into the President of the United States for reasons that Sondheim makes so eerily comprehensible.
The extraordinary is turned ordinary when the need to be heard, to believe in the right of happiness, overcomes what reason dictates one should do to achieve it; reason becomes as much of an ally as it is a weapon. What is so beautiful about Sondheim's Assassins is not only how the root of such an evil deed is understood as something so human, but this "American Musical Comedy" is nothing short of brilliant - especially when presented by Brooklyn Heights' own Theater 2020.
With music and lyrics by Sondheim, a book by John Weidman, based on an idea by Charles Gilbert, Jr. and now under the direction of David Fuller, Assassins is brought to the stage by Theater 2020, Brooklyn Heights' only professional theater group. Originally produced off-Broadway in 1990 by Playwrights Horizons and then in 2004 by the Roundabout Theatre Company, it now returns in all its glory to a Brooklyn stage.
I was ecstatic to see a Sondheim show, especially one that I didn't know much about at all. Although I said, if it would be anything like the Sondheim musicals I already love, than I would enjoy it just fine; writing in hindsight, I was incredibly right. I feel like this is a show that is not subjectively "good," but especially when molded into something so beautiful by the cast and crew of Theater 2020, doesn't give the audience much of a choice than to acknowledge it as Brooklyn's theatrical treasure; the show is undeniably GREAT. It is not only the immense talent of a flawless cast, but just how this rather unnerving plot ensnares its audience to the point of not only massive applause, but that of massive appreciation.
Assassins brings together those individuals throughout history who successfully brought about or attempted the murder of a U.S. President . Beginning with John Wilkes Booth and moving towards the present day, each person's story is told through the lens of not a criminal, but of a person so moved by the need for something more, his or her own life becomes what they think is a catalyst towards change. In a rather sadistic, even comical way (the ironic status Sondheim compels this musical to live up to), each character is given a chance to explain his or her hardships, and why shooting the President would make things "better."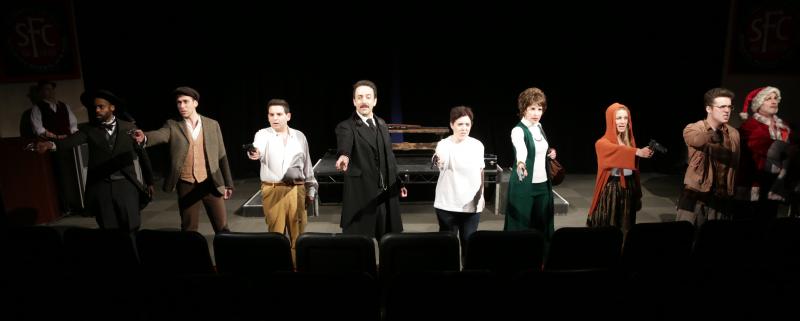 With the help of a very convincing ensemble, made up of those who have gone before and died by example, characters are convinced that their actions will be for the best. Almost like a ringleader leading his subjects for the entertainment of the masses, people are manipulated through very human emotions of doubt and fear, goaded into believing that "one little finger" can right the wrongs that have plagued them. A show about the reality of what is versus what pushes people over the top to correct it, Assassins is just ridiculously riveting (and a wonderful history lesson to boot).
Theater 2020 brings Sondheim's one-act to the stage in such a perfect and profound way, there isn't much to say against it. It was riveting, to the point that I was scanning the list of assassins provided in the program with renewed enthusiasm, after learning about the lives of each (wonderful idea to include!) These people are no longer just forgotten parts of history, but actual individuals with stories and emotions that, when supported by a Sondheim score, are allowed free and total reign. Moments such as when Lynette Fromme and Sara Jane Moore scramble for their guns like a bunch of amateurs as President Gerald Ford walks by, or the eerie ending which follows Lee Harvey Oswald's decision to kill John F. Kennedy due to the stress of problems at home, really makes you question just who is hiding what kind of secret. It makes you question humanity in general, and what anyone is capable of; Theater 2020 will make you question why you didn't see this production sooner.
Being a professional theater group doesn't mean a lot unless the cast and crew creates a new world for its audiences, and this is exactly what everyone involved has managed to do with flying colors, to say the least. The cast is brilliant, working in tandem with the likes of so many diverse characters and personalities (Jana Bernard's face towards the end of the show is deliciously twisted and frightening) to convince the audience of how easy it is to bring about the happiness we all desire. David Arthur Bachrach, Jana Bernard, Amber Dewey, Christian Doyle, Robert Farruggia, David Fuller, Elizabeth Kensek, Evan Maltby, Josh Powell and Danny Wilfred (I LOVE your character's enthusiasm) create a small yet intimate cast that never loses its desire to bring about a wonderful performance. Joining them are Brandon Adams as Music Director and Pianist, Ben Philipp as Costume Designer, Giles Hogya as Lighting Designer, Judith Jarosz as Choreographer , Maria Marrero as Production Stage Manager and Holly Thomas/Kaitlyn Abigail Tilly as Production Assistants. Bravo to all!
So, if you want to see some of the best theater that Brooklyn has to offer, please make your way over to Brooklyn Heights and enjoy being inspired by professionals whose passion it is to bring about a great, great show.
Assassins, produced by Theater 2020, began performances at The Founders Hall Theater (St. Francis College, located at 180 Remsen Street) on February 22nd, and will run thru March 25th for a limited 16-performance run. Tickets are $40/$30 senior and students, and may be purchased by visiting www.theater2020.com; cash-only tickets to pick up may be reserved by emailing theater2020@gmail.com. Buying tickets ahead of time is strongly recommended. The performance schedule is as follows: March 1st - 3rd at 8:00 pm, March 4th at 4:00 pm, March 8th at 8:00 pm, March 11th at 4:00 pm, March 15th-March 17th at 8:00 pm, March 18th at 4:00 pm, March 24th at 8:00 pm and March 25th at 4:00 pm (final performance).
Enjoy the show!
Photo Credit: Gerry Goodstein