Shakespeare & Company Presents HEISENBERG directed by Tina Packer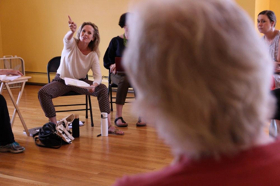 Shakespeare & Company presents Heisenberg by Tony Award-winning playwright Simon Stephens (The Curious Incident of the Dog in the Night-Time), directed by Founding Artistic Director Tina Packer. Featuring Company veterans Tamara Hickey and Malcolm Ingram, performances run in the Tina Packer Playhouse August 11 - September 2.
"They are, to say the least, an unlikely pair," said director
Tina Packer
. "He's a 75 year-old butcher, introverted, seemingly of Irish descent, but living in London. She's a forty-something American, excessively extroverted, perhaps a social worker with a missing son. They meet on a park bench. By chance, they affect each other. They change each other's lives.
Simon Stephens
is a master of what can't be seen, but what is sensed, the effect of random events upon the lives of human beings or are they not random?"
Tina Packer
directs this intimate production starring Company veterans
Tamara Hickey
(Georgie) and
Malcolm Ingram
(Alex). The creative team includes
Juliana von Haubrich
(Set Design),
Dan Kotlowitz
(Lighting Design),
Charlotte Palmer
-Lane (Costume Design),
Amy Altadonna
(Sound Design), and Hope Rose Kelly (Stage Manager). "A news story about a man I knew in my childhood haunted me," said Playwright
Simon Stephens
. "He was a man in his eighties in my home town of Stockport and a younger woman had inveigled into his life, and he had given her his life savings. I wondered at the cruelty of that and how desperate the woman must have been. I got to wondering about what would happen if the two people affected one another. I became, at the same time, fascinated by the way in which Werner Heisenberg's quantum theories seemed to define the way in which people lived. How, unless we are seen or engaged with, we barely exist. It struck me as a metaphor for loneliness and the volatility of being human." Tickets for Heisenberg are available online at
shakespeare.org
, or by calling Shakespeare & Company's box office at (413) 637-3353. The
Tina Packer
Playhouse is air-conditioned and wheelchair accessible. Shakespeare & Company is located at 70 Kemble St. in Lenox, Massachusetts. Heisenberg is generously sponsored by Eleanor Y. Lord and Margaret H. Wheeler. The Company's 2018 Summer Season also includes three Shakespeare playsMacbeth, As You Like It and Love's Labor's Lost, as well as Creditors by
August Strindberg
, adapted by
David Greig
; Mothers and Sons by Tony Award-winning playwright
Terrence McNally
; and HIR by Pulitzer Prize finalist Taylor Mac.
Photo by Eloy Garcia
More Hot Stories For You