Review Roundup: GERTRUDE AND CLAUDIUS at Barrington Stage Company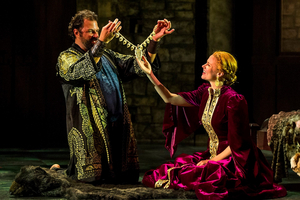 Barrington Stage Company (BSC), the award-winning theatre in the Berkshires under the leadership of Artistic Director Julianne Boyd, is proud to present Gertrude and Claudius, a new play by BSC Associate Artist Mark St. Germain (Dancing Lessons, Freud's Last Session), based on the novel by John Updike.
Directed by Julianne Boyd (BSC's West Side Story, Company), Gertrude and Claudius begins performances July 18 and opens July 21 for a run through August 3 on the Boyd-Quinson Mainstage.
The cast of Gertrude and Claudius features Elijah Alexander (Broadway's Metamorphoses; Oregon Shakespeare Festival's Twelfth Night) as "Claudius," Nick LaMedica (War Horse First National Tour) as "Hamlet," Kate MacCluggage (Broadway's The Farnsworth Invention) as "Gertrude," Douglas Rees (BSC's The Cake) as "Amleth," Obie Award winner Rocco Sisto (Broadway's The King and I; BSC's The Birds) as "Polonius," Mary Stout (BSC's A Doll's House, Part 2) as "Herda" and Greg Thornton ("Law & Order") as "King Rorik."
Let's see what the critics have to say!
J. Peter Bergman, The Berkshire Edge: This is a stunning production directed by Julianne Boyd, who has taken her cues from the script to present us with perfect pictures of these people and their relationships. Sara Jean Tosetti's costumes are lush and warm and wonderful in their splendor. The sets by Lee Savage beautifully portray the places in the late medieval period. David Lander's lighting shows us what we need to see and keeps us in the perspective of place at all times. Jenny Giering's original score brings in a period sensibility that helps enormously; and Lindsay Jones' sound design is absolutely superb, the best of the season. Boyd's work cannot be underestimated here as she worked with a script that never quite conveyed the majesty of love's intent that she physically brought into it. It's not the language that makes this play what it is and what it isn't. There is emotion missing in the cleverness of the dialogue and the letters exchanged. Each element from casting to design to direction is individually great, but the play doesn't support all that good work.
Steve Barnes. Times Union: Performed on a handsome, imposing set of high castle walls, designed by Lee Savage and lit to perfection by David Lander, with gorgeous costumes by Sara Jean Tosetti, BSC's "Gertrude and Claudius" has an outstanding title pair in Kate MacCluggage and Elijah Alexander. Both acutely aware of the constraints of the era and the weight of their respective places in the royal family, they nonetheless build a deeply affecting connection. Claudius wanders the globe because the only thing harder than being away from Gertrude would be to see her daily; she is a proper, strong queen, wife and mother, but, her mind often far away, she also comes to consider Elsinore as much prison as castle, haunting its hallways as her husband's ghost will after his murder.
Dan Dwyer, The Berkshire Edge: The script tracks the brother- and sister-in law relationship that gestates, ever so slowly, over 30 years while Claudius is off plundering in the Mediterranean with a series of letters that begin with (I'm paraphrasing) "I'm sending along a rattle for my nephew Hamlet." Such correspondence might work in the novel where the subconscious thrives, but having the leads sit on benches stage left and stage right and read isn't theatrical. Act 1 proceeds along at a choppy saunter, scene to scene to scene. Within scenes the measured pacing gets bogged down; an extended episode using falconry as an allegory for Gertrude's marriage predicament gets overloaded with words. Symbolism, which is inherently theatrical, can speak for itself.
Marc Savitt, BroadwayWorld: BSC Artistic Director, Julieanne Boyd, directed the ambitious endeavor. This play represents quite an undertaking on many levels and on most them, this production succeeds. The language is more contemporary than Shakespearean making it rather easy for the audience to understand and follow. The set designed by Lee Savage is impressive and everything a medieval castle should be. The lighting designed by David Lander compliments the handsome set extremely well. The costumes designed by Sara Jean Tosetti are beautiful, lavish, and finely detailed. There is a unique special effect that can't really be described but is noteworthy and gets audience members talking.
Barbara Waldinger, Berkshire On Stage: Although the play offers a window into Gertrude's motivations in an apparent attempt to justify (or at least explain) her actions, we don't learn much about the world around her, except for some talk about different approaches to Christianity, whose followers include Amleth, Polonius and Herda (complete with the reflection of a cross on the great wooden door of the castle), and a fascinating (if seemingly digressive) discussion-and demonstration-of falconry. Plaudits to Brandon Hardy, the puppet designer, for his work on the birds, and on the puppet stage with its Commedia characters-Punch and Judy-and their slapstick. St. Germain attributes to Hamlet (based on the affinity of Shakespeare's character for a travelling troupe of actors), an interest in puppetry and a desire to be an actor, both on and off stage. But what important light does this play shed on the story that Shakespeare has not already illuminated?
Related Articles View More Boston

Stories

Shows
More Hot Stories For You