Photos: First Look at Bedlam's SENSE & SENSIBILITY at A.R.T.
Bedlam's Sense & Sensibility plays now through January 14, 2018 at American Repertory Theater. BroadwayWorld has a first look at the cast in action below!
Eric Tucker's exuberant, inventive staging of Kate Hamill's adaptation of Jane Austen's classic novel follows the adventures (and misadventures) of the Dashwood sisters-sensible Elinor and hypersensitive Marianne-after their sudden loss of fortune. Bursting with humor, emotion, and bold theatricality, Bedlam's Sense & Sensibility asks: when reputation is everything, how do you follow your heart?
The production features choreography by Alexandra Beller, scenic design by John McDermott, costume design by Angela Huff, lighting design by Les Dickert, and sound design by Alex Neumann.
Ticket begin at $25. Now on sale by phone at 617.547.8300, in person at the Loeb Drama Center Ticket Services (64 Brattle Street) or online at americanrepertorytheater.org.
Photo Credit: Ashley Garrett


The cast of Bedlam's SENSE & SENSIBILITY

Jessica Frey and Benjamin Russell

Violeta Picayo, Ryan Quinn, Nigel Gore, and Jessica Frey

The cast of Bedlam's SENSE & SENSIBILITY

The cast of Bedlam's SENSE & SENSIBILITY

Maggie Adams McDowell as Elinor Dashwood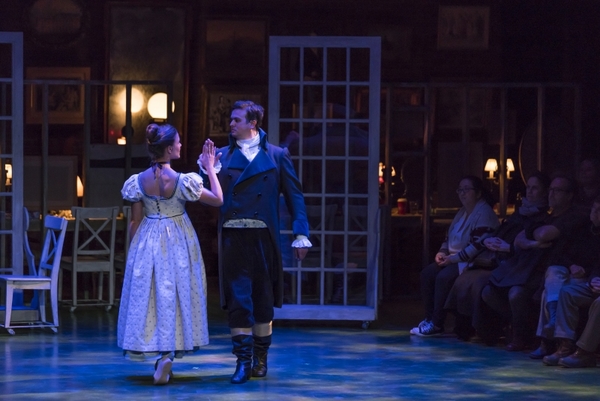 Maggie Adams McDowell (Elinor Dashwood) and Jamie Smithson (Edward/Robert Ferrars)

The cast of Bedlam's SENSE & SENSIBILITY

Jessica Frey and the cast of Bedlam's SENSE & SENSIBILITY

Lisa Birnbaum, Jessica Frey, and James Patrick Nelson

Nigel Gore, Maggie Adams McDowell, and Ryan Quinn

James Patrick Nelson and the cast of Bedlam's SENSE & SENSIBILITY