Photo Coverage: BSC's Black Comedy Opens
Barrington Stage Company is currently presenting Peter Shaffer's farce Black Comedy. Directed by Lou Jacob, Black Comedy plays for a three-week run at Barrington Stage (30 Union Street) from July 19 through August 4. The official press opening was Sunday, July 22 at 5pm.

The play is "a witty comedy from the Tony Award-winning playwright of Amadeus, Equus, The Royal Hunt of the Sun and Lettice and Lovage. In Black Comedy, disaster strikes when aspiring artist Brindsley Miller tries to impress his fiance's father while desperately and hilariously dealing with a power failure and the ensuing confusion among his invited—and uninvited—guests," state press materials. "To create this hilarious scenario, Shaffer uses a 600-year-old convention of Chinese theatre in which total darkness is represented by bright stage light and normal light is represented onstage by total darkness. In the world of Black Comedy, dark is light, light is dark, and the complications, mix-ups, and laughs are non-stop!"

Heading the cast of eccentrics are Brian Avers (Lieutenant of Inishmore) as Brindsley Miller, Nell Mooney (PS 122's Gorilla Man) as Carol Melkett, Beth Dixon (Roundabout's Major Barbara) as Miss Furnival, Gerry Bamman (American premiere of Bartleby the Scrivener; BSC's Black Sheep) as Colonel Melkett, Mark H. Dold (Off-Broadway Tall Grass; BSC's Cyrano, Earnest and Ring Round the Moon) as Harold Gorringe, Gordon Stanley (recently seen as 'Doc' in BSC's West Side Story) as Schuppanzigh, Ginifer King (recent B'way revival of Gypsy, BSC's Ring Round the Moon and Mame) as Clea.

Visit www.barringtonstageco.org for more on Barrington Stage Company.
Photos by Kevin Sprague/Barrington Stage Company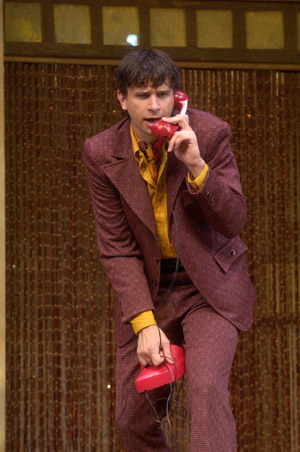 Brian Avers as Brindsley Miller


Nell Mooney as Carol Melkett

Nell Mooney (Carol Melkett), Brian Avers (Brindsley Miller), Beth Dixon (Miss Furnival) and Mark H. Dold (Harold Gorringe)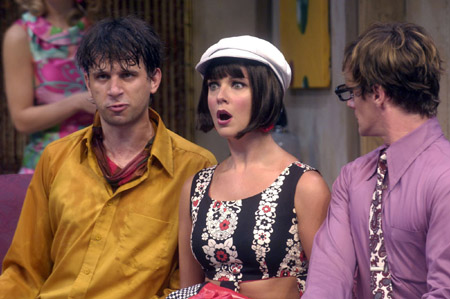 Brian Avers (Brindsley Miller), Ginifer King (Clea) and Mark H. Dold (Harold Gorringe)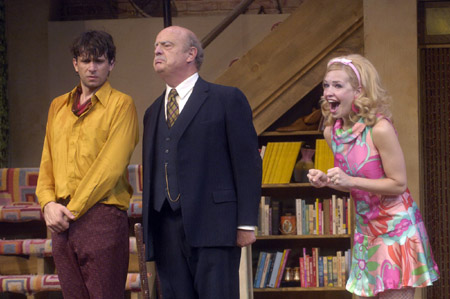 Brian Avers (Brindsley Miller), Gerry Bamman (Col. Melkett) and Nell Mooney (Carol Melkett)

Brian Avers (Brindsley Miller), Ginifer King (Clea) and Mark H. Dold (Harold Gorringe)
Photos by Charlie Siedenburg

BSC Artistic Director Julianne Boyd with BSC Board Members Sheila Richman, Eda Sorokoff and Board President Mary Ann Quinson

Black Comedy director Lou Jacob congratulates Nell Mooney and Brian Avers on their performances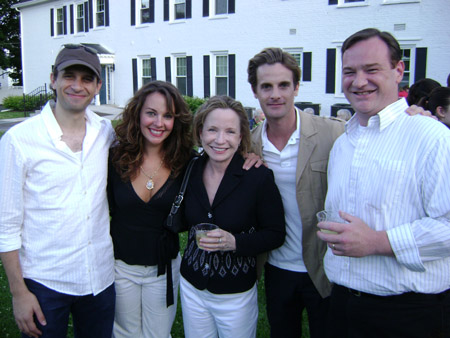 "That 70s Show" star Debra Jo Rupp and (far right) Kevin Carolan (currently in rehearsals for Berkshire Theatre Festival's Morning's at Seven) came to congratulate Brian Avers, Ginifer King and Mark H. Dold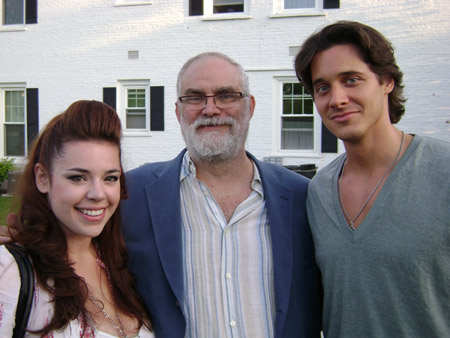 William Finn (BSC Musical Theatre Lab Artistic Producer) with Funked Up Fairy Tales cast members Alysha Umphress and Heath Calvert

Mark H. Dold, BSC Artistic Director Julianne Boyd, Emily Boyd (Black Comedy Assistant Director) and Ginifer King
Related Articles
From This Author BWW