BWW Review: WHO IS EARTHA MAE? World Premiere at Bridge Repertory Theater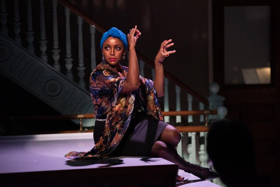 Who Is Eartha Mae?
Created & Performed by Jade Wheeler, Directed by Cailin Doran; Music Direction & Piano, Seulah Noh; Choreography, Jenna Pollack; Scenic Design, Esme Allen; Costume Design, Kathleen Doyle; Wig Design, Rayo Cole; Lighting Design, Laura Hildebrand; Sound Design, Jason Rosenman; Properties, Joe Stallone; Production Stage Manager, Elizabeth Yvette Ramirez; Assistant Stage Manager, Katherine Humbert
CAST: Jade Wheeler (Creator & Performer), Seulah Noh (Music Direction & Piano)
Performances through February 23 at Bridge Repertory Theater in Residence at the Multicultural Arts Center, 41 East Second Street, Cambridge, MA; Tickets at www.BridgeRep.org
You don't have to know anything about Eartha Kitt to be thoroughly engaged with Who Is Eartha Mae?, a one-woman play with music having its world premiere at Bridge Repertory Theater at the Multicultural Arts Center in Cambridge. All you really have to know is that its creator, Jade Wheeler, is giving one of the most mesmerizing performances in recent memory, holding the rapt audience in her sway with the power of her voice, her magnetic gaze, and her expressive movements. Imitation may be the sincerest form of flattery, but Wheeler eschews that route in favor of crafting an interpretation that entertains by giving us the essence of Kitt, both as an artist and as a person.
Who Is Eartha Mae? opens with Kitt performing a rousing song from the balcony, high above the audience seated at cabaret tables on the floor below. When she finishes, she dramatically descends the long staircase to a raised wooden platform that serves as her backstage dressing room and proceeds to shatter the fourth wall. Casually slipping in and out of articles of clothing and a variety of wigs and turbans, applying makeup, and sipping champagne, Wheeler is at once relaxed and emotive as she takes us into her confidence to share the stories of Kitt's life. From her harrowing childhood, to her acceptance to the Katherine Dunham Company (a renowned African-American modern dance company), to a solo career in nightclubs, to appearances on television, film, and Broadway, she showcases the good without sparing us the bad, all in service of revealing the many facets of Eartha Mae.
Interspersed with the narrative are about a dozen songs, some readily identifiable as Kitt's signature standards (among them "C'est Si Bon" and "Santa Baby"), and an amazing modern dance piece (choreography by Jenna Pollack) in which Wheeler traverses the floor with remarkable form and focus, weaving around the small tables. Home base is a simple dressing table with a lighted mirror where she sits to reflect before furthering the narrative, moving to either side of the stage for each vocal selection. To re-enact a television appearance, she walks stage right and down a couple of steps to a boxed-in area with a polished white floor, evocative of a tv studio. Going a few feet stage left, she alternately stands or lounges on her back suggestively, recreating a London concert during the time Kitt was persona non grata in the United States for speaking out against the Vietnam War at a White House luncheon hosted by Lady Bird Johnson. Without breaking the spell, Wheeler verbalizes the details of Kitt's social activism and gives us a glimpse into her grit, resolve, and independent spirit that enabled her to always rise again.
Despite the dimensions of the cavernous hall, Director Cailin Doran, music director/pianist Seulah Noh (outstanding), and the design team (Esme Allen, scenic; Laura Hildebrand, lighting; Jason Rosenman, sound) lay the foundation for Wheeler to establish an intimacy that wraps us in its embrace. Kathleen Doyle (costume design) and Rayo Cole (wig design) give Wheeler some of the trappings necessary for the visual magic to suggest Kitt's aura. It is no small achievement to make this space work for a show that is more modest in scale than earlier Bridge Rep productions that expanded to fill every corner, including the upper tier, but the warmth and electricity that Wheeler radiates accomplish it effectively. By the end of the show, we know a lot about Eartha Mae and her journey, and Jade Wheeler is one terrific tour guide.
Photo credit: Andrew Brilliant (Jade Wheeler)