BWW Review: THE SKIN OF OUR TEETH at Berkshire Theatre Group
THE SKIN OF OUR TEETH is one of two Pulitzer Prize winning plays by Thorton Wilder. Though the other, OUR TOWN, is far better known and far more frequently produced. The title comes from a phrase in the book of Job (19:20) and refers to the commonly used expression: to have escaped by the skin of one's teeth. The biblical reference is rather fitting. Like the bible, this play is meant to express an abstract or spiritual meaning through concrete or material form; a symbolical narrative. Biblical references are woven through this allegorical play that in the course of three acts spans thousands of years of human experience.
The sometimes confusing, amusing, and thought-provoking play premiered in 1942. This production has been freshened up a bit and includes modern references some of which are particularly relevant to the Berkshires. The main characters are George and Maggie Antrobus, their two children, Henry and Gladys, and Sabina, who appears as the family's maid in the first and third acts, and as a beauty queen temptress in the second act. The play's action takes place in a relatively modern setting but is full of anachronisms reaching back to prehistoric times.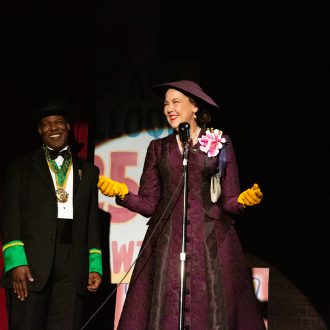 The first act takes place during an impending ice age. Mr. Antrobus is employed as an inventor responsible for the alphabet, the wheel, and multiplication tables. In the second act the family circumstances have changed as Mr. Antrobus becomes president of the Fraternal Order of Mammals. Distracted by temptations, he ignores his family and their needs as the end of the world approaches a second time in the form of a great flood. The third act focuses on war and the inhumanities enacted against one another.
This production is directed by Pulitzer Prize and Tony Award winner David Auburn. Local favorite and Tony Award winner Harriet Harris is flawless as Mrs. Antrobus. Danny Johnson delivers a strong multi-dimensional performance as Mr. Antrobus.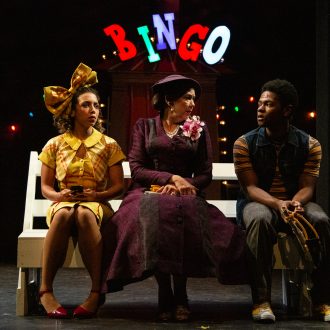 Ariana Venturi's performance of Sabina is both strong and amusing. At times she resembles the likes of Kathy Najimi, and Ellen Greene as she provides most of the production's lighter moments. They are supported by Marcus Gladney Jr. as Henry and Claire Saunders as Gladys, the Antrobus children. An ensemble including Lauren Baez, Lynette R. Freeman, Ralph Petilllio, Marjie Shrimpton, and Matt Sulivan each portray multiple characters throughout the performance. One noticeable stand-out from the supporting players is Lynette R. Freeman. Although I found Freeman's accent shifting between island and Latin as the fortune teller in act two distracting and slightly challenging, I very much enjoyed her performance as Ivy in act three.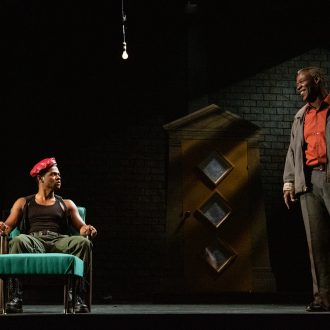 Many existential concepts are explored, such as pecking order / food chain, stereotypes, traditional roles, social norms and taboos, influence, control, coping, judging, privilege, and of course - evolving. The complexity of the play is increased by two elements. A play-within- a play scenario and frequent breaking of the fourth wall wherein actors break character and address the audience directly. Life imitating art imitating life can get a bit confusing and audience members may find themselves overwhelmed and confused, particularly during act one. Hang in there - good things take time. The messages become much clearer and well connected in acts two and three.
I believe THE SKIN OF OUR TEETH encourages us to question if life is indeed a series of unending struggles; why reality is inextricably tied to perception; and to consider if part of the human condition is doing what one must in order to survive. Whether the take-away is a lesson or an invitation, well, that I will leave to you.
With Scenic Design by Bill Clarke, Costumes by Bill Clarke, Costumes by Hunter Kaczorowski, Lighting by Daniel J. Kotlowitz, Sound by Scott Killian, Wigs Hair and Makeup by J. Jared Janas, Movement directed by Isadora Wolfe, Casting by Alan Filderman, and Stage Management by Abigail Gandy; THE SKIN OF OUR TEEH continues at Berkshire Theatre Group's Fitzpatrick Main Stage in Stockbridge through August 3rd. Visit www.berkshiretheatregroup.org for tickets and information.
Related Articles View More Boston

Stories

Shows