Zac Thriffiley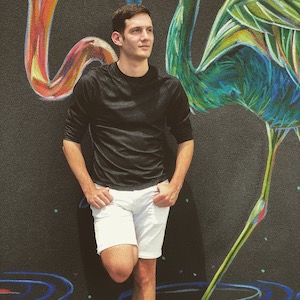 Zac Thriffiley is currently a PhD student in English researching American literature and culture. Over the years, Zac has been heavily involved in the arts communities of wherever he has lived. He has performed in and directed theatrical productions through southeastern Louisiana, including in Baton Rouge and New Orleans. While working on his MA in Chicago, Zac covered the arts and culture scene for his university's graduate student newspaper and served as a judge for Stage Left Theatre's new playwright residency. Whenever he isn't seeing a play or singing along to showtunes, Zac is exploring the city's various bookstores and restaurants - usually with his two dogs in tow.
MOST POPULAR ARTICLES
LAST 30 DAYS
LAST 365 DAYS
---
BWW Review: EUGENE ONEGIN Thrillingly Enchants at Dallas Symphony Orchestra

April 3, 2022

The near-perfect production runs April 1, 3, and 5, a strictly limited engagement that will be talked about for years to come.
---
BWW Review: DO NO HARM Heals with Hurt at Soul Rep Theatre Company

March 24, 2022

The powerful full theatrical premiere of a pandemic favorite runs March 10-19 at the Wyly Theatre at the AT&T Performing Arts Center.
---
BWW Review: FLIGHT Soars through an Exciting and Enlightening Journey at The Dallas Opera

March 7, 2022

The Dallas Opera's premiere production of Jonathan Dove's Flight beautifully captures these happenstance experiences in all their simplicity, magic, humor, and heartbreak, reminding us that we are at our most human when we find ourselves at our most vulnerable.
---
BWW Review: The Dallas Opera's MADAME BUTTERFLY Stirs Hearts and Minds at Winspear Opera House

February 19, 2022

TDO's newest production marks the long-awaited and triumphant return of an art form that cannot help but remind us of our shared humanity.
---
BWW Previews: A VERY SORDID WEDDING at Uptown Players

September 2, 2021

Uptown Players is proud to present the world premiere of A Very Sordid Wedding, based on Del Shores' 2017 hit film of the same name. A Very Sordid Wedding will be the final installment of the postponed Uptown Players 2020 season, and performances will run September 24th through October 3rd at the Kalita Humphreys Theater. 
---
BWW Interview: Summer Stern of FUN HOME at Uptown Players

August 12, 2021

On Friday, August 20, Summer Stern will take to the stage as Little Alison in Uptown Players's production of the musical Fun Home, roughly a full year since the show's original opening was delayed due to the COVID-19 pandemic. The production runs August 20-29 at the Kalita Humphreys Theatre.
---
BWW Review: THE SPONGEBOB MUSICAL Dives Into the Best Kind of Nautical Nonsense at Bass Performance Hall

February 21, 2020

Everyone's favorite invertebrate has surfed into the metroplex in the form of THE SPONGEBOB MUSICAL, bringing a tidal wave of imagination and talent in its wake. The Broadway hit runs through February 23 at Fort Worth's Bass Performance Hall.
---
BWW Review: ONE MAN, TWO GUVNORS Equals Too Much Fun at Circle Theatre

February 17, 2020

Circle Theatre's ONE MAN, TWO GUVNORS isa?'with all its chaos and decadencea?'a welcome relief from the tumult of our own hectic lives while also managing to introduce audiences to some of the incredible talent that help make up our community.
---
BWW Review: ANDI BOI Continues a Conversation at Dallas Children's Theater

February 14, 2020

The most recent entry in a citywide program of arts activism is Dallas Children's Theater's Teen Scene Players' production of ANDI BOI. This original work by a local DFW playwright Bruce Coleman runs through February 16.
---
BWW Review: THE BAND'S VISIT Brings a Breathtaking 'Something Different' to the Winspear Opera House

February 6, 2020

The current touring production of THE BAND'S VISIT has blown into Dallas, bringing the much-needed refreshing relief of a secluded oasis along with it.
---
BWW Interview: Jacob Hemsath of FRANK-N-FRIEND at Casa Mañana

January 30, 2020

When the perils of the playground combine with the creatures of the Gothic and the humor of a good laugh shared among friends, the new musical FRANK-N-FRIEND comes to life, making its world premiere at Casa Mañana.
---
BWW Review: BERNADETTE PETERS IN CONCERT Brings Down the House at Dallas Symphony Orchestra

January 25, 2020

This mix of Dallas's finest with New York legends makes for a stunning evening that should remind the city of just how lucky it is to have a world-class orchestra in the center of the arts district.
---
BWW Review: CHRISTMAS WITH CHEYENNE JACKSON AND MEGAN HILTY Throw a Festive Get Together at Dallas Symphony Orchestra

December 21, 2019

Audiences of all ages will be delightfully astonished by Jackson and Hilty's holiday concert with the Dallas Symphony Orchestra, running through December 22 at the Meyerson Symphony Center.
---
BWW Review: ONCE ON THIS ISLAND Delivers a Once-in-a-Lifetime Experience at AT&T Performing Arts Center

December 18, 2019

Through a combination of brilliantly creative stagecraft and psychologically complex characterizations, the current touring production of the ONCE ON THIS ISLAND revival immerses audiences in an experience unlike any other, one in which the power of a story creates a new world from every possible human emotion right before our eyes.
---
BWW Review: SWIMMING WHILE DROWNING Rises Above the Surface at Cara Mía Theatre

December 3, 2019

Emilio Rodríguez's recent play SWIMMING WHILE DROWNING, currently receiving its Dallas premiere with Cara Mía Theatre, manages to share the trials and tribulations of two queer homeless youths in a manner inventive, tender, and authentic.
---
BWW Review: A CHORUS LINE Not Quite a Singular Sensation at MainStage Irving-Las Colinas

November 8, 2019

While the current production of A CHORUS LINE at MainStage Irving-Las Colinas works hard to present a cohesive and coherent vision of what the show can be, the musical frequently feels more like an open cattle call than an exhibition of extraordinary talent.
---
BWW Review: CHICAGO IN CONCERT Sizzles with Sin at Dallas Symphony Orchestra

October 5, 2019

The Dallas Symphony Orchestra's CHICAGO IN CONCERT is a thrilling reimagination of a familiar favorite, one that excites with its inventiveness while remaining faithful to the story and sounds audiences have come to hold near and dear to their hearts.
---
BWW Review: Swipe Right on a Flirty and Fun FIRST DATE at Stage West Theatre

September 22, 2019

FIRST DATE, the romantic comedy musical closing out Stage West Theatre's 40th season, is sweet, charming, tender, uproariously funny, and a celebration of all the worthwhile risks we take in the search for love.
---
BWW Review: CHARLIE AND THE CHOCOLATE FACTORY Concocts a Bittersweet Confection at AT&T Performing Arts Center

August 25, 2019

While Wonka's chocolates and candies can still be found in stores across the globe, the latest iteration of his now-classic story of succession tastes stale and a?' at times a?' lacks any taste at all.
---