Student Blogger: Sophie Rossman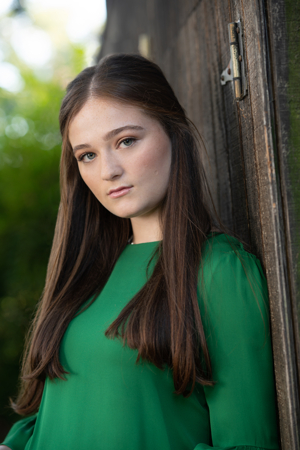 Coming from a childhood of poetry writing, Sophie has always been eager to find big stories in small moments. Moving to Manhattan to attend New York University's Tisch school of the Arts has inspired her to do just that. She is currently a Freshman in pursuit of a BFA in drama at the Stella Adler Studio of Acting (class of 2025) where students are inspired to expose themselves to the arts and use the world around them to fuel their work. Fortunate enough to have lived in Westport, Connecticut, a town that greatly values the arts, Sophie has spent a lot of time surrounded by unique, artistic individuals who encouraged her to write, create, and develop imaginative projects that benefit the social climate and infuse people with optimism, especially during the pandemic, when morale was low. Along with her love of the theatre, she's also passionate about spoken-word poetry, volunteering and advocating for local organizations, storytelling, and film production. Additionally, she is excited to share her already eccentric Tisch drama experiences with others, and hopefully inspire future Violets! Throughout the rest of her college career, Sophie is eager to develop her theatrical skills, as well as explore new ones. She is hungry to uncover untold stories, as well as give practical advice as she advances through her first four years in the big apple.
Student Blog: The Art of Self-Care: A Collection of Advice

April 11, 2022

As an artist, it can be hard to put yourself before your craft. I turned to the Tisch Drama community to ask: how do artists take care of themselves? What keeps them from getting overwhelmed? What calms them down? Their knowledge resulted in a beautiful collection of artistic advice that I am honored to share with you now.
---
Student Blog: An Audience of Eyes

March 3, 2022

The masks, in some way, strip the viewers of their identities, solidifying their role as spectators rather than audience members. From behind the mask, we forget that the performers can see us just as much as we can see them. Face coverings give us false anonymity, cloaking our reactions and forcing us to view the piece with a more critical lens.
---
Student Blog: Striving for Imperfection

February 1, 2022

Let's not put ourselves into boxes. Let's not fear the messy. Instead of putting pressure on ourselves to be 'perfect' artists, lets tap into our defects. More likely than not, the spontaneity that comes with being human will be more interesting to audiences than just playing pretend.
---
Student Blog: Monologues in the Shower: Memorization Techniques, Tips & Tricks!

January 3, 2022

So you're ready to be a BFA drama student! That is, until you're putting up your first Shakespearian scene on top of the three self-tapes you still need to film and you were supposed to be off-book by Wednesday. Every actor has been there at some point, but don't worry - I've got you covered.
---
Student Blog: Why We Don't Wear Shoes in Acting School

December 1, 2021

Actors are trained to dive headfirst into the uncomfortable, to kick off our shoes and to try on new ones. We become eager to try on Mom's highest heels; ready to run in the cleats of the kids next door; hungry to dance in Cinderella's slippers before midnight, and powerful enough to step on fingers wearing Iago's boots.
---
Student Blog: Park Royalty: "Fame" at NYU is Not What You Think

October 29, 2021

Everyone's a star in the park: the street performers masked in paint, the dimpled, grey-haired lady blowing bubbles for the passersby, and even you, a bright-eyed, bushy-tailed 17-year-old college student whose only objective is to breathe in the vibrance of your new home.
---