Mara Jill Herman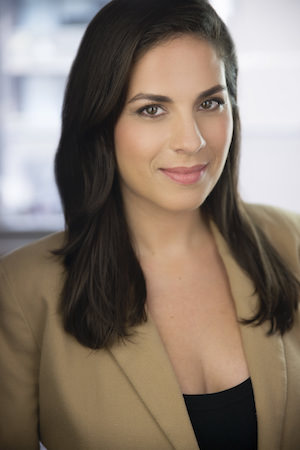 Mara Jill Herman is an actor, writer, and teaching artist. She is a member of Actors' Equity Association and frequently appears with "America's Sweethearts," the all-female vintage trio. Her developmental/regional highlights include "The Band's Visit" (Playwrights Horizons), "Nerds" (Philadelphia Theatre Company), and "Sam's Room" (Theatre Barn's Impact Award). Favorite productions include "On The Town" (Hildy), "Rent" (Maureen), "Guys and Dolls" (Adelaide), and the international tours of "Disney On Classic" and "Jesus Christ Superstar." She originated roles at La Mama, FringeNYC, and collaborates with songwriters at BMI, Prospect Theater Company, and NYU's Graduate Musical Theater Writing Program. She co-authored "So You Wanna Be A Superstar? The Ultimate Audition Guide" (Running Press Kids). Mara is an adjudicator for the National YoungArts Foundation and received the Young Alumni Service Award from her alma mater, University Of The Arts. Follow her on Twitter/Instagram @marajillherman and visit her website: marajillherman.com
BWW Interview: Disney On Classic Retrospective - Through The Years With Brad Kelley

December 27, 2018

After 16 seasons with Disney On Classic (DOC), Brad Kelley is turning over his baton to its next music director while he begins a new music venture. I was fortunate to work with Brad last year in DOC Tokyo, and learned so much from this maestro!
---
BWW Interview: Disney on Classic Retrospective - Through the years with Tony Clements

October 30, 2018

I recently had the opportunity to interview Tony Clements, Creative Director for Harmony Japan, New York. A native of Waterford, Wisconsin, Tony spent much of his early theater years in Milwaukee. He has been with Disney on Classic since 2007 and brings a very special perspective to navigating a career as multi-hyphenate artist.
---
BWW Interview: Lawson Young of DISNEY ON CLASSIC at Tokyu Theatre Orb

May 31, 2018

Originally from Saratoga Springs, New York, performer Lawson Young and I met on tour last fall in Tokyo, where she played Rapunzel in Disney On Classic's Tangled. Now Lawson returns to Japan for DOC's Spring Gala! This Broadway veteran discusses what it's like to sing with a 60-piece orchestra and the challenges of working in a foreign country.
---
BWW Interview: BIG BAND BEAT - A Day In The Life With Rhett Wheeler at Broadway Music Theatre, Tokyo DisneySea

April 29, 2018

Originally from Carmel, California, performer Rhett Wheeler spent his summers growing up in the Isle of Wight, England. No stranger to travel, he has been living in Tokyo and working as a Principal Vocalist at Big Band Beat. Check out what it takes to perform at Tokyo DisneySea in this Q & A!
---
BWW Review: THE LION KING - From Broadway To Shinagawa

March 19, 2018

In 1994, the Disney animated feature The Lion King made history as the highest grossing film of the year. Three years later on November 13, 1997, the awe-inspiring stage adaptation directed and costumed by Julie Taymor opened on Broadway. It received six Tony Awards, including Best Musical. With songs by Elton John and Tim Rice, the vibrant score is by Hans Zimmer, who recruited South African composer Lebo M. to create the textural Zulu influence. Twenty-five years later, its legacy continues to reverberate around the world. In a Japanese translation of this mega hit, Shiki Theater Haru in Minato remounted the first international production of The Lion King on December 20th, 1998. This year it celebrates its 20th anniversary in Japan at the Natsu Theater in Shinagawa.
---
BWW Review: Dogfight's Return To Japan - A Good Bet

February 8, 2018

In Toho Stage's return engagement of Dogfight patrons may recognize several company members. All but three actors were part of the Japanese premiere in 2015 at Theater Crea in Chiyoda. Based on the 1991 Warner Brothers film written by Bob Comfort, the musical stays faithful to the screenplay. This current revival in three cities- Osaka, Tokyo, and Nagoya­- features the all-Japanese cast in a distinctly American story set in the backdrop of the Vietnam War.
---
BWW Review: A Whole New World In Minato, Tokyo

January 10, 2018

Aladdin the 1992 Disney animated feature about a protagonist who strives to overcome great obstacles and fulfill a dream is the magic formula that drives most Hollywood blockbusters. For over 20 years this action-packed love story has delighted audiences with colorful fantasy and lofty fun, earning two Oscars, four Grammys including Alan Menken and Tim Rice's Song Of The Year A Whole New World, and iconic melodies and vocal performances, most notably by the late, great Robin Williams who voiced the Genie.
---
BWW Review: Fiddler On The Roof - A Tradition In Japan

December 28, 2017

This past Hanukkah I witnessed a kind of miracle in modern times: Toho Stage's Fiddler on the Roof, performed in Japanese by an all Asian company. The quintessential Jewish musical set in Imperial Russia in 1905 is based on Tevye and his Daughters and other tales by Sholem Aleichem about a poor dairyman's attempts to maintain his cultural and religious traditions in a changing world.
---