BWW Interview: BIG BAND BEAT - A Day In The Life With Rhett Wheeler at Broadway Music Theatre, Tokyo DisneySea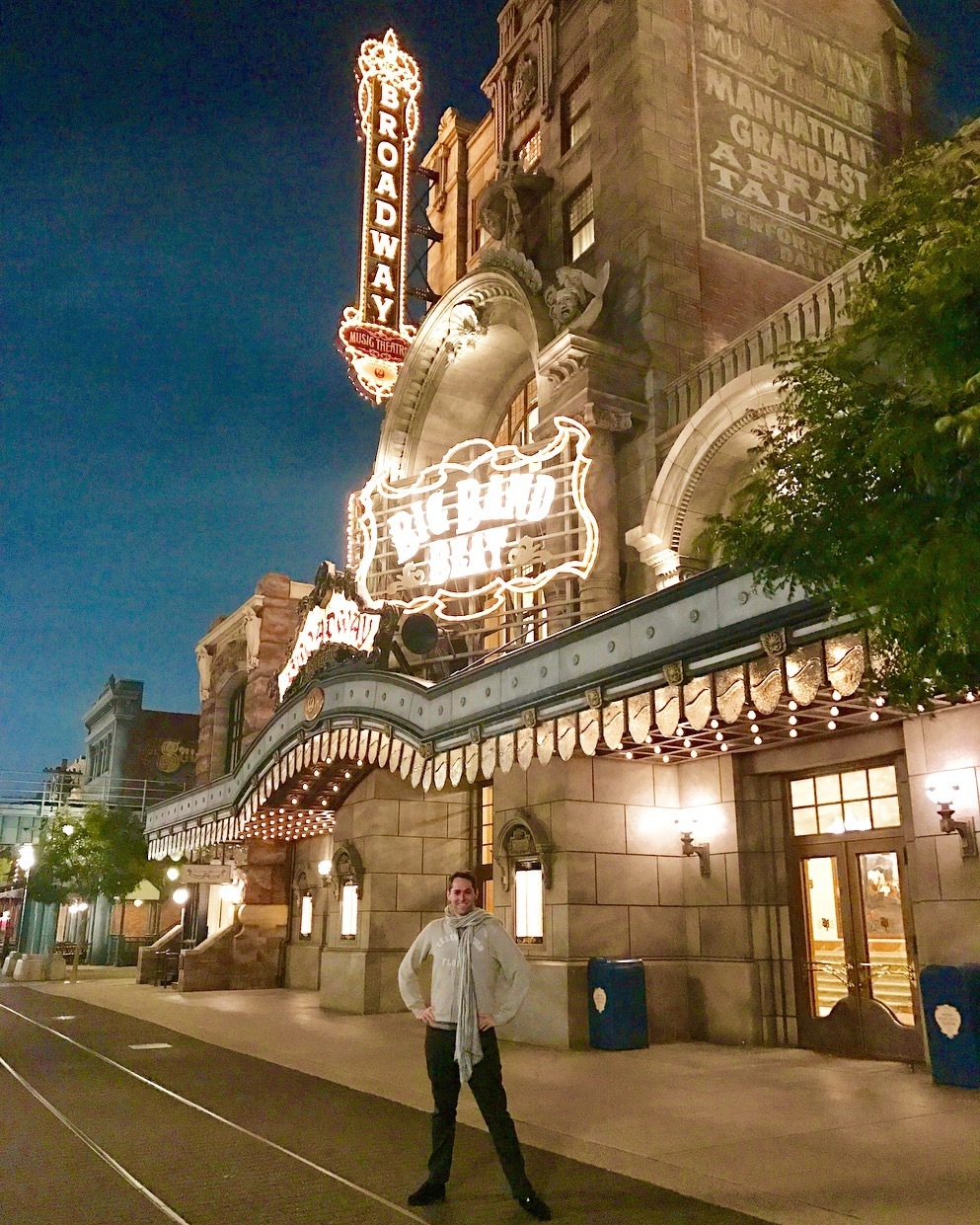 Originally from Carmel, California, performer Rhett Wheeler spent his summers growing up in the Isle of Wight, England. No stranger to travel, he has been living in Tokyo and working as a Principal Vocalist at Big Band Beat. Check out what it takes to perform at Tokyo DisneySea in this Q & A!
How long have you been working for Tokyo DisneySea?
I have been working for Tokyo Disney Resort (TDR) at one of the best theme parks in the world for about a year. It's still a dream come true every day.
How did this opportunity come about? What was the audition process?
I am a lifelong fan of Disney and have always wanted to work for the company. I went to a few auditions for The Walt Disney Company and when I decided to audition for TDR, it turns out Big Band Beat was the right fit. TDR holds auditions worldwide about twice a year and the casting team visits major cities all around the world. I found out about an Open Call from disneyauditions.com and originally auditioned in Los Angeles. Six months later I was invited to the final callbacks in New York and the rest, as they say, is history.
How is this job different from other chapters in your career?
I've been singing professionally since I was eight so I've had a myriad of different gigs from singing in Tennessee with Dolly Parton, to feeling the rhythms of "La Bamba" with Trini Lopez, to being a Principal Vocalist and Guest Entertainer on luxury cruise ships that sail around the world! I suppose the biggest difference is that Big Band Beat has the Disney magic. You're not going to see Mickey Mouse playing the drums in any other show. And the lifestyle differs from other contracts because I'm in one place, rooted in Tokyo. I come back to my home every night and have a regular two-day weekend. What a gift!
What is it like living in Tokyo?
Greater Tokyo is one of the world's most populated cities. It is really a melting pot of different people from all over the world. It's extremely vibrant, fun, and brilliantly organized! The subway system is fantastic; the trains are always clean and on time, if not packed. The language barrier can overwhelm you but I find that many people speak English and the signage is very accessible. I studied Japanese for a year in high school but with Google Translate everything is much more manageable. The food is incredible! The most challenging thing for me is buying groceries. As someone who likes to read ingredients, I have a hard time comprehending the labels. One time I ended up getting dry ice for my cold drink because I had no idea what I was purchasing!
Your show is set in the 40s Big Band era. Have you always been a fan of this style of music?
I absolutely love jazz/swing and this era of music. It's amazing to be backed by a 14-piece big band while singing Louis Prima's iconic "Sing! Sing! Sing!" which Benny Goodman helped make a classic. Before Tokyo Disney, I was singing a similar style with my 8-piece band on luxury cruise ships. You can be so expressive with the music unlike structured music that you must sing exactly as written. Jazz is so freeing to perform. I feel its excitement in my blood.
How do you maintain your stamina doing multiple performances a day?
We perform for thousands of people a day! It's an incredible feeling and I'm constantly thinking of how to stay healthy. I have to make smart choices both on stage and off. For me, that means - most importantly - a good night's sleep. I always stay hydrated and drink around three to four liters of water on a regular workday. I also don't speak in the morning. I give my voice time and let my body warm up before I apply the air pressure to my vocal folds. The vocal folds are so little and we overuse them easily. The tissue needs rest just as much as every other part of our body. On days off, I try to limit my speech when possible and I almost never sing. On stage, I'm prepared to sing in a healthy and consistent way.
Do you have a favorite moment in the show?
Oh yes, I have several! But if I had to pick one, after I finish a big solo with the band, Mickey Mouse suddenly appears on stage playing the famous drum opening to "Sing! Sing! Sing!" Very shortly after he has a drum off with another drummer, runs down front and center, and leads a tap dance break backed by our amazing tappers. Nowhere else on Earth can you see Mickey do that!
The production values are stunning and you perform in the gorgeous Broadway Theater. How do your fans react?
Our fans love the show! Performing for such great audiences is a thrill. The lights go down, the music starts, and you can hear them clapping to the beat awaiting our entrance. The beautiful Broadway Music Theatre seats approximately 1,500 guests and we play to capacity every time!
You sing the thrilling 11 o'clock number "All Of Me." What is your process in preparing the material? Did you listen to the originals or consciously avoid them?
I always try to do a little of both to get a feel for what I am singing. I listen to various covers of the songs from men to women, present day to the originals. Then I do my best to forget everything and interpret the song my own way. In the case of jazz, it's almost impossible not to have heard these songs before. But the truly tremendous thing about this genre is that it's not always about following the road map or the notes on the page- instead it's about following your soul and how the music moves you. In the case of my show, these arrangements allow for a bit more room to breathe and that's where my musicality can fill the gaps.
How do people get tickets if they want to see you perform?
Big Band Beat performs daily in Tokyo DisneySea. The show is included with the price of park admission so don't miss it! Tokyo Disney Resort Park tickets are available at the gates and online at TokyoDisneyResort.jp/en.
Do you have any tips for landing a gig in Big Band Beat?
Audition, audition, audition. You can't get the job if you don't show up. The casting team is constantly looking for seasoned Principal Vocalists who "...can command a stage with [their] star quality and charm." My biggest tip would be that they want to see you. Don't show them what you think they want to see. Show them what you do best and allow them to see what makes you special.
Serious question: Mickey or Donald Duck?
That's easy: C) All of the above. I love all my Disney friends. How could I possibly choose just one! Our company's visionary, the great Walt Disney, said it best: "I only hope that we never lose sight of one thing - that it was all started by a mouse."
Follow Rhett on social media: @iamrhettwheeler and check out his website: rhettwheeler.com