Kristina Nungaray - Page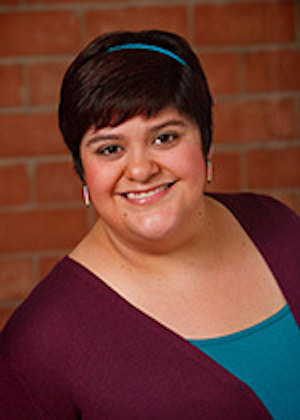 Kristina is a graduate from Sam Houston State University with a passion for theatre and the arts. As a lover of the written word, she aspires to finish her first novel and complete a graduate degree in Creative Writing. As a Psychology and Women's Studies scholar, she hopes to serve as a mentor for young girls.
MOST POPULAR ARTICLES
LAST 30 DAYS
LAST 365 DAYS
BWW Interview: Robert Hager Talks TUTS Underground's BONNIE & CLYDE

October 7, 2015

Houston, have you seen TUTS Underground's production of the Tony-nominated musical BONNIE & CLYDE? Now entering their last week of performances, this musical takes audiences on a wild ride with two of Texas's most infamous outlaws. Playing the infamous Clyde Barrow, Robert Hager took some time out of his schedule to let Houston audiences know what they can expect from this tale of love and crime and why they don't want to miss it.
---
BWW Interviews: Lindsay Nicole Chambers Talks KINKY BOOTS

February 17, 2015

Houston, have you got your tickets to the Theatre Under the Stars production that everyone has been talking about? KINKY BOOTS is only in town for one more week, and tickets are going fast! Playing Lauren, the lovable girl with a history of wrong guys, Lindsay Nicole Chambers reached out to BWW Houston to talk about the tour and to give us a few reasons why Houston audiences don't want to miss KINKY BOOTS!
---
BWW Interviews: Deedee O'Malley and Janet Cole Valdez Dish on TUTS Underground's WAITING FOR JOHNNY DEPP

January 29, 2015

Have you made it to TUTS Underground's world premiere of WAITING FOR JOHNNY DEPP? If you haven't, you don't have much time left! This one-woman musical follows the adventures of a New York actress, Rita Donatella, as she vies for her dream role in a film with Johnny Depp. Deedee O'Malley took time out of their busy schedules to dish with BWW-Houston about WAITING FOR JOHNNY DEPP. Although they were missing their other partner-in-crime, Bettie Ross, these two writers shared with us why you don't want to miss this heartfelt and laugh-out-loud show.
---
BWW Interviews: Brooke Wilson Talks TUTS Underground's Season Opener REEFER MADNESS

September 26, 2014

Last season, TUTS Underground fulfilled their promise of bringing an edgier brand of theatre to Houston audiences. Now entering their sophomore season, they are continuing to push the envelope with the darkly satirical and laugh-out-loud musical, REEFER MADNESS. Playing the role of Sally, Brooke Wilson took some time out of her busy schedule to let Houston audiences know why they don't want to miss this production of REEFER MADNESS.
---
BWW Interviews: Michael Tapley and Shay Rodgers Talk TUTS' WHOREHOUSE

July 15, 2014

Every summer Houston audiences gear up for Theatre Under the Stars' (TUTS) free summer musical at the Miller Outdoor Theatre. Top-notch talent and a free price tag make these summer productions an event that is too good to miss. This year, TUTS will be filling the Miller Outdoor Theatre with one whopping Texas treat, THE BEST LITTLE WHOREHOUSE IN TEXAS. Taking time out of their busy rehearsal schedule cast member Michael Tapley and choreographer Shay Rodgers talked to BWW-Houston to fill us in on why Houston audiences don't want to miss this summer show!
---
BWW Interviews: Liz McCartney Gets Houston Ready for TUTS' THE LITTLE MERMAID

June 3, 2014

We are quickly approaching summertime in the city, and Theatre Under the Stars (TUTS) is gearing up to provide Houstonians a cool opportunity to catch a fun, family show, Disney's THE LITTLE MERMAID. Like the beloved film, this production is sure to delight with familiar songs and all of our favorite characters.
---
BWW Interviews: Sara Webb Talks Houston Ballet's SWAN LAKE

June 2, 2014

Summer is upon us, and Houston Ballet is helping Houstonians beat the heat by presenting the idyllic classic SWAN LAKE. Featuring choreography by Stanton Welch, this version of SWAN LAKE first premiered in 2006 and this production marks the third time that Houston Ballet dances this crowd-pleasing version. In anticipation of Thursday's opening night, I recently chatted with Sara Webb about SWAN LAKE and dancing the iconic dual roles of the White and Black Swans.
---
BWW Interviews: Jennifer Decker Talks Mildred's Umbrella's 2014 -2015 Season

May 22, 2014

Mildred's Umbrella Theater Company has a successful history of presenting Houston audiences with bold and innovative theatre, offering patrons an altogether edgy theatre-going experience. In addition to their 2014-2015 mainstage season, Mildred's Umbrella has just kicked-off their four play series entitled The Women's Project with CASSANDRA by Katharine Sherman. The Women's Project will feature plays that are written by a female playwright, or contain thematic elements that explore the feminine perspective. Furthermore, a portion of proceeds from each of the productions in The Women's Project series will be donated to local charities dedicated to women's issues. Taking time out of her schedule, Artistic Director and Co-Founder Jennifer Decker, met with us to fill us in on what Houston Audiences can expect from Mildred's Umbrella Theater Company's 2014-2015 Season.
---
BWW Interviews: Nick LaMedica Talks the First National Tour of WAR HORSE

May 13, 2014

In just a couple of weeks, Broadway Across America will be bringing in the First National Tour of the five-time Tony award winning production of WAR HORSE, a play adapted by Nick Stafford in association with Handspring Puppet Company that is based on the Michael Murporgo book of the same title. Set against the backdrop of World War One, this production tells the imaginative and emotional tale of a farm boy named Albert and his love for his horse, Joey. With breathtaking life-size puppets, stirring music, and storytelling at its finest, the First National Tour of WAR HORSE is sure to be an unforgettable theatergoing experience for Houston audiences. I was lucky enough to catch up with Nick LaMedica, a puppeteer for this production, who took some time out of his busy schedule to give Houston audiences an inside look at all of the rigorous training it takes to bring the horse to life onstage and to let us know why we don't want to miss WAR HORSE.
---
BWW Interviews: Philip Lehl and Matt Lents Talk Stark Naked Theatre Company's THE WINTER'S TALE

May 1, 2014

Stark Naked Theatre Company is closing their 2013-2014 season with a production of William Shakespeare's THE WINTER'S TALE. As a company that emphasizes text over staging, it is always a treat to see Stark Naked bring works to life on the stage, and with eight cast members playing dozens of roles, this production seems to be no exception. While it has been dubbed one of Shakespeare's most misunderstood plays, THE WINTER'S TALE is sure to have something for everyone, as it is wrought with elements of tragedy, comedy, and romance. Taking time out of their busy schedule, Philip Lehl, who is directing this production as well as stepping into the role of Leontes, and cast member Matt Lents sat down with us to talk about programming Shakespeare for modern audiences and what Houston can expect from Stark Naked Theatre Company's THE WINTER'S TALE.
---
BWW Previews: The Brilliant Lecture Series Presents 'A Conversation with Bette Midler'

April 21, 2014

The Brilliant Lecture Series, Inc. is a non-profit company that aims to inspire and educate Houston audiences by presenting them with prominent members of our society such as national and international leaders, artists, humanitarians, philanthropists, and role models. In the past, they have hosted such influential names as Dr. Maya Angelou, Linda Eder, Professor Stephen Hawking, Betty White, Betty Buckley, Sir Sidney Poitier, and Diane Keaton to name just a few. On par with their mission, in the past, Brilliant Lecture Series has also hosted BRiLL KiDS Talks, which teach children about a variety of subjects ranging from STEM (Science, Technology, Engineering, and Mathematics) Seminars to sessions on Space Exploration and Financial Literacy. One of the central goals of this non-profit organization is to present audiences with speakers that can motivate them and can emphasize the importance of having a dream and following it.
---
BWW Interviews: Kristin Warren Talks TUTS Undergrounds' Upcoming MURDER BALLAD

April 2, 2014

When TUTS Underground announced their inaugural season, it was clear that they were keeping their promise of bringing Houston audiences an edgier and more risque brand of theatre. TUTS Underground is kicking off the second half of their season of rockin' musical theatre with the regional premiere of MURDER BALLAD, a sexy murder story about a love triangle gone wrong. Playing the role of the narrator, Kristin Warren took some time out of her busy schedule to let Houston audiences know what they can expect from this racy musical.
---
BWW Reviews: Stages Repertory Theatre's SEXY LAUNDRY is a Sweet Romantic Comedy

February 13, 2014

While Valentine's Day is just around the corner, Stages Repertory Theatre is getting Houston audiences in the spirit with the Regional Premiere of Michele Riml's romantic comedy, SEXY LAUNDRY. The play focuses on Alice and Henry, a middle-aged married couple who have hung their last lingering hopes of rejuvenating their marriage on a weekend getaway to a swanky hotel. With a copy of Sex for Dummies in hand, the husband and wife duo unsteadily embark on a night that could very well make or break their twenty-five year marriage. While SEXY LAUNDRY delivers plenty of laughs and is chock full of awkward moments, underneath it all is a touching and tender narrative that is sure to leave the audience with a smile on their face.
---
BWW Reviews: GIRLS ONLY - THE SECRET COMEDY OF WOMEN is Fun Feminine Fare for All

February 4, 2014

Barbara Gehring and Linda Klein's GIRLS ONLY - THE SECRET COMEDY OF WOMEN took Houston by storm during its regional premier at Main Street Theater's Chelsea Market Location in 2012. It was so well-received that it was extended twice and did not close until February of 2013. Now, back by popular demand, Main Street Theater is bringing back the riotous romp that celebrates being a girl. As I walked into the intimate theater, there were groups of women everywhere talking giddily. Some were families, some were close friends, and some were even coworkers that had gotten together for a Girls' Night Out. Several were repeat offenders, coming back for their second time and bringing friends with them. There were even a few men who were brave enough to venture out and share in all of the laughter. After seeing the production, one thing is certainly clear: Houston can't get enough of this fun, feminine fare!
---
BWW Reviews: A. D. Players' THE DIARY OF ANNE FRANK is Deeply Moving

February 3, 2014

The A. D. Players is in the middle of celebrating their 47th season of theatre. Notorious for providing Houston audiences with thought-provoking and inspirational pieces of theatre, they are kicking off 2014 in the same fashion with their deeply moving production of Frances Goodrich and Albert Hackett's award-winning play, THE DIARY OF ANNE FRANK.
---
BWW Reviews: Encore Theatre's AGNES OF GOD is Gripping and Emotional

January 21, 2014

Encore Theatre is celebrating their 20th anniversary with a season of "Classic Works from the Past Seasons." Proving that they are well capable of tackling complex pieces, they are sailing into 2014 with John Pielmeier's AGNES OF GOD. The play, which opened on Broadway in 1982 and eventually inspired the 1985 film, provides a stark examination of faith, innocence, compassion, and humanity. Encore Theatre beautifully captures the spirit of this production, giving audiences a gripping and emotional theatre going experience.
---
BWW Reviews: The Alley Theatre's OTHER DESERT CITIES is both Fun and Dysfunctional

January 16, 2014

We have all survived the holidays and have welcomed in a new year. Just in case Thanksgiving and Christmas didn't give you your fill of dysfunctional family drama, The Alley Theatre is kicking off 2014 with their production of Jon Robin Baitz's OTHER DESERT CITIES. Named Outstanding Play by the Outer Critics Circle in 2011 and touted as "the best new play on Broadway" by the New York Times, this production puts the fun in dysfunctional while making the joys and pains of familial relationships viscerally apparent, even in spite of occasional lackluster performances.
---
BWW Interviews: Ruby Lewis Gets Us Ready for TUTS' WE WILL ROCK YOU

January 15, 2014

Theatre Under the Stars (TUTS) is kicking off 2014 with the multi-award-winning musical WE WILL ROCK YOU. Featuring twenty-four hits from the iconic music group Queen, this musical is sure to be one rocking evening of musical theatre! WE WILL ROCK YOU is a dystopian show that takes place in a future age. In a place and time where individuality is off-limits and where music is forbidden, the musical follows a band of rebel Bohemians that are striving to bring the power of rock and roll back to the people. Playing the female lead, Scaramouche, Ruby Lewis took time out of her busy schedule to let us know what Houston audiences can expect from this production of WE WILL ROCK YOU.
---
BWW Interviews: Chris Sams Talks 50 SHADES! THE MUSICAL

December 13, 2013

While Christmas is all around us and holiday shows are abound, TUTS Underground is gifting Houston audiences with something a little different than your typical holiday fare. TUTS Underground is gearing up for their second production of their inaugural season, 50 SHADES! THE MUSICAL. Parodying the popular book by E.L. James, the musical provides a hilarious interpretation of the novel through the eyes of a ladies' book club. Playing Taylor, Houston native Chris Sams took some time out of his schedule to let us know what Houston audiences have in store with 50 SHADES! THE MUSICAL.
---
BWW Reviews: The Alley Theatre's THE SANTALAND DIARIES Delivers a Hearty Dose of Holiday Humor

December 2, 2013

It's beginning to look a lot like Christmas, and while the hustle and bustle of the season is in full force, the Alley Theatre is presenting Houston audiences with the ultimate holiday treat. Back by popular demand, David Sedaris' cult Christmas classic THE SANTALAND DIARIES, adapted for stage by Joe Mantell, continues to delight with a hearty dose of humor and sardonic wit. The one-man play leaves the audience in stitches as they follow Crumpet the Elf, who turns the magic of the iconic Macy's Santaland at Manhattan's Herald Square on its very head.
---
1