Katie Laban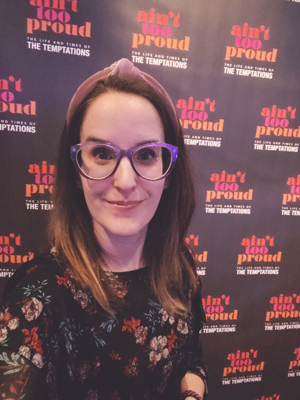 Katie Laban is BroadwayWorld's Detroit Senior Editor and a freelance writer and photographer in the Metro Detroit area. She is disabled and chronically ill but has a strong passion for books and all things creative, especially theatre, and loves to support Michigan arts. Connect with her on Instagram at @niftyreads to talk about books and the Detroit theatre scene, and Twitter at @niftyk13 to chat about both with the occasional Taylor Swift and Harry Styles lyric!
MOST POPULAR ARTICLES
LAST 30 DAYS
LAST 365 DAYS
Interview: Ian Coursey Talks the Importance of DEAR EVAN HANSEN at Fisher Theatre!

September 26, 2022

Dear Evan Hansen is the deeply personal and profoundly contemporary musical about life and the way we live it. From 9/27 to 10/9, this remarkable show will visit the Fisher Theatre in Detroit. BWW Detroit had a chance to speak with Ian Coursey, a current U of M student on tour with the show, about his roles and the importance of the show.
---
Interview: Brian Stokes Mitchell is Excited About AN EVENING WITH BRIAN STOKES MITCHELL at Wharton Center!

September 20, 2022

Broadway legend and film star, Brian Stokes Mitchell, will make his first appearance in East Lansing on 9/23 in Cobb Great Hall at the Wharton Center. The 2-time Tony Award winner with a 40-year career spanning Broadway and more is a highly versatile singer ready to give fans a memorable show, An Evening with Brian Stokes Mitchell.
---
Interview: Gerry McIntyre Gushes Over AIN'T MISBEHAVIN' at The Encore Musical Theatre Company!

September 14, 2022

The Encore Musical Theatre Company is kicking off its 14th season with Ain't Misbehavin', the sassy, sultry musical celebration of legendary jazz great Fats Waller, which runs from 9/15 to 10/2 in Dexter. Gerry McIntyre is returning to direct on The Encore stage. BWW Detroit had a few moments to speak with him about his love for the show.
---
BWW Interview: Director Greg Grobis Talks About the Kooky THE ADDAMS FAMILY Musical at Detroit Mercy Theatre Company!

March 23, 2022

The Addams Family will be the first musical since the pandemic for the Detroit Mercy Theatre Company in Detroit. The 90-minute dramatic concert version of the show will run from 3/31-4/10 at The Marlene Ball Theatre. 'Love. Laughter. All-American Family. Secrets,' responded director Greg Grobis when asked to describe the show in five words.
---
BWW Interview: Director Dee Dee Batteast Talks the Girl Power Comedy of THE REVOLUTIONISTS at Farmers Alley Theatre!

March 17, 2022

Heads are going to roll with the presentation of The Revolutionists, the irreverent, girl-power comedy, running from March 18th-April 3rd at Farmers Alley Theatre. The show is set during the French Revolution's Reign of Terror. Written by Lauren Gundernson. BWW Detroit spoke with the show's director, Dee Dee Batteast, about the amazing show!
---
BWW Interview: Francisco Risso Talks About the Amazing SUMMER: THE DONNA SUMMER MUSICAL at Fisher Theatre!

March 8, 2022

Summer: The Donna Summer Musical makes its Detroit premiere at the Fisher Theatre, March 8th-20th. "Summer is uplifting, emotional, thrilling, entertaining, and soulful," Detroit Native Francisco Risso responded. Risso had so much more to share about the show and why Detroit theatre fans should come to see it – check it out!
---
BWW Feature: Take a Look at Disney's FROZEN Tour at Wharton Center!

January 23, 2022

Frozen will play an exclusive two-week premiere engagement at Wharton Center beginning January 26, 2022, with performances playing through February 6, 2022. Tickets for the long-awaited production of Disney's Frozen are on sale now at the official source to purchase Wharton Center tickets online, whartoncenter.com. Take a look at some photos!
---
BWW Interview: Al Duffy, Suzan M. Jacokes, & Richard Payton Chat A VERY GOLDEN GIRLS CHRISTMAS at The Ringwald!

November 30, 2021

A Very Golden Girls Christmas opens at the Ringwald tonight! The show is running four weeks through December 20th and it's a love letter to Golden Girls fans. BWW Detroit had a chance to speak with Director Suzan M. Jacokes and Al Duffy playing Sophia and Richard Payton playing Blanche about the delightful holiday comedy.
---
BWW Interview: Star & Co-Creator Joe Kinosian Talks MURDER FOR TWO: HOLIDAY EDITION at Farmers Alley Theatre

November 19, 2021

Murder for Two: Holiday Edition opens tonight at Farmers Alley Theatre! It's a hilarious musical murder were one actor investigates the crime, the other plays all of the suspects, and they both play the piano. BWW Detroit had moment to speak with star and co-creator, Joe Kinosian, about creative and festive show happening in West Michigan.
---
BWW Interview: Michigan Native Shea Renne Talks All Things HADESTOWN at Fisher Theatre!

November 18, 2021

Hadestown arrives in Detroit next week starting November 23rd at the Fisher Theatre. Hadestown invites audiences on a hell-raising journey to the underworld and back. BroadwayWorld Detroit had a moment to speak to Michigan Native, Shea Renne originally from Bloomfield Hills, about this exquisite and mesmerizing musical.
---
BWW Interview: Director Michael J. Barnes Talks the Holiday Magic of THE SNOW QUEEN at The Hilberry in Detroit!

November 18, 2021

The Snow Queen opens this weekend on November 19th at The Hilberry Theatre to bring magic and fun for the holiday season to Detroit. BroadwayWorld Detroit had a moment to speak with Michael J. Barnes, the director of The Snow Queen and why Detroit audience will love this classic fairy tale.
---
BWW Interview: Bruce Thorburn Talks Directing of TWELFTH NIGHT at Stagecrafters 2nd Stage

October 13, 2021

Twelfth Night, the Shakespeare comedy, will run on the Stagecrafters' 2nd Stage from 10/15-10/24. It's a fast, fun, and funny celebration that embraces the insanity of love. BWW Detroit had moment to speak with the show's director, Bruce Thorburn, about the production that Thorbun described as "beautiful, funny, touching, poetic, and iconic."
---
BWW Interview: Jason Dilly Will Make You Laugh About LEADING LADIES at St. Dunstan's Theatre Guild Of Cranbrook!

October 12, 2021

Leading Ladies will run October 15th-30th at St. D's and the cast is so happy to finally put this comedy on the stage. BWW Detroit had a chance to speak with Franklin native Jason Dilly who plays Leo in the show and is the big brother of Erin Dilly who originated the role of Meg in the 2004 Broadway production directed by Ken Ludwig!
---
BWW Interview: Detroit Native Arielle Crosby Talks the QUEEN TRIBUTE CONCERT at The Encore Musical Theatre Company!

October 11, 2021

The Encore Musical Theatre Company is bringing back a popular tradition - their Tribute Concert Series. The first in the season lineup is the QUEEN Tribute Concert, which runs October 13th through the 17th. BroadwayWorld Detroit had a chance to quickly speak with Arielle Crosby about the fantastic concert!
---
BWW Feature: ĬMÁGEN 2021 - PARTICLE is a New Musical at Wharton Center's Pasant Theatre!

September 21, 2021

ĭmáGen is a collaboration between Wharton Center Institute for Arts & Creativity & MSU College of Arts and Letters. PARTICLE is a coming-of-age story. The creative team includes direction by Autumn Reeser. NYC-based writing team Selda Sahin & Derek Gregor wrote PARTICLE. Actor's Equity performer Gabe Violett is joining the crew. Runs 9/24 & 9/26.
---
BWW Review: FANCY, A COUNTRY JUKEBOX MUSICAL Brings Live Theatre Back to Meadow Brook Theatre!

September 19, 2021

Meadow Brook Theatre turned the lights back on with Fancy, a Country Jukebox Musical. Fancy is a world premiere running until October 3rd and is about dreams and what they cost. After 18 months it was a wonderful to be back, safely, in that gorgeous theatre!
---
BWW Interview: Ed Nahhat & Lynch Travis Talk the Return of Theatre in the Park with A MIDSUMMER NIGHT'S DREAM at SRO!

August 7, 2021

Shakespeare Royal Oak is celebrating its 20th season of outdoor professional theatre with A Midsummer Night's Dream. It's playing this weekend, August 5th-8th, under the stars at Jaycee Park. BWW Detroit was delighted to speak with Executive Director of SRO, Ed Nahhat and Director of the show, Lynch Travis.
---
BWW Interview: Broadway's Bonnie Milligan & Bill Fennelly Talk About SONGS FOR A NEW WORLD at Flint Repertory Theatre!

July 22, 2021

Flint Repertory Theatre is presenting Songs for a New World by Jason Robert Brown starring Broadway's Bonnie Milligan, Emily Padgett, Cory Shorter, and Josh Young. The outdoor concert is taking place July 23rd and July 24th. BWW Detroit had a chance to speak with Director Bill Fennelly and Milligan about it and the importance of live theatre.
---
BWW Interview: Director Ryan Lawson Talks WORKING - A NEW MUSICAL at Stagecrafters & Ridgedale Players!

September 30, 2020

Live theatre is back and outdoors in Michigan! Stagecrafters is proudly presenting Working a?" A Musical, brought to you in a joint venture by Stagecrafters and Ridgedale Players in Troy. Originally a Stagecraftersa?? 2nd Stage production, Working a?" A Musical was schedule in March of this year, but shut down due to the COVID pandemic. The cancellation was heartbreaking for entire company who learned just a day before opening that the show wouldna??t go on. Thanks to the determination and ingenuity of those involved, it is back in an open-aired setting on the beautiful grounds of Ridgedale Players. The cast is made up of three men and three women who tell the story of over 26 characters a?" how work defines who we are, yet we cana??t be defined by only our work. BroadwayWorld Detroit had a chance to speak the showa??s director, Ryan Lawson about why this is such a special project and more!
---
BWW Review: THE SUMMER SET by Aimee Agresti is a Fun, Comedic, and Romantic Theatre Read!

May 20, 2020

It's been over seventy days since I have last stepped inside a theatre and it literally feels like there is a something emotionally and physically missing from me. When I was offered the opportunity to read Aimee Agresti, THE SUMMER SET, I immediately took it. One, I'm avid reader, but two, and most importantly, it was a book about a summer theatre and the people performing in it!
---