Carrie Dunn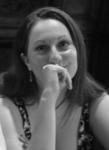 Carrie is the UK editor-in-chief for BroadwayWorld. After spending her formative years reading books and ending up with a Masters degree in English literature from King's College London, it was inevitable that Carrie should be a journalist. Her pure and simple delight in the art-form of musical theatre led to the Guardian asking her to be their West End Girl. Since then, she's picked up a PhD, and also written for many other UK publications, including the Times and the Independent. She has many eclectic loves, including sport, karaoke, reality television, MMORPGs, three-volume Victorian novels, the British seaside, embroidery and Veronica Mars.

MOST POPULAR ARTICLES
LAST 365 DAYS
BWW Review: JESUS CHRIST SUPERSTAR, Regent's Park Open Air Theatre, 21 July 2016

July 23, 2016

Has it really been two decades since that definitive Lyceum production of Jesus Christ Superstar? Andrew Lloyd Webber and Tim Rice's collaboration is in residence at the Regent's Park Open Air Theatre this summer, and it is a production the like of which I have never seen before. 
---
BWW Interview: Chad Beguelin - Book Writer and Additional Lyricist For ALADDIN!

June 19, 2016

We caught up with lyricist and book writer Chad Beguelin just as Aladdin opened in the West End last week - and he was very excited.
---
BWW Interview: David Langham, New Thenardier in LES MISERABLES!

June 14, 2016

David Langham has just started his run as Thenardier in Les Miserables, currently at the Queens Theatre. We caught up with him...
---
Exclusive: Victoria Hamilton-Barritt Talks About Joining Kerry Ellis In MURDER BALLAD!

June 3, 2016

Victoria Hamilton-Barritt garnered fabulous reviews last year as she teetered about on heels, heavily pregnant, as Daniela in the Olivier-nominated 'In The Heights'. Now a new mum, she's returning to the stage as the Narrator in 'Murder Ballad' - starring Kerry Ellis.
---
BWW Interview: Stuart Ward Of THE GO-BETWEEN!

May 27, 2016

Stuart Ward returns to the UK to play Ted in new musical The Go-Between, alongside Michael Crawford and Gemma Sutton.
---
BWW Interview: Gemma Sutton Of THE GO-BETWEEN!

May 19, 2016

We caught up with Gemma Sutton as she rehearses new show The Go-Between. She stars alongside Michael Crawford and Issy van Randwyck.
---
BWW TV: Nicholas Afoa Of THE LION KING

May 16, 2016

Nicholas Afoa made his stage debut as Simba in the Australian production of THE LION KING in 2013 and played Simba in the Sydney production of the landmark musical between 2013 and 2016 performing more than 860 times over that period. The opportunity to play the role in the West End production will bring Afoa to London for the first time, as he embarks on his second professional theatre engagement.
---
BWW TV: Madden And James In ROMEO AND JULIET

May 16, 2016

Directors Rob Ashford and Kenneth Branagh have reunited the stars of the celebrated film Cinderella, Richard Madden and Lily James, in Shakespeare?s heartbreaking tale of forbidden love, with Derek Jacobi as Mercutio and Meera Syal as The Nurse. Romeo and Juliet will play at the Garrick from 12 May to 13 August 2016.
---
BWW TV: Kenneth Branagh In THE ENTERTAINER!

May 16, 2016

Set against the backdrop of post-war Britain, John Osborne's modern classic conjures the seedy glamour of the old music halls for an explosive examination of public masks and private torment. Rob Ashford directs Kenneth Branagh as the Archie Rice, with John Hurt as Billy Rice in the final production for Plays at the Garrick season.
---
BWW Interview: GUYS AND DOLLS' Miss Adelaide, Samantha Spiro!

May 12, 2016

We talk to Samantha Spiro about playing Miss Adelaide in the West End production of Guys and Dolls!
---
Curve's LEGALLY BLONDE Cast Show Support For Premier League Front-Runners Leicester!

April 30, 2016

Leicester City have stunned the football (or 'soccer') world and look to be closing in on the English Premier League title. And the cast of Legally Blonde - currently running at the Curve Theatre in Leicester - have been showing their support for the team.
---
BWW Review: THE TOXIC AVENGER, Southwark Playhouse, April 26 2016

April 26, 2016

The citizens of suffering, stinking Tromaville need someone to stop toxic waste being dumped in their town - enter Melvin Ferd the Third, an aspiring earth scientist. A mayor on the make sets her goons on him, and after a semantic mix-up they end up chucking him into a vat of toxic waste and transformed into The Toxic Avenger, New Jersey's first superhero...
---
BWW Interview: Jenna Russell On DR FAUSTUS And Kit Harington!

May 5, 2016

We talk to Jenna Russell about playing Mephistopheles in Dr Faustus, her collaboration with director Jamie Lloyd - and what Kit Harington is really like!
---
BWW Interview: Marilyn Cutts On FUNNY GIRL!

April 27, 2016

Marilyn Cutts talks to us about transferring with Funny Girl to the Savoy, working with Sheridan Smith, and why there should be a musical version of Coriolanus...
---
BWW Interview: Sandra Marvin Of SHOW BOAT!

April 25, 2016

We talk to Sandra Marvin about transferring the classic show to the New London Theatre, the bravery of the material, and her hopes for the run.
---
BWW Interview: Christine Allado Of IN THE HEIGHTS!

May 3, 2016

We talk to London's new Vanessa about joining an established cast, Lin-Manuel Miranda, and walking the red carpet at the Oliviers!
---
BWW Interview: Louise Dearman On Gershwin And GUYS AND DOLLS Tour!

April 21, 2016

We talk to one of the West End's favourite leading ladies about her work with the John Wilson Orchestra, their new album of Gershwin repertoire, the UK tour of Guys and Dolls - and all the concerts she has lined up!
---
BWW Interview: Ian Bartholomew Of MRS HENDERSON PRESENTS!

April 19, 2016

We talk to Ian Bartholomew of Mrs Henderson Presents about taking on a well-known role, the show's Olivier nominations, and nudity in the rehearsal room...
---
BWW Interview: JERSEY BOYS' Simon Bailey!

April 7, 2016

We talk to Simon Bailey about taking on the role of Tommy de Vito in the London production of Jersey Boys, what he thinks of the man himself, and how he gets on with the other Three Seasons...
---
Olivier Award Winners 2016 - Full List Of Nominees And Winners!

April 3, 2016

Here's a full list of Olivier Award nominees and winners - we updated this story LIVE throughout the ceremony. Winners are indicated in bold type. Who were you cheering for?
---