BWW Review: Texarts + THE UNEXPECTED GUEST = Good Theatre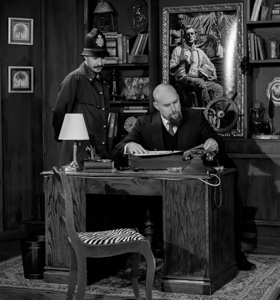 Some of the best theatre in Austin is not in Austin. Technically, it's in Lakeway. There's always a good show to be seen at Tex-Arts, despite the safe choices the company might make with its offerings. This theatre knows it's patronage, and it delivers excellent, professional theatre, right in the middle of a strip mall in Lakeway. Tex-Arts current production, THE UNEXPECTED GUEST is no exception to this consistency and quality of the work produced by Tex-Arts, and it's the perfect time of year to enjoy an Agatha Christie murder mystery.
Christie is up to her usual and classic "lost-stranger-runs-off-a-road-in-the-fog-and-visits-the-house-on-the-hill-because-he-needs-a-phone," hijinks here. I don't know who first came up with this device, but it seems Christie perfected it. "The door opens and the unexpected guest comes in." An unexpected guest, indeed. In this case, the guest is Michael Starkwedder (Tyler Keyes) and he just so happens upon said house shortly after a murder has taken place. Laura Warwick (Val Williams) the deceased's wife, confesses to shooting her husband (Richard Warwick, played by the flexible and silent Robby Anderson). Michael devises a plan to help Laura avoid going to jail, but did she really commit the murder? If not, who is she covering for? Who really killed Richard Warwick? Was it Laura, or was it Jan Warwick (Carson Erik Petocz) Richard's simple-minded brother? Maybe it was Richard's own mother, Mrs. Warwick (Mary Agen Cox)? Perhaps the neighbor Julian Farrar (J. Stewart Jeffers) or Richard's nurse, Henry Angell (J. Ben Wolfe)? It could have been Miss Bennett (Sarah Fleming Walker) it could have been the unexpected guest or even the Sergeant (Brandon Lindsey) or Inspector (Aaron Black). This is Agatha Christie, and with Christie, you can expect twists and turns until the very end. But you can't expect too much of the plot, or the answer, in this review.
Then let's move on, shall we? THE UNEXPECTED GUEST first premiered in 1958 on The West End to politely (and humorously) average reviews. Indeed, we are asked to suspend our disbelief a bit far over a few plot devices early on, but we do, and we remain entertained. This is no WITNESS FOR THE PROSECUTION, but even on average, Agatha Christie is no slouch. Much of the shine on this production comes from the professional execution and direction of the script.
Directed with polish by J. Robert Moore, this is as I've mentioned, another excellent Tex-Arts production. The beauty, and even the lesson, that can be taken from this production: talent + great production values + excellent direction = a good show despite an average script. Set designer Jessica Colley Mitchell gives this cast room to move despite the small space, though I'm unsure why the areas behind some of the doors was not finished out. The space is otherwise a well dressed backdrop for a superior cast that walks a well balanced tightrope of believability given the age of Christie's occasionally dated dialogue. Williams and Keyes do some heavy lifting at the front end of the play and they set a smart tone, right from the start, that we can take this story, and this cast, seriously. The rest of the cast is smart and sharp as well. Notably, J. Ben Wolfe as Henry Angell, whose intensity and OCD give the script renewed energy in the second act and J. Stewart Jeffers, who never goes out of bounds despite the opportunity to give Julian an overly neurotic air. But the real sparks in this production are where one might least expect them: in the sharp, clean, committed performances by Sarah Fleming Walker as Miss Bennett and Carson Erik Petocz as Jan. Their work shines here.
A bit of gratitude to this theatre should be pointed out as well. The box office crew are great and took excellent care of me. Also, the audience, who clearly enjoyed and were fully engaged in this excellent production, did not find it necessary to rise to their feet upon the first actor's entrance at curtain call. Perhaps I'm old fashioned, but I understand, as I hope the TexArts patrons do as well, that there is no need to enthusiastically rise to our feet after every production we see. It was such a relief to remain in my seat at curtain call.
The weather and season are perfect for an evening or afternoon cooped up with a bunch of murder suspects in an English manor. You won't be disappointed. And who knows? You might even win a surprise gift for guessing whodunit.
The Unexpected Guest
by Agatha Christie
Directed by J. Robert Moore

Thursdays-Sundays,
October 19 - October 28, 2018

Kam and James Morris Studio, TexARTS
2300 Lohman's Spur Suite 160
Lakeway, TX, 78734
Oct. 19th through October 28th
7:30 pm Thursdays, Fridays and Saturdays 2 p.m. on Sundays
Tickets available HERE
Photo courtesy of TexArts
| | | |
| --- | --- | --- |
| | Donations | Arts Orgs |
Related Articles View More Austin

Stories

Shows