Review: TILT Performance Group Delivers Unique Gifts with THE GIVER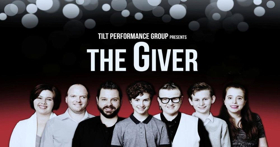 Written by Lois Lawry in 1993 and adapted for the stage by Eric Coble, THE GIVER is a young adult story about a utopian world where there is no pain or grief, but there is no joy or love either. Each person in the community is assigned his or her specific role within not just the family (one boy, one girl) but the community as a whole, upon their twelfth birthday. When eleven year old Jonas turns twelve, he learns his job is to become a most important and relevant cornerstone of his society: he is to become the Receiver of (every single) Memory of the society. In short order, he learns the society in which he was born is in reality, quite the opposite of utopian.
To this reviewer, THE GIVER looks a lot like any other young adult piece of science fiction that's risen to the top of the heap recently: it's a world made dystopian by foolish short sighted adults who are either evil or egregiously well meaning. It's a story where a teen protagonist with a few courageous friends and an allied adult or two to help, manages to escape the stark reality of their own world and give us hope for the future of humanity.
Lawry received a Newberry award for the novel, and Hollywood adapted it in 2014, in a film that left critics unimpressed. (Meryl Streep in bangs?) THE GIVER as written by playwright Coble and directed by Adam Roberts and Associate Director Scott Ferguson, posits much fruitful contemplation about sameness as a virtue - ironic as performed by TILT Performance Group - where unique abilities are the order of the day. If you are not familiar with this theatre company, take note. While the theatre community in Austin is typically prone to encourage diversity, TILT walks the talk. Producing a play that encourages sameness as a virtue only to reveal its dangers, TILT as its mission promotes the differently abled for their gifts. That's the beauty of this particular play performed by this particular company. This is TILT's first production that incorporates both actors who happen to be persons with and without disabilities. Additionally, Roberts didn't cast actors specific to age either. In other words, diversity of all kinds make sense in this play about sameness as performed by TILT.
At the centerpiece of this production is Javier Garcia as Jonas. He carries both the weight of his world and the weight of the play on his shoulders, and he accomplishes the mission quite well. Jonah's parents (Dailan Cooper and Emily Newman) and his sister Lily (Kristin Gooch) are solidly played, if a bit robotically. Perhaps "sameness" has made them less humane? Alternately, Nana Boy Nagel (Chief Elder) and Brian Cheslik (The Giver) give their characters a soothing parental wisdom. Emily Newman doubles as Jonah's crush Fiona and Ryan Honda plays Asher. Together, Garcia, Newman and Honda make a convincing trio of curious preteens. But it's really Garcia who must pull the weight of the production, as the Receiver of every memory, good or bad, that remains known to The Giver. He does so with believability and commitment. Garcia is older than the 12 year old he plays, but we never once catch him "acting."
THE GIVER is performed in the Murchison Chapel at First United Methodist Church. Insofar as TILT can be creative in this space, Jeff Miller's sound and Scott Ferguson's lights work well. Roberts has chosen a court stage design that, while not one of my favorite choices, does indeed lend itself appropriately to the experience of the audience itself being an interactive part of the Community where the characters in the play live.
New to the story of THE GIVER, my companion and I were both satisfied by a solid piece of theatre but were left wondering about Jonas's fate as the script presented us with a rushed and unclear ending. Nevertheless, in a time when our country is so divided by our ideas of whether "sameness" is a good thing or not, THE GIVER is a great metaphor. Furthermore, TILT is an important part of the Austin theatre scene. This cast of differently abled actors is a refreshing and welcome addition to a community whose doors can be opened wider still
The Giver
by Eric Coble, Lois Lowry
TILT Performance Group

Fridays-Sundays,
January 18 - January 28, 2018
ASL Performance at 7:30pm on January 28
First United Methodist Church
1201 Lavaca St
Austin, TX, 78701
Tickets available at: Brown Paper Tickets
Running time: Just over one hour