BWW Review: THE FATHER - Prospective Shifting Production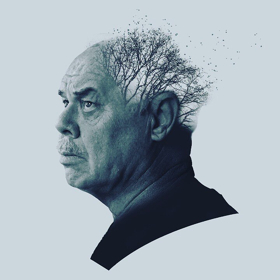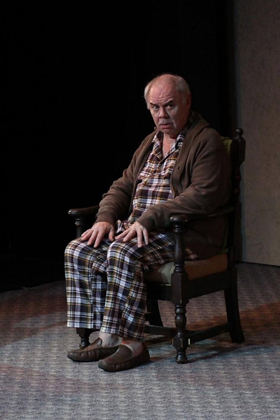 What is reality? What comprises our perception of what is true? What is memory, and what happens when our sense of self and our world is challenged by others? Written by Florian Zeller and translated from French by Christopher Hampton, THE FATHER explores the shifting reality of title character André (David Jarrott).
As the Baby Boomer generation ages we find ourselves dealing with aging parents and all the burdens, angst and frustration that it brings. THE FATHER gives us the perspective of the patient rather than the caregiver. Playwright Florian Zeller masterfully captures the confusion and heartbreaking loss that a victim of dementia feels, conveying it to the audience in a mind bending 90 minutes. As the play begins we meet Anne (Amber Quick), Andre's daughter struggling to keep her father mentally in the here and now, as well as arranging for his daily care. It's after this first scene that the playwright shifts our perception of what is real or what is part of André's apparent delusion. We spend the remainder of the play trying to glean truth from fiction to ultimately realize that everything represented on stage is true to those who experience it. The pain, fear, delight, and suffering are all too real to those who experience them whether they delusional or not.
Jarrott Productions presentation at Trinity Street Theatre is smart and professionally slick. THE FATHER is nearly perfect in its technical aspects. The set moves, surprisingly, in absolute silence to stun and confuse the audience when the lights come up. Desiderio Roybal has created a space that shifts perspective and twists reality seamlessly. I couldn't have been more impressed with his artistry. Equally outstanding is the lighting design by Chris Conrad, the addition of starkly fluorescent tones gradually throughout the play is inspired. Rick Roemer's direction is stellar, keeping the action on pace and managing the technical aspects of the show that could have been a nightmare in lesser hands. But David Jarrott's performance is the heart of the show. He is absolutely stellar as we watch his world crumble. I'm not going to lie, it's hard to watch, and having cared for a grandparent who suffered from dementia, this show gripped my heart in a way that no other show on the topic has. Amber Quick is excellent as the daughter who stops her life to care for her father. Her performance is a match for Jarrott and is heartbreaking in its depth. It's a pity that the rest of the cast, with the exception of Lori Kovacevich as Laura the sweet hired caregiver, is less than memorable and give stiff, slightly stilted performances. The show is worth seeing for the performances of Jarrott and Quick, or if you're a tech theatre geek, like myself, go see it for the seriously cool set and beautiful lights.
THE FATHER
by Florian Zeller
translated by Christopher Hampton
Jarrott Productions
Trinity Street Theatre
February 8 - March 4 Thursday thru Saturday at 7:30 PM, Sunday at 2:30 PM
Running Time: 90 minutes with no itermission
Tickets: $25 - $18 jarrottproductions.com