BWW Review: SMALL MOUTH SOUNDS Packed With Superb Performances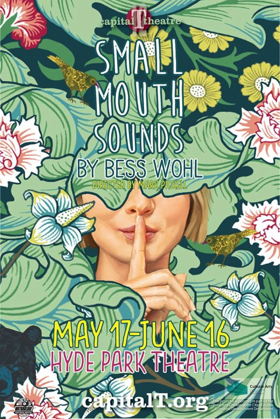 SMALL MOUTH SOUNDS is a new play from Drama Desk Award-winner Bess Wohl that looks at how we address life's biggest questions when you can't use words. Under the watchful eye of their unseen guru, six people (who are about as different from each other as one can get) have gathered for a week-long retreat in the woods. What makes this retreat unusual is the fact that it is a silent retreat. In the process of listening to their spiritual leader, they discover that silence is not only golden, but also more than a little passive-aggressive. As they confront their inner demons, they find their vows of silence colliding with the basic human need to connect.
Rules have been laid out (including no cellphone use except in cars with the windows rolled up, no candles or incense, no food in the rooms), but over the course of the retreat, every rule gets broken. In the quiet of the woods, they attempt to abandon technology and observe their vow of silence. There are some remarkable moments of tenderness in this play, but SMALL MOUTH SOUNDS is also a wickedly satiric look at this comodified inner peace industry where nirvana is just a guru, mantra or self-help book away. As the six seekers arrive and take off their shoes, the Teacher (Katherine Catmull) is unseen, but her slow, accented voice contains a lulling cadence as she tells her group: "Think of this retreat as a vacation from your habits. Your routines. Yourself. It is the best kind of vacation. Because after this, you don't ever have to go back to who you were." No one in this play is without grief, illness or psychological distress. (Even the teacher is in the middle of a crisis, which is why she keeps interrupting to take those forbidden phone calls.) But discovering what each character is specifically suffering from is where the heart of this play lies. Jan (Jason Phelps) has a friendly demeanor, that manifests itself in the goofy smile plastered on his face. Rodney (Delanté Keys) is a sensuous yoga instructor who always seems to be stretching his flexible limbs so as to invade someone else's space. Joan (Ellie McBride) and Judy (
Rebecca Robinson
), are a lesbian couple who are having difficulties putting aside the conflicts that brought them to the woods in the first place. Ned (Zac Thomas), is a New Age mess, and Alicia (Theresa Baldwin), is a young woman whose crying and incessant snacking hints at a broken heart. Considering that conversation only occurs, for the most part, in short bursts, a great deal ends up being transmitted through body language. This cast does a beautiful job of conveying loss, loneliness and physical pain through expressions, breathing patterns and posture. There isn't a bad performance to be found here. It is, however, Zac Thomas, as Ned who has the longest verbal piece of the performance, in which he reveals his rather epic struggles. Thomas makes the most of this moment, eliciting big laughs as well as heart breaking sadness. His performance is riveting. Director and co-scenic designer Mark Pickell (along with Zac Thomas) has staged this to great effect with a modified thrust and platform that becomes multiple locales, aided greatly by Patrick Anthony's stellar lighting. The set itself is a marvel in wood and is truly a work of great craftsmanship. Body language tells this story beautifully with astutely directed staging, and the emotions feel rooted in truth. Cheryl Painter's costumes are wonderfully appropriate and
Lowell Bartholomee
does his usual stellar job providing a sonic landscape. One thing that has stuck with me after seeing SMALL MOUTH SOUNDS is that it is yet another example of a new breed of plays that I suspect, 20 years or more down the road, will have a name attached to them as being examples of a literary movement. These new plays don't have the plot structure of writers like
Tennessee Williams
or
Arthur Miller
. These plays are more of a look at a moment in time, a slice of life. These works are about human interaction rather than a strict story line, and as such, are harder to describe because of the levels of human interaction they contain. Writers whose names come to mind as being at the forefront of this new kind of drama are
Annie Baker
and
Will Eno
. As someone who likes character driven theatre, I find these new plays to be a breath of fresh rarified air. SMALL MOUTH SOUNDS is a fascinating piece of theatre, lovingly directed and expertly executed by a company full of some of Austin's finest. Don't miss this one...you will be thinking about this one for days to come. SMALL MOUTH SOUNDS by
Bess Wohl
Running Time: 1 Hour and 40 Minutes with no intermission
WARNING: Contains Nudity SMALL MOUTH SOUNDS produced by Capital T Theatre produced at Hyde
Park Theatre
(511 West 43rd Street, Austin, TX, 78751).
Thursdays-Saturdays, May 17 - June 16, 2018
General admission $25, VIP supporters $35. Reservations:
www.capitalT.org
Related Articles View More Austin

Stories

Shows
A Kansas native, Frank Benge has been involved in the Austin area theatre scene as a Director, Designer, Writer and Performer for the past 20 (read more...)