Voyage to Treasure Island with Rob McClure and Maggie Lakis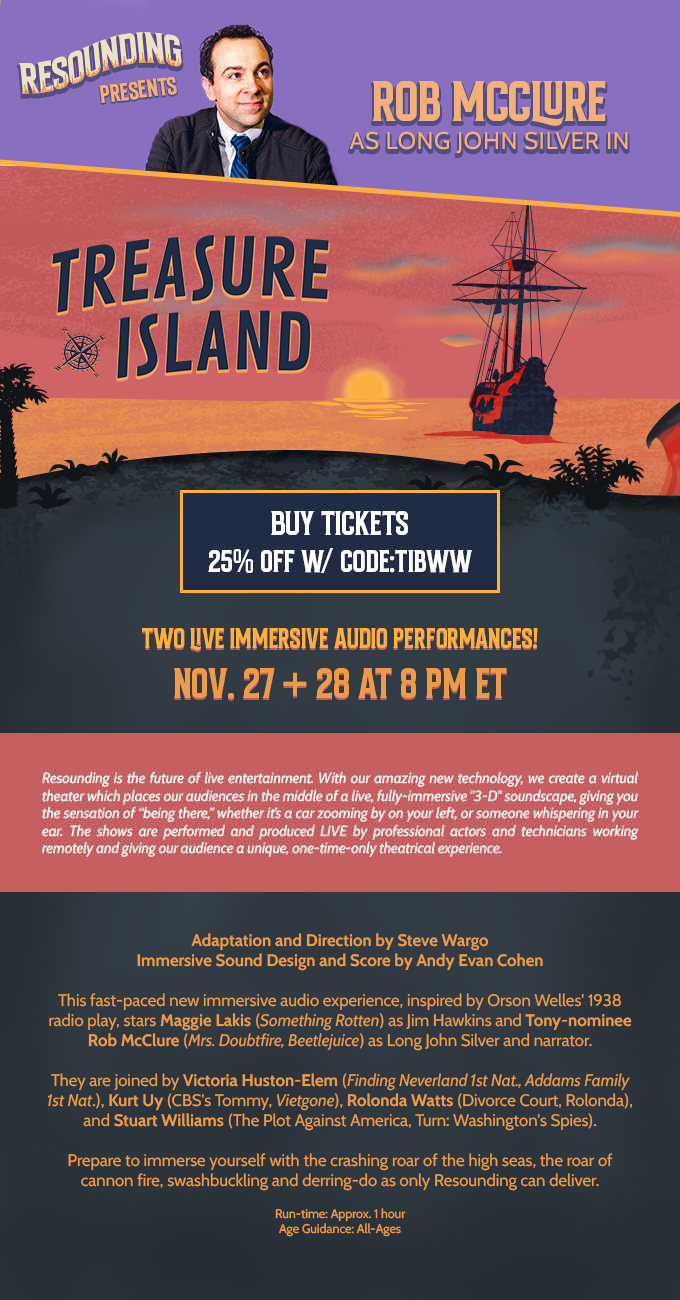 Resounding presents Rob McClure as Long John Silver in Treasure Island Buy Tickets 25% off w/ code:TIBWW https://www.resounding.live/treasure-island Two LIVE immersive audio performances! Nov. 27 + 28 at 8 PM ET Resounding is the future of live entertainment. With our amazing new technology, we create a virtual theater which places our audiences in the middle of a live, fully-immersive "3-D" soundscape, giving you the sensation of "being there," whether it's a car zooming by on your left, or someone whispering in your ear. The shows are performed and produced LIVE by professional actors and technicians working remotely and giving our audience a unique, one-time-only theatrical experience. Adaptation and Direction by Steve Wargo Immersive Sound Design and Score by Andy Evan Cohen This fast-paced new immersive audio experience, inspired by Orson Welles' 1938 radio play, stars Maggie Lakis (Something Rotten) as Jim Hawkins and Tony-nominee Rob McClure (Mrs. Doubtfire, Beetlejuice) as Long John Silver and narrator. They are joined by Victoria Huston-Elem (Finding Neverland 1st Nat., Addams Family 1st Nat.), Kurt Uy (CBS's Tommy, Vietgone), Rolonda Watts (Divorce Court, Rolonda), and Stuart Williams (The Plot Against America, Turn: Washington's Spies). Prepare to immerse yourself with the crashing roar of the high seas, the roar of cannon fire, swashbuckling and derring-do as only Resounding can deliver. Run-time: Approx. 1 hour Age Guidance: All-Ages
Featured at the Theatre Shop
T-Shirts, Mugs, Phone Cases & More
Related Articles
More Hot Stories For You
Final Lineup Announced For SAVE BIRDLAND: A Celebration Of Music, History, And Community
The fundraising campaign for Birdland Jazz Club will conclude on January 24th with a free streaming concert titled Save Birdland: A Celebration of Mus...

NYTW Gala To Celebrate 25th Anniversary Of RENT Featuring Original Cast Members Anthony Rapp, Adam Pascal, Idina Menzel, and More!
Today marks the 25th Anniversary of RENT's first performance at New York Theatre Workshop. The NYTW has announced that its 2021 Annual Gala will celeb...

VIDEO: On This Day, January 24- Happy Birthday, Daveed Diggs!
For his performance in Hamilton, Daveed won the 2016 Tony Award for Best Featured Actor in a Musical, as well as a 2016 Grammy Award for the cast albu...

VIDEO: Celebrate Chita Rivera's Birthday on Stars in the House- Live at 8pm!
Stars in the House continues tonight (8pm) with Chita Rivera's birthday celebration! An accomplished and versatile actress/singer/dancer, Chita Riv...

VIDEO: Get a Sneak Peek at Jeremy Jordan in Hallmark's MIX UP IN THE MEDITERRANEAN
Jeremy Jordan is returning to your screens with the all new Hallmark movie, Mix Up in the Mediterranean....

VIDEO: On This Day, January 23- LITTLE WOMEN Opens On Broadway
On this day in 2005, a musical adaptation of the classic novel Little Women landed on Broadway, starring Tony Award-winner Sutton Foster as the fearle...