VIDEO: The Stars of THE LEHMAN TRILOGY Talk Broadway Return on MORNING JOE
The Lehman Trilogy opens officially at Broadway's Nederlander Theatre (208 West 41st Street) on Thursday, October 14, 2021.
Simon Russell Beale, Adam Godley, and Adrian Lester appeared on MSNBC's Morning Joe this morning to discuss The Lehman Trilogy on Broadway, working with Sam Mendes, and the significance of the play.
Watch the full interview below!
Weaving together nearly two centuries of family history, this epic theatrical event and New York Times Critics' pick charts the humble beginnings, outrageous successes, and devastating failure of the financial institution that would ultimately bring the global economy to its knees. The Lehman Trilogy, "a remarkable, spellbinding exercise in storytelling" (The Washington/">Washington/">Washington/">Washington Post), is the quintessential story of Wester/">Wester/">Wester/">Western capitalism, Ren/">Ren/">Ren/">Rendered through the lens of a single immigrant family.
Simon Russell Beale and Adam Godley reprise their critically acclaimed portrayals of the Lehman brothers, their sons, and grandsons, told in three parts presented as one evening in this "extraordinary theatrical experience" (The Daily Telegraph). And the Company/">Company/">Company/">Company welcomes the heralded Adrian/">Adrian/">Adrian/">Adrian-Lester/">Adrian/">Adrian/">Adrian/">Adrian Lester for this special Broadway engagement in his Broadway debut.

Related Stories
Spotify Releases Final Live at Electric Lady EP Of The Year Featuring Indie-Pop Band Whitney

December 8, 2022

To conclude this year's series, Indie-pop band Whitney will release an eight-track EP featuring re-imagined versions of several of their top hits, including, "BLUE," "Giving Up," "MEMORY," "No Woman," "REAL LOVE," "TWIRL," and "Valleys," as well as a cover of Beach House's "Other People."
---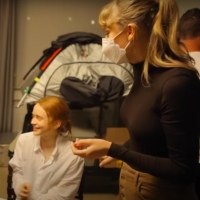 VIDEO: Taylor Swift Shares 'All Too Well' Short Film Behind-the- Scenes Video With Sadie Sink & Dylan O'Brien

December 8, 2022

Taylor Swift has released a behind-the-scenes look at her 'All Too Well' short film, which she starred in and directed. The video also features her co-stars, Sadie Sink and Dylan O'Brien. The release is part of Swift's current efforts to re-record her music catalogue in order to own her own masters. Watch the new video now!
---
VIDEO: Jon Langston Shares 'I Only Want You for Christmas' Music Video

December 8, 2022

32 Bridge Entertainment / EMI Records Nashville recording artist Jon Langston taps into the holiday spirit with the music video for "I Only Want You For Christmas," out now. Taking the stage for karaoke with "Santa" to perform the track, the clip was filmed at festive Nashville favorite, Santa's Pub.
---
VIDEO: WE tv Drops KOLD X WINDY Supertease

December 8, 2022

"Kold" Wise (Sh'Kia Augustin, Black Lightning)'s group member Renee "Windy" Johnson (Nijah Brenea, Rap Sh!t), is a rapper dedicated to the city streets. As Malika's career begins to ignite, the challenges she faces start to stack up. Her credit card fraud catches up with her, and rival artists view her as a threat. Watch the video trailer now!
---
Interview: Playwright Samuel D. Hunter Discusses Adapting THE WHALE Into a Film

December 8, 2022

BroadwayWorld caught up with playwright Samuel D. Hunter after The Whale's highly-anticipated premiere to discuss how he adapted the play into a film, how it was rehearsed like a theatrical production, Brendan Fraser's acclaimed performance, and more.
---