United Solo's Artistic Director Omar Sangare Invited as Special Guest to Commemorate American Thespian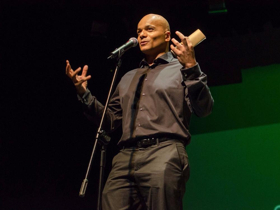 Founder and artistic director of New York's United Solo Festival and professor at Williams College, Omar Sangare was invited as a special guest to honor the 150th anniversary of Ira Aldridge's death. The anniversary event was organized by the Polish city of Lodz, where the 19th-century thespian died during a European tour, and where his grave is located. Aldridge, the first internationally celebrated African American actor, died unexpectedly during rehearsals before opening night. A century and a half later, following an invitation from the Lodz mayor's office, Sangare recited excerpts from "Othello" and Shakespeare's poems as part of the anniversary commemoration. Similar events took place internationally to honor Aldridge and his work.
Aldridge began his stage career in New York, where he was born and raised, but his reputation for extraordinary talent to perform Shakespeare's tragic characters didn't fully develop until he moved to London. His work on stage at Covent Garden became so famous that soon afterwards he was invited to perform for audiences across Europe, from Ireland to Russia. While on tour, Aldridge usually performed in English, while the rest of the cast would perform in their own native languages. Despite this communication barrier, Aldridge's performances brought him the highest acclaim. Although recognized for playing a variety of roles, including Shylock, Romeo, Richard III, and King Lear, Aldridge's most legendary performance was as Othello, in his favorite play. He was an outspoken activist as well. Recently, the BBC featured the unveiling of a blue plaque in Coventry, as a tribute to Ira Aldridge for "overcoming prejudice," and acquiring his reputation not only for his great portrayals, but also for giving speeches on "the evils of slavery" after his performances. "When he left, people inspired by his speeches went to the county hall and petitioned for its abolition," according to the BBC. A native of Poland,
Omar Sangare
has followed the footsteps of Ira Aldridge for years. In his doctoral thesis, "Othello. Pale from Envy," Sangare interpreted the legend of Othello as the story of a hero who devoted his life to civil service. "It's amazing how much we can still learn from Shakespeare nowadays, and apply the wisdom of his stories in our own lives. This way, we can avoid potentially tragic mistakes, and become inspired by heroic choices," Sangare said. The book, which featured an editorial note by Oscar-winning director Andrzej Wajda, was published under the auspices of the Polish Ministry of Science and Higher Education and the Consulate General of the Republic of Poland in New York. "Othello had to find a way to exist in the monolith of white society surrounding him. So had Ira Aldridge. You can succeed by finding your individual strengths in being different, and thus build self-confidence. Ira was capable of achieving both," adds Sangare, who teaches acting at Williams. His expertise is based on scholarly research and practical experience as a stage actor. His 2002 appearance as the lead in the Arena Players Repertory Theater production of "Othello" was followed by a profile feature in
The New York
Times, which began with words, "
Omar Sangare
was born to play Othello." In addition to teaching and curating the world's largest solo theatre festival, Sangare continues to perform on stage and in film, most recently in an independent film about
Clifford Odets
and
The Group Theatre
, directed by Steve Fagin and produced by Ideal Glass Studios in New York. A devoted solo performer, he won numerous prizes for his one-man theatre show. This inspired him to found a new festival featuring this particular form of theatre. Now in its eighth season, United Solo will present 120 shows from six continentsthis year. As part of the festival's mission, United Solo honors artists who popularize the solo form. In past seasons, the festival recognized
Anna Deavere Smith
,
Patti LuPone
,
John Leguizamo
,
Fiona Shaw
,
Billy Crystal
,
James Lecesne
,
Staceyann Chin
, and
Cynthia Nixon
. "It's fulfilling both professionally and personally to watch our festival grow, and give so many performers a platform to express what makes them unique. Something that Ira Aldridge fought for, is now a possibility, a reality," adds Sangare.