United Solo Announces THE BEST OF Category, Celebrating Artistic Achievement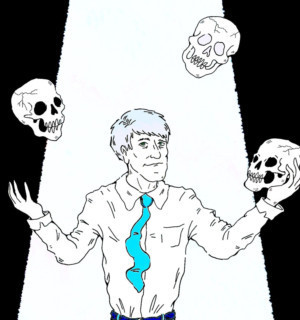 There has never been a lack of extraordinary talent at United Solo. Year by year, audiences have witnessed some of the most amazing solo artists from all over the world share their talents and stories. Some of these artists have made a particularly incredible mark on the audience's hearts through their performances on the United Solo stage at Theatre Row on 42nd Street in Manhattan. Therefore, during the first two weeks of the 10th anniversary season of United Solo, nearly thirty award-winning performers will be gracing the stage once again in THE BEST OF category.
These performers have pushed the boundaries of solo performance in their own unique ways to captivate, inspire and excite audiences. Here are just a few of the critically acclaimed artists who will perform in THE BEST OF category.
Janis Brenner
, Juilliard School faculty member and winner of the NY Dance and Performance Award, will bring "Inheritance: A Litany," for which she won the Best Production Award at United Solo in 2018.
Vivian Nesbitt
, who appeared in hit TV shows such as "Breaking Bad," will take us on an emotional rollercoaster in "The Bark and the Tree."
Bill Bowers
, world-renowned mime, student of
Marcel Marceau
, and recipient of the Best Production Award at the inaugural United Solo Festival in 2010, will present "All Over the Map." Robert Jägerhorn, winner of the Magician of the Year Award in 2017, will bring his special brand of magic to the United Solo stage. Other returning award winners include
Austin Pendleton
, who directs Anne Stockton in "I Won't Be in on Monday"; Susan E. Isaacs, book author and playwright of "Angry Conversations with God"; and five-time Grammy nominee LynnMarie with "There's an Accordion in My Closet." And it just keeps getting better and better. All THE BEST OF artists are sure to dazzle audiences at United Solo. To recognize and celebrate these incredible artists, a #BestOfSolo social media campaign will run on all @UnitedSolo accounts. #BestOfSolo will feature intimate introductions, exclusive interviews, and information about their shows on social media. And #UnitedSolo2019 will cover all aspects of this year's milestone anniversary. The full performance schedule may be found at
www.unitedsolo.org
along with information about each of the shows. Tickets may be purchased at the Theatre Row box office, located at 410 West 42nd Street, as well as through Telecharge, by phone at 212.239.6200 and online at
www.telecharge.com
. We expect many shows to sell out quickly, though sold-out shows may be granted additional performances. THE BEST OF category at the 2019 United Solo Festival includes: "Inheritance: A Litany" by
Janis Brenner
: Thu 9/19 at 8pm. A poetic narrative, a dance-opera-play, and a comic drama by internationally acclaimed artist
Janis Brenner
. 2018 United Solo Awards for Best Production, Best Composer, and Best Lighting Design. Cameo:
Aaron Selissen
. Music:
Jerome Begin
. Lighting Design:
Mitchell Bogard
. Performance Coach:
Risa Steinberg
. "The Bark & The Tree" by
Vivian Nesbitt
: Fri 9/20 at 7:30pm. Alcoholism. Depression. Suicide. Not the family footsteps in which Vivian wanted to follow. Discovery and surrender, juxtaposed with the comedy of human nature, fill this play with pathos, humor and adventure. Director: Lee Kitts. Music Supervisor:
John Dillon
. Stage Manager: Jo Johnson. Lighting Design: Karen Perlow. Costume & Set: Karen Anselm. "Beat the Devil!" by Glen Williamson: Fri 9/20 at 9pm. When the devil offers you anything you want, can he satisfy you? Or are you more than what the devil bargained for? An award-winning, world-traveling actor and takes you on an exhilarating romp through the masterwork of Goethe's "Faust," in pursuit of love, pleasure, wealth, power, fame and truth. Lighting: Robb Creese. "Blood Type: Ragu" by
Frank Ingrasciotta
: Sat 9/21 at 2pm. This funny and moving play explores a first-generation immigrant child's delicate dance between culture, identity and forgiveness. Writer/performer
Frank Ingrasciotta
gives a masterful portrayal of more than twenty characters who live, love and laugh, in this fast-paced journey that is not just a comedy, not just a drama. It's family - and we all have one! "3 Men" by Mike Folie: Sat 9/21 at 4pm. Playwright and speechwriter Mike Folie lives in two very different worlds: theater, and the high-powered world of corporate CEOs. Is he a playwright pretending to be a business writer, or a business writer pretending to be a playwright? His life-changing encounters with three charismatic men show him there are many pathways to a truly successful life. Show image by Carolee Karpell. Director:
Stephanie Musnick
Karpell. "Moonage Daydream" by Mary Monahan: Sat 9/21 at 7:30pm. A woman looks back on how rock god
David Bowie
became her imaginary spiritual guide, helping her make it through the 1980s to become the artist she is today. Director & Developer:
Joan Kane
. Producer:
Bruce A! Kraemer
. Costume Design:
Cat Fisher
. Sound Design: Jacob Subutonick. Hair Stylist: Coco. "Inconceivable: The Totally True One-Woman Semi-Fertile Quasi-'Musical'" by Meirav Zur: Sun 9/22 at 6pm. A hilarious and honest personal take on the complex taboo of modern infertility. It's all amazingly and amusingly true. A show for anyone who has ever tried to conceive, and for everyone else. 2018 United Solo Award for Best Interactive Show. Production Stylist: Wendy Lehmann. Dramaturg: Natalie Fainstein. "Almost 13" by
Joan Kane
: Tue 9/24 at 7:30pm. These are the memories of a young girl's hot, sweaty summer in Brooklyn. Can she survive being caught between a disintegrating family at home and racial violence on the streets? This play was written at the La MaMa playwriting symposium in Umbria, Italy. Director & Designer:
Bruce A! Kraemer
. Composer & Sound Designer: Ian Werhle. Costume Design:
Cat Fisher
. "I Won't Be in on Monday" by Anne Stockton: Wed 9/25 at 7:30pm. When two expensive rings are stolen from her workplace, she's not about to let questions from a persistent detective interfere with her very important plans.
Austin Pendleton
directs Anne Stockton in her story based on her experiences as a practicing psychiatrist and actor/trainer with the NYPD. SM: Betsy Chester. Consultant:
James West
. Dramaturg: Dara O'Brien. "First by Faith: The Life of
Mary McLeod
Bethune" by
Richarda Abrams
: Thu 9/26 at 7:30pm. In a show workshopped at NYC's Actors Studio, performer/playwright
Richarda Abrams
uses storytelling and song, transcending time and gender, to explore
Mary McLeod
Bethune's personal journey from an uneducated child to a world-renowned educator and humanitarian. Director:
Dina Vovsi
. Music Director: Amina Claudine Myers. Costume Design:
Sally Lesser
. Stage Manager: Brittani Murphy. Manager: Peggy Abrams. "Angry Conversations with God" by Susan E Isaacs: Thu 9/26 at 9pm. When Susan finds herself jobless, loveless and 40, a "churchy" friend tells her that God is her husband. So Susan takes God to marriage counseling. Casting God as a deadbeat spouse and regaling us with stories of her crazy ride on the Jesus Bus, she soon discovers that the god in her head is not the real one. Will she stay, for better or worse? Director:
Matthew Corozine
. Technical Director: Marc Ameel. "Spectacular Falls" by
Anita Hollander
: Sun 9/22 at 2pm and Fri 9/27 7:30pm. A humorous, edgy, moving, and somewhat slippery exploration of how we all fall, how the world can fall apart, and how we rise up again, even if, ultimately, we're all "just a banana peel away." Written and performed by a one-legged United Solo Audience Award-winning artist who knows a lot about the subject. "The Tall Boy" by
Tandy Cronyn
: Sat 9/28 at 2pm. In the aftermath of World War II, three orphaned boys, swept up by U.S. Army units and outfitted as G.I. mascots, land at a displaced persons camp after their units are shipped home. The boys yearn to follow their units to America, but only one boy has a G.I. willing to adopt him, and that soldier happens to be black. Playwright:
Simon Bent
. Director:
David Hammond
. Adapted from a story by: Kay Boyle. "Chocoholic" by Lilly Dennis: Sat 9/28 at 6:30pm. The comedic and devastatingly true story of a young woman who finds herself on trial for her absurd addiction to chocolate, and the hidden truth behind it. This show explores the endless, honest pain we all feel after loss, and the guilt we feel when we start to smile again. Director: Debra De Liso. Tech Director: Angela Benitez. "Move on the Cha-Cha's" by Diane Ripstein: Sat 9/28 at 7:30pm. From ballet to bop, with a dash of midlife salsa dating, life's journey is all about taking the next step. The Bubbe leads a parade of unique characters in a poignant look at a life lived and danced. Love, loss and laughter intermingle on the journey from 5 to 55+. To Life! Original Director: Ilyse Robbins. Contributing Director:
Bobbie Steinbach
. Producer: Sara DeViney. "All Over the Map" by
Bill Bowers
: Sun 9/29 at 2pm. 50 states, 30 years on the road, 25 countries, 2 hookers, 1 bunny, and a mime.
Bill Bowers
takes you to places so unbelievable, they could only be true. He shares indelible memories and characters that will stay with you long after the lights go up. Director:
Martha Banta
. "The Medium... The Music... and Me!" by DonnaD Lipari: Sun 9/29 at 4pm. Freeing her voice from what was blocking it, she embraces the gift of mediumship. Through story and song, she reveals secret spiritual truths meant to heal, uplift and enlighten. 2018 United Solo Award for Best Premiere. Consulting Editor & Marketing Director: Dr. Sherry Radowitz. Creative & Technical Director: Darren Lipari. Lighting & Sound Design: Daniel Randerson. "The Rude Awakening: Sex, Shame and Liberation" by Amber Topaz: Sun 9/29 at 7:30pm. An arousing, amusing, anecdotal romp through life, love and libido. It highlights the absurdity of human behavior under the influence of hormones. 2018 United Solo Award for Best Cabaret. All About Solo, Critic's Choice. "A remarkable voice. A brilliant performer. A cabaret show like no other" (The Fourth Wall). "Physical comedy that's as glorious as her exquisite singing. A remarkable experience" (Gutter Culture). "Roosevelt: Charge The Bear" by
Phil Johnson
: Thu 10/3 at 9pm. Teddy Roosevelt must choose between his own reelection, and his desire to truly help the American people. Raw, courageous, funny, and caring. See just what kind of heart and honesty it takes to be a great American president. Co-Playwright: Marni Freedman. Director:
Rosina Reynolds
. Costume Design: Jordyn Smiley. Sound Design: Matt Lescault-Wood. "That Wonder Boy" by
Bob Stromberg
: Sat 10/5 at 2pm. An exploration of life and art through the eyes of a youngster who "overcame" a happy childhood to become a comedic artist. Warm, tender, and laugh-out-loud funny. Director: Risa Brainin. Music & Soundscape:
Michael Pearce
Donley. Opening Video: Nancy Heath. Production Manager & Lights: Michael Klaers. Stage Manager & Sound: Benjamin Netzley. "Confessions of a Mulatto Love Child" by
Bellina Logan
: Sun 10/13 at 2pm. Imagine
Maggie Smith
getting together with Shaft - you get Bellina. A thought-provoking piece about time and memory. "Bellina displays an elegant sense of humor that gracefully brings the audience along with her" (Better Lemons). Director:
Maggie Soboil
. "At Wit's End: A Home for Retired Comics" by
Nancy Redman
: Sat 10/19 at 2pm. Do comedians ever retire? Meet the comics at Wit's End. A comedy for the ages. Best Stand-up Award, United Solo 2012. Best Comedian Awards, United Solo 2011 & 2014. Director: Bill Cosgriff. "Lilly" by Lillian Colón: Sun 10/27 at 4pm. Growing up in a convent isn't the usual path to becoming a Radio City Music Hall Rockette. But that's what happened to Lilly. Through adversity and struggle, Lilly teaches us to have courage through passion. Winner of 2018 Best Autobiographical One-Woman Show. "Elizabeth I - In Her Own Words" by Tamara Meneghini: Wed 10/30 at 7:30pm. Nearing the end of her reign with nothing left to lose, Queen Elizabeth addresses the audience as she prepares for bed. In the privacy of her chamber, she reveals the woman hidden beneath the regalia, splendor, and politics. Playwright: Carole Levin. Director: Lynn Nichols. Stage Manager: Caitlin Gill. "Just For Fun: A Pop-Up Magic Show with Robert Jägerhorn" by Robert Jägerhorn: Sat 11/2 at 2pm. Robert is a typical world-famous magician: stylish, stable and self-confident. He knows his worth and talents. Or is he, and does he? Don't worry about it; just relax and enjoy the magic of one of Scandinavia's best magicians. Playwright & Director: Markus Zink. "Eden, Transplanted" by Eva Petric: Mon 11/4 at 7pm. Through video projection within a lace installation, this performance reframes Eva as the first human organ transplantation and exports the idea of Mitochondrial Eva into outer space. 2017 United Solo Awards for Best Performance Art and Best Choreography for
Janis Brenner
. Voice: Oliver Zehetner & Eva Petri?. Sound: Matija Strniša & Eva Petri?. Lightning Consultant:
Mitchell Bogard
. "Callas" by Paola Hadjilambri: Fri 11/8 at 7:30pm. A perfectionist,
Maria Callas
believed that two different women lived in her: Maria, who yearned for a normal life, and Callas, the public figure and icon with the reputation of a tempestuous diva. Director: Paul Lambis. Stage Manager: Argyris Hadjilambris. PR & Management: Phyto Stratis. Lights and Sound: Anastasios Karydis. "There's an Accordion in My Closet" by LynnMarie: Tue 11/19 at 9pm. In this show filled with bravery, humor and music, LynnMarie shares her journey to acceptance as the single mother of a son with special needs, the daughter of an alcoholic, and an artist in a genre that is often mocked and ignored. But whatever you run from, you eventually run to, and whatever you hide from will always be found. Producer: LynnMarie Hrovat. Lighting Design: Katie Trotter. Stage Manager: Eddie Rodick III. "A KISS - ANTONIO LIGABUE" by Marco Michel: Fri 11/22 at 9pm and Sat 11/23 at 2pm. Based on the true story of outsider artist Antonio Ligabue, this award-winning show continues to excite audiences all over the world. Marco Michel embodies Ligabue (known as the "Italian van Gogh") with intensity. Playwright & Director: Mario Perrotta. Production Design: Peter Maurer. Lights & Music: Daniel Tschanz.
Related Articles
More Hot Stories For You