Click Here for More Articles on Podcasts
The 'Broadwaysted' Podcast Welcomes Actor and Vlogger Tyler Mount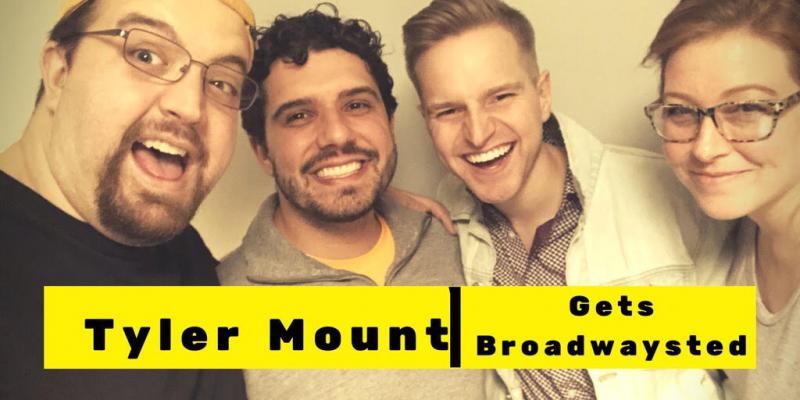 This week we're so excited to be having a Very Very Very good time with the creator and host of the "Tyler Mount Vlog" on Playbill...you guessed it: Tyler Mount!
We've really got a unique bar going this week: Tyler's rocking a Reyka Vodka, Soda, and lime. Kimberly's channeling Adam Rippon with some Oyster Bay Sauv Blan. Bryan and Kevin are sticking with whiskey, Bryan choosing Hudson Manhattan Rye and Kevin a sensible Maker's Mark on the rocks.
Tyler introduces us to our new favorite place called Pasta Lovers, he dishes about the exciting app that is making Broadway more Accessible, and his unique road to becoming a co-producer of ONCE ON THIS ISLAND. Kimberly leads us through an upcoming-Broadway-themed round of "Plot Points," Tyler takes a dizzying journey to "Kevin's Corner," and then we play "Playbill Chase" with a stack of Playbills and Lights of Broadway Show Cards.
Kevin and Bryan gush about HELLO, DOLLY with Bernadette Peters and Victor Garber (GET IN THE CAR, SYDNEY!) and Kevin and Kimberly share why they enjoyed AMY AND THE ORPHANS (But you could see ANDY AND THE ORPHANS). If you listen to this episode...YOU'RE THRIVING! So join in as our new buddy Tyler Mount gets Broadwaysted!
Listen to the episode here:
---
About Tyler: Tyler Mount is an actor, stage manager, and Creator & Host of The Tyler Mount VLOG on Playbill and YouTube. Tyler is also currrenly a co-producer on the hit Broadway revival Once on this Island. Follow him on Twitter and Instagram @TylerGMount
---
About the Show: Broadwaysted: Where we're drunk on Broadway! Literally. This isn't your typical theatre podcast. Come "take a glass together" with us every Tuesday!
Join our cocktail hour as we pour a few rounds, play some games, and chat all things theatre with your favorite members of the Broadway community. From current hits, to past flops, and future stars, Broadwaysted drinks to it all. It's a place to unwind, be yourself, and hang out among friends who love what you love. Feel like you're at the table with your host Bryan Plofsky, co-host Kevin Jaeger, game master Kimberly Cooper, and amazing guests! Let's all get Broadwaysted!
Twitter: @Broadwaysted
Instagram: @Broadwaysted
Bryan's Twitter: @nuttyplofessor
Kevin's Twitter: @JaegerKev
Kimberly's Twitter: @KimberCoops
Related Articles

Broadwaysted: Where we're drunk on Broadway! Literally. This isn't your typical theatre podcast. Come "take a glass together" with us every Tuesday! Join our cocktail (read more...)