Click Here for More Articles on THE FRIDAY SIX
THE FRIDAY SIX: Get to Know Your Favorite Stars- RED ROSES, GREEN GOLD's Maggie Hollinbeck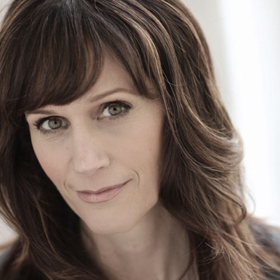 Want to know what hooked your favorite Broadway stars to a career in the theater? Dying to know more about their dream roles? Their Broadway crushes? Every Friday afternoon, BroadwayWorld is bringing you THE FRIDAY SIX: Q&As with the best of Broadway and beyond.
In this week's edition, we caught up with Maggie Hollinbeck, who is currently starring in RED ROSES, GREEN GOLD at the Minetta Lane Theatre. Click here for tickets!
---
What is the first Broadway show you ever saw?
I'm pretty sure it was The Tap Dance Kid. Alfonso Ribeiro FTW!
What is your most unique pre-show ritual?
I can tie myself up in mental knots thinking about all the possible ways I could screw up tonight's show, so before I go onstage I say a little prayer and turn the whole thing over to - whatever you want to call it, God, Goddess, The Universe, Infinite Intelligence, Spirit - I put myself in the hands of that which is greater than myself. It calms me down and centers me into the present moment.
What is your most memorable "the show must go on" moment?
I played Fruma Sarah in a summer stock production of Fiddler on the Roof, and in order to be a huge and scary dream figure I stood on top of a 4-foot-tall rolling platform, seat belted to a pole, which was rolled around by a guy who stood between my legs underneath a 10-foot-tall nightgown while I sang and waved these big puppet arms around. Closing night, we made our big sweeping entrance across the stage but a wheel caught as we made our hairpin turn toward Tevye's bed, and the whole contraption fell backward - in slow motion, thanks to the nightgown/parachute. At first I didn't know what to do so I laid on the ground, wildly waving my puppet arms in the air and singing my opening verse, hoping that somehow someone could just push me upright again; meanwhile the rest of the cast slowly crowded around me in shock. I finally admitted defeat, laid down my puppet arms and burst into gales of laughter, at which point the cast and audience did the same thing! The curtain came down, everyone helped me out of the contraption, it was righted and I climbed back on, the curtain went back up and out we went for a second entrance with thunderous applause from the relieved and amused audience.
What is the one role you want to play before you die?
Diana in Next To Normal.
Who is your Broadway crush?
It changes all the time! Currently a three-way tie between Laurie Metcalf, Ivo van Hove, and Rachel Chavkin.
Where can people follow you online?
www.maggiehollinbeck.com, Instagram @maggiehollinbeck