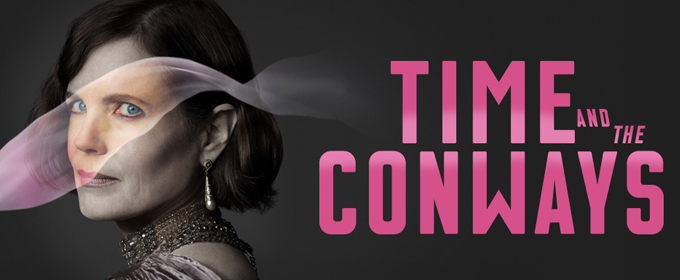 Click Here for More Articles on TIME AND THE CONWAYS
Review Roundup: TIME AND THE CONWAYS Kicks Off the Fall Season- All the Reviews!
Roundabout Theatre Company presents the new Broadway production of J. B. Priestley's Time and the Conways, directed by Tony winner Rebecca Taichman (Indecent). The play returns to Broadway for the first time since its premiere in 1938 and opened officially October 10, 2017.
Time and the Conways stars Elizabeth McGovern as "Mrs. Conway," Steven Boyer as "Ernest," Anna Camp as "Hazel," Gabriel Ebert as "Alan," Charlotte Parry as "Kay," and Matthew James Thomas as "Robin," with Anna Baryshnikovas "Carol," Brooke Bloom as "Madge," Alfredo Narciso as "Gerald," and Cara Ricketts as "Joan."
In 1919 Britain, Mrs. Conway ("Downton Abbey's" Elizabeth McGovern) is full of optimism during her daughter's lavish twenty-first birthday celebration. The Great War is over, wealth is in the air, and the family's dreams bubble over like champagne. Jump nineteen years into the future, though, and the Conways' lives have transformed unimaginably. This time-jumping play by J.B. Priestley (An Inspector Calls) takes place at the crossroads of today and tomorrow - challenging our notions of choice, chance and destiny.
Let's see what the critics had to say...
---
Jesse Green, The New York Times: All this loving attention to the play's philosophical superstructure does little to alleviate the stiffness of the actual scenes, which are filled with the kind of canned dialogue and bald exposition that Monty Python and other English satirists would come to savage a few decades later. Perhaps it is not surprising, then, that the performances - including that of Ms. McGovern, who lately played a mother of similar vintage but more anodyne personality on "Downton Abbey" - are often overstated.
Michael Dale, BroadwayWorld: To call Priestley's play timeless would be too obvious a play on words, but in this time when Americans are wondering which side of the economic ladder their elected officials are favoring, plays like Time and the Conways offer warnings from the past about the possibilities for the future.
Matt Windman, amNY: Except for a handful of striking moments, the play comes off as a boring mishmash of Chekhov's "The Cherry Orchard," Sondheim's "Merrily We Roll Along" and, of course, "Downton Abbey." Perhaps it would work better with an all-English cast that possesses ensemble unity. Here, the performances are uneven - and so are the accents.
Adam Feldman, TimeOut NY: It's unclear why the Roundabout has chosen to mount this play, except perhaps that director Rebecca Taichman has staged it before, and Elizabeth McGovern, who played the kindly matriarch of a comparable family on Downton Abbey, was available to play the mother. The production features solid work from most of the actors, including Charlotte Parry as the intellectually ambitious Kay, Anna Camp as her pretty but vacuous sister Hazel, Steven Boyer as Hazel's brutish suitor-a bullet of a man-and Brooke Bloom, who makes welcomely bold choices as the sour socialist Madge. But Time and the Conways requires a stronger gravitational force than McGovern's airy performance provides. The center does not hold.
Charles Isherwood, Broadway News: Priestley is not always subtle in pointing out how precisely things have gone wrong for the characters; some ironies seem to land like bricks, and while the fog of disillusion is convincing, we in the 21st century cannot be expected to find all his revelations to be, well, revelatory. But for the most part "Time and the Conways," presented here with impressive polish, has weathered the years with impressive grace. Time can be cruel to people, but on occasion it can at least be kind to works of art.
Allison Adato, Entertainment Weekly: The ideas are not terribly complicated, but illuminating them fully here would constitute a small spoiler. Suffice to say that, for anyone feeling steamrolled by the years, his words are reassuring even today. As deftly handled by director Rebecca Taichman (a 2017 Tony winner for Indecent), Priestley's metaphysics are poignant where, in less able hands, they could come off as annoyingly mystical. And while its Downton connection might fill seats, The Conways, despite some superficial period similarities, reveals its own complex pleasures - just give it time.
Sara Holdren, Vulture: If only the play itself lived up to the extravagant - and admittedly powerful - visual metaphor that Patel and Taichman have created for it. But despite intermittent moving moments, the text often feels clunky, dated, and more than a bit sentimental. Taichman, whose work with her actors is sharper in the second act, overplays the first act's saccharine notes, and Paloma Young's costumes fall into the same trap: In 1937, they're crisp and evocative. In 1919, they feel like cotton candy - too sugary, too fluffy, too, well, costume-ish. With so many nails being hit squarely on the head, out in the audience it's easy to feel caught in one of Dunne's time-bending premonitions: We're constantly ahead of the events unfolding in front of us.
Jeremy Gerard, Deadline: Coming right off her deserved Tony win for staging Indecent, the director offers a case study of her own theory of time and its consequences: Indecent was the product of several years' development with the playwright and a fully integrated company. Time and the Conways, on the other hand, feels stitched together in a hurry, a costume drama with no coherent point of view and performances so at odds with one another as to screech like chalk on slate. McGovern is the chief victim of this; her shrill performance lacks the conviction necessary to make this monster mom compelling or even much more than a vague annoyance.
Joe Dziemianowicz, New York Daily News; Without the time-leaping construction, the play is pretty conventional. It also has an annoying habit of overexplaining itself. In this case, a character quotes William Blake, noting that "joy and woe are woven fine." Good and bad ebb and flow in life. Well, yeah. While ideas are underlined and highlighted, characters tend to be fairly one-dimensional. But under the sensitive direction of Rebecca Taichman (a Tony winner for "Indecent"), a first-rate ensemble breathes vibrant life into the adult Conway children.
David Rooney, The Hollywood Reporter: Its inorganic mysticism aside, the play functions more readily as a naturalistic English drawing-room drama of the period, examining the shifting tides of wealth and class, the cost of bourgeois complacency, the failure of political idealism, and the loss of prosperity, position and security for one well-off Yorkshire family between the wars. Those themes provide a kinship to Chekhov, particularly The Cherry Orchard and Three Sisters, though this is a vastly inferior work to those plays, or to Priestley's better-known An Inspector Calls. However, Roundabout at least deserves credit for casting its net beyond the established classics....Time and the Conways is a funny old play, interesting more for its structural adventurousness than its thematic trenchancy. And while Taichman and her uneven cast can't obscure the writing's weaknesses, the production closes on a forceful note that makes it retroactively quite satisfying.
Tim Teeman, The Daily Beast: There is a disconnect between the big themes of Time and the Conways and its smaller-framed domestic sagas. It's hard to like or care about the characters, who exist in two fundamentally off-putting registers: When they are up, they are rah-rah party kittens playing charades, and when they are down they are grizzly and miserable. We don't know what has happened to them, beyond a few blunt specifics like Ernest's abusiveness. It is hard what to deduce of Mrs. Conway's bizarrely inconsistent moods, or Kay's portents of doom, when both characters are given scant depth. This is an oddly airless play, and it feels even more lost in a large Broadway theater.
Nicole Serratore, The Stage: Though it boasts a stellar ensemble and considered direction by Rebecca Taichman, the production struggles in the first act which is played too broadly. But Taichman tightens things up in the second act...The performances are strong. Parry and Ebert exude quiet suffering. Brooke Bloom radiates energy as the lively socialist sister who disintegrates under her mother's cruelty. Elizabeth McGovern's frivolous matriarch is a little less varied but in keeping with the piece while Steven Boyer, as an ardent working-class suitor, becomes terrifying as his character ages.
Marilyn Stasio, Variety: Priestley best articulates his faith in that soothing belief system in the last movement of the play, when Kay has a metaphysical epiphany vividly realized by Neil Patel (set), Christopher Akerlind (lighting), and especially Matt Hubbs (sound). It's a great scene, but first we have to get there, and the erratic directorial style makes that rougher than it needs to be.