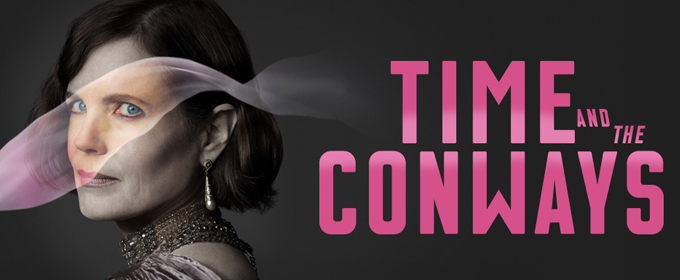 Click Here for More Articles on TIME AND THE CONWAYS
BWW Review: Rebecca Taichman Delves Into Serialism With J.B. Priestley's TIME AND THE CONWAYS
When J.B. Priestley's absorbing and poetic drama, Time and the Conways premiered on the West End in 1937, you couldn't blame London audiences if they felt a bit wistful observing the playwright's wealthy Yorkshire characters feeling carefree and invincible as they emerged from the so-called War To End All Wars picturing nothing but Happy Days ahead.
If those late 1930s audiences only knew, as audiences at director Rebecca Taichman's graceful and visually surprising Roundabout production now know, the even greater horrors that would lie ahead.
In presenting the Conway family as a representation of the kind of luxurious naivete that left Great Britain unprepared to recognize the dangerous political climate on the European continent that would escalate into another world war, the playwright plays with time in a manner that pulls at emotions.
The third act, set in 1919, is a continuation of the action from the first act. Wedged between them is a second act that takes place on the same date in 1937. The structure has the audience wondering how, after the joyful optimism of the play's first third, everything has gone so wrong eighteen years later. The slip back in time hints at the answers.
The structure also emphasizes the play's theme, inspired by J.W. Dunne's theory of Serialism; the belief that past, present and future all exist simultaneously on parallel planes, explaining feelings of déjà vu, precognitive dreams and the sense of an afterlife.
With set designer Neil Patel and lighting designer Christopher Akerlind, Taichman offers the audience entrancing glimpses of how human existence can transcend time.
Elizabeth McGovern plays widowed Mrs. Conway as a bubbly Jazz Age Madame Ranevskaya, who, like Chekhov's haughty matriarch from THE CHERRY ORCHARD, is oblivious to how fragile wealth can be if not properly cared for.
As the play begins, her young adult children are giddily preparing costumes for a game of charades to liven up an off-stage party. Hazel (Anna Camp), considered the most attractive and desirable of her daughters, is looking forward to marrying well and living on champagne and caviar. Kay (Charlotte Parry) only desires the chance to be a great novelist, while Madge (Brooke Bloom) plans to help humanity through socialism.
Anna Baryshnikov gives off an angelic appearance as Carol, the daughter with no material or social ambitions, whose simple desire to live a happy life becomes a symbolic vessel for the playwright.
Matthew James Thomas gives off a sexy swagger as Robin, who has just arrived home as a war hero, in stark contrast to his shy, unambitious brother, Alan. Gabriel Ebert, a Tony winner for MATILDA and last seen on Broadway giving an excellent turn as the doomed husband of THERESE RAQUIN, is beautifully heartbreaking as the soft-spoken clerk who shows warm intelligence in a scene wonderfully enhanced by sound designer Matt Hubbs' evocative scoring.
Steven Boyer, a Tony nominee for his last Broadway appearance as the introverted puppeteer of HAND TO GOD, shows versatility with convincing portrayal of a smug young businessman who is capable of turning on the kind of charm that can attract Hazel.
To call Priestley's play timeless would be too obvious a play on words, but in this time when Americans are wondering which side of the economic ladder their elected officials are favoring, plays like Time and the Conways offer warnings from the past about the possibilities for the future.
Featured This Week on Stage Door
Shoutouts, Classes, and More from Your Favorite Broadway Stars
Related Articles
After 20-odd years singing, dancing and acting in dinner theatres, summer stocks and the ever-popular audience participation murder mysteries (try improvising with audiences after they?ve (read more about this author...)