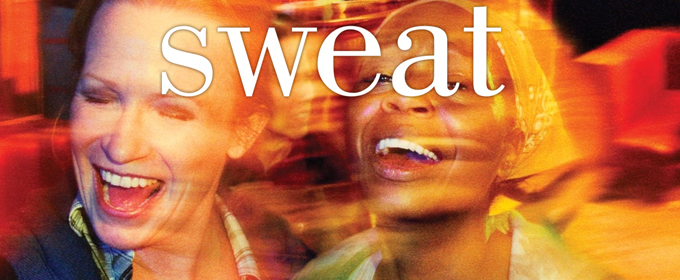 Click Here for More Articles on SWEAT
Review Roundup: SWEAT Drips Onto Broadway - All the Reviews!
SWEAT, the new play by Pulitzer Prize winner Lynn Nottage, directed by Kate Whoriskey opens tonight on Broadway at Studio 54.
Sweat tells the story of a group of friends who have spent their lives sharing drinks, secrets and laughs while working together on the line of a factory floor. But when layoffs and picket lines begin to chip away at their trust, the friends find themselves pitted against each other in the hard fight to stay afloat.
The full cast includes Carlo Albán (Oscar), James Colby (Stan), Khris Davis (Chris), JohAnna Day (Tracey), John Earl Jelks (Brucie), Will Pullen (Jason), Lance Coadie Williams (Evan), Michelle Wilson (Cynthia), and Alison Wright (Jessie).
Let's see what the critics have to say...
---
Ben Brantley, The New York Times: Though it is steeped in social combustibility, "Sweat" often feels too conscientiously assembled, a point-counterpoint presentation in which every disaffected voice is allowed its how-I-got-this-way monologue. And this thoughtful, careful play only seldom acquires the distance-erasing passion of Ms. Nottage's "Ruined," the 2009 Pulitzer Prize winner about female casualties of the Congolese civil war..."Sweat" is best at its muddiest, when love and hate, and the urges to strike out and to comfort, teeter in precipitous balance. That's when Ms. Nottage's characters, and the cast members who embody them, emerge in their full tragic humanity.
Michael Dale, BroadwayWorld: While the decline of American communities when jobs are sent to other countries is a familiar subject, Nottage's even-handed treatment of multiple viewpoints, giving sympathy to all sides, makes Sweat a truly realistic and moving tragedy that, sadly, has gained relevance on its way to Broadway.
David Cote, Time Out NY: Director Kate Whoriskey's fluid and propulsive staging benefits from an excellent cast led by the fearless triad of JohAnna Day, Michelle Wilson and Alison Wright, who play plant drones and tight friends destabilized when one of them moves into management. James Colby adds sensible notes as a kindhearted but ineffectual bartender, and the vibrant Khris Davis and Will Pullen are young buddies whose hope curdles into anger and violence. Sweat communicates its points with minimal fuss and maximum grit. Along with the rage, despair and violence, there's humor and abundant humanity.
Chris Jones, Chicago Tribune: "Sweat" is inarguably a schematic socialist drama - and hardly the first to play at Broadway prices to mostly upper-middle-class urbanites - that clearly decided in advance what it wanted to say about the state of the nation. Its conclusion is not a surprise. But - and, along with a mordent wit, this is its mitigating strength and greatest asset - "Sweat" also is a moral, passionate and richly articulated cri de coeur from one of America's leading African-American Playwrights aimed squarely at the ongoing inability of her hate-spewing white Brothers and Sisters to accurately locate the cause of their problems and to quit trying to drown the next worker trying to snag a spot in the lifeboat speeding away from the wreck of industrial America.
Robert Kahn, NBC New York: Nottage, the Pulitzer Prize-winning author of "Ruined," eloquently captures the malaise among a group of longtime coworkers at a Berks County, Pennsylvania, mill. As their career prospects fade-a fate one character attributes to "that NAFTA bulls--"-they turn on one another, leading to a climax that is no less upsetting, even when you know it's coming. "Sweat" should be hailed for its visceral performance by JohAnna Day, as the conniving and xenophobic Tracey, a longtime floor worker who sees her job as a generational entitlement.
Matt Windman, amNY: "Sweat" is an involving drama, calibrated to increase in intensity toward its brutal climax. Nottage, who won a Pulitzer for "Ruined," explores her characters and their environment with the sensitivity of a master dramatist and the objectivity of a journalist. She doesn't provide any answers, only the faintest hope that people will take care of each other, even in desperate circumstances.
George Hatza, Reading Eagle: It serves its characters with dignity and insight, and wears the mantle of metaphor for an economically challenged and increasingly inhumane nation with power and grace. More than ever, "Sweat" is about despair, about darkness and deprivation usurping a once bustling city. What Nottage envisions is nothing less than the transformation of the traditional American hometown into a dystopia. It is also a triumph of compassion and furious truth.
Jeremy Gerard, Deadline: These are fully realized characters who, especially when acting on their worst fears, are grippingly human. Drawn in part from interviews the playwright and director conducted with workers in western Pennsylvania, Sweat never feels less than authentic - and crucial. That said, Sweat still suffers from preachiness and some stilted writing that raise the volume and add exclamation points where none are necessary. This seems to have worsened in the expansion to a Broadway house, where the speechifying, especially by Day's overwrought Tracey, too often registers as harangue. Too much hollering.
Caitlin Brody, Entertainment Weekly: Sweat features a truly remarkable ensemble and it's a struggle to take your eyes off any one of its layered characters. Far timelier now than when it debuted at the Oregon Shakespeare Festival back in 2015, Sweat offers a heartbreaking glimpse into the domino effect of what happens when life as you know it is pulled out from under you
Joe Dziemianowicz, New York Daily News: Broadway plays don't get much more topical than "Sweat," a portrait of lost American dreamers adrift in an economic wasteland. At Studio 54, the play grabs you with its ripped-from-the-headlines social and political resonance. It also loses its grip due to predictability and a miscalibrated staging...It is not a pretty picture. But it is as straight-up and real as it gets. Too bad performances frequently don't ring true in director Kate Whoriskey's staging. Too often actors don't look and sound like people talking, but performers emoting. It becomes distracting and pulls you out of the story.
Tim Teeman, The Daily Beast: It is refreshing to hear characters talk about politics as urgently, and realistically, as people are affected by it. Sweat is politics as lived and spoken about on the ground, not as an abstraction, and not as Washington power-game, or a shrieking panel on CNN. Sweat is the first, properly muscular play of the Trump era, directly addressing the political and cultural bedrock of his presidency: Nottage has already won the 2016 Susan Smith Blackburn Prize. The politics of the play, while clear and emphatic, do not supersede the careful drawing of character
Jesse Green, Vulture: What I realized seeing the play again is that its central conflict - between Tracey, who is white, and Cynthia, who is black - is trumped-up. This is not to say that longtime friendships have not been shattered over work disputes, or that work disputes have not surfaced the subcutaneous racism of white people hanging on to their last scrap of privilege. But nothing in Sweat convinces us that these particular women, as established, could develop in the way the play forces them to. Tracey especially, despite Johanna Day's valiant performance, is bent so far out of shape by the dramatic agenda that she no longer makes any sense.
Linda Winer, Newsday: In a way, this feels like a throwback to Depression-era drama. The depression, however, is ours. The urgency, the deep specifics of the characters make the conventional structure an essential, almost radical part of the storytelling. The relationships are so multilayered, the economic and cruel racial realities so clear that fancier stagecraft might just get in the way.
Marilyn Stasio, Variety: Nottage wrote "Sweat" after extensive interviews with people in Reading, which accounts for the solid character work and stretches of realistic dialogue. The plot is less successful for trying to cover every conceivable labor issue, from the failure of collective bargaining and the ultimate collapse of the trade unions to the toll on company towns when the local factory, coal mine or steel mill goes under. But credit the writer for giving many forgotten Americans a voice.
Related Articles