Point Foundation Will Honor Laura Benanti and Ronan Farrow at Annual Gala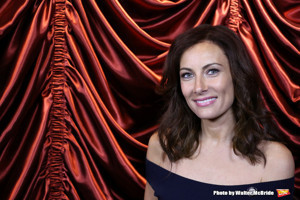 On Monday, April 9th, Point Foundation will hold their annual Point Honors Gala New York to recognize leaders in the LGBTQ community and celebrate Point Scholars and Alumni. The evening will celebrate the accomplishments of LGBTQ students and honor two figures for their continued work within the LGBTQ community: Tony Award-winning actress Laura Benanti and journalist Ronan Farrow.
Comedian Michelle Collins will serve as host for the event with a performance from Jussie Smollett (Empire). Additional guests to include: Ted Allen, Don Lemon, Celia Keenan-Bolger, Thomas Roberts, Jenna Ushkowitz, David Mixner, Larry Flick, Eileen Kelly (Killer and a Sweet Thang), Valerie Smaldone, and others.
Journalist Ronan Farrow, will receive the Point Courage Award, which recognizes those who have advocated for the future of the LGBTQ community and believe in the vision that investing in today's potential will produce a brighter tomorrow. The award will be presented by journalist Thomas Roberts.
Broadway superstar, Laura Benanti is receiving the Point Impact Award, which is presented to an individual making a significant impact on improving the LGBTQ community. The award will be presented by Tony nominee Celia Keenan-Bolger.
Point Honors New York 2018 will take place on Monday, April 9th at The Plaza (768 5th Avenue, New York, NY). Cocktail hour will begin at 6:30 p.m. with a dinner and awards ceremony at 7:30 p.m.
Find out about sponsorship and table buying opportunities here. For more information and tickets, please visit: www.pointfoundation.org/HonorsNY18.
Point Foundation is the nation's largest scholarship-granting organization for LGBTQ students of merit. Some of Point's 98 current scholarship recipients and 270 alumni will be present at the event to share their inspiring stories about how they have overcome challenges to get their higher education degrees.
Point Foundation empowers promising LGBTQ students to achieve their full academic and leadership potential - despite the obstacles often put before them - to make a significant impact on society. Point Foundation promotes change through scholarship funding, mentorship, leadership development, and community service training.
Related Articles
More Hot Stories For You