Photos: UK Spamalot Breaks Coconut Orchestra Record
To coincide with St George's Day, Monday 23 April 2007, the London cast of Monty Python's Spamalot, along with Python's Terry Jones and Terry Gilliam and 5,567 members of the public, set a new record for the world's largest coconut orchestra.
Conducted by Michael England, Spamalot's Musical Director, the Pythons and the Spamalot cast taught a packed Trafalgar Square how to 'clip-clop' in time to the Python classic "Always Look on the Bright Side of Life."  The record-breaking attempt, which took place at 7pm, was part of a weekend of free activities organised by the Mayor of London and was followed by a special screening of Monty Python and the Holy Grail.  Craig Glenday, Editor in Chief of Guinness World Records, was on hand to officiate.  Once the registration forms had been counted and verified he declared that 5,567 members of the public had taken part in the attempt and he congratulated everyone on breaking the official record by 'quite a sizable amount'.
Later that evening, after the performance of Spamalot back at the Palace Theatre, Craig Glenday joined the Terry Jones, Terry Gilliam and the cast on stage to present them with their official world record breaking certificate.  The Guinness World Record for the largest number of people gathered in one location playing coconuts at the same time stood at 1789.  This was set on March 22, 2006 outside the Shubert Theatre in New York, to celebrate the one year anniversary of the Broadway production of Monty Python's Spamalot.
Currently playing to packed houses at the Palace Theatre, Monty Python's Spamalot has recently extended its booking until 3 November 2007. Directed by Mike Nichols, Monty Python's Spamalot is "lovingly ripped-off" from the screenplay of the Pythons' best-loved film, Monty Python and the Holy Grail by Graham Chapman, John Cleese, Terry Gilliam, Eric Idle, Terry Jones and Michael Palin.  Telling the legendary tale of King Arthur and the Knights of the Round Table, and their quest for the Holy Grail, Monty Python's SPAMALOT features a chorus line of dancing divas (and serfs), flatulent Frenchmen, killer rabbits and a legless knight. Book and lyrics are by Eric Idle with a Grammy Award-winning score by Eric Idle and John Du Prez.
Visit www.montypythonsspamalot.com for more information.
Photos by Dan Wooller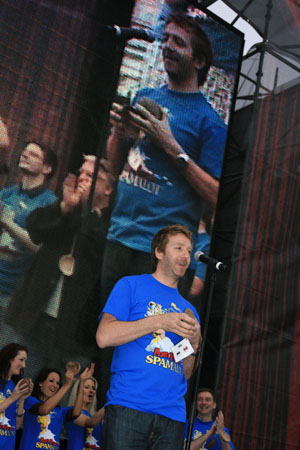 David Birrell (Patsy)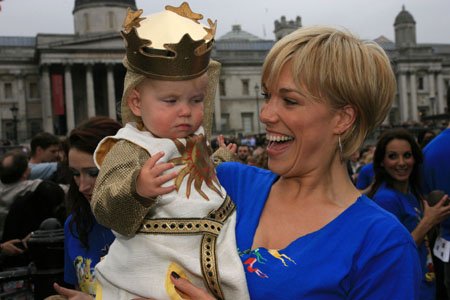 Hannah Waddingham (The Lady of the Lake) holds Evie Peters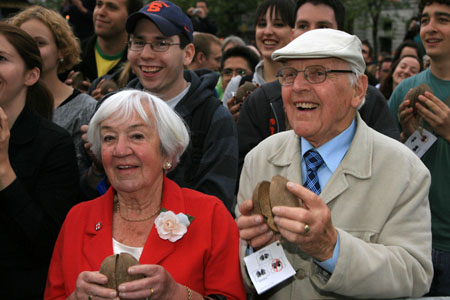 Coconut musicians

Coconut orchestra

Terry Jones

The London cast of Spamalot