Photo Flash: See the Creative Team from KING KONG at the Jacob Burns Film Center
Tuesday, August 21, the Jacob Burns Film Center (Pleasantville, NY) screened the original 1933 classic King Kong before scheduled to come alive on Broadway this fall. The screening was followed by a Q&A with the Musical Creative Team, including curator Dori Berinstein, director/choreographer Drew McOnie, set & projection designer Peter England, creature designer Sonny Tilders and executive producer Babara Darwall Collins.
King Kong follows the ambitious young actress Ann Darrow and maverick filmmaker Carl Denham as they voyage from the bustling streets of 1930s New York to an uncharted island to capture the world's greatest wonder. At the center of this theatrical reimagining, a 2,000-pound, 20-foot high gorilla and the woman who risks everything to help him.
Life on the Stage series is presented in partnership with The Actors Fund, a national human services organization that helps everyone- performers and those behind the scenes- who work in performing arts and entertainment. Programs include social services and emergency financial assistance, health care and insurance counseling, housing, and employment and training services www.actorsfund.org.
Photo credit: JBFC A/V Staff

Dori Berinstein, Drew McOnie, Peter England, Sonny Tilders, Babara Darwall Collins

Dori Berinstein, Drew McOnie, Peter England, Sonny Tilders, Babara Darwall Collins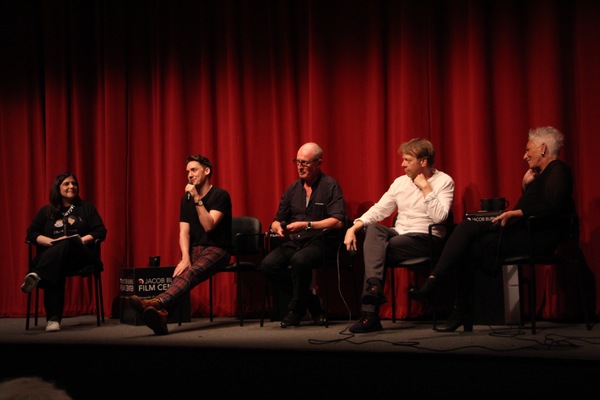 Dori Berinstein, Drew McOnie, Peter England, Sonny Tilders, Babara Darwall Collins