Photo Flash: Kristin Chenoweth, Michael Feinstein Highlight SONGBOOK CELEBRATION in Carmel
An unforgettable performance by Kristin Chenoweth topped a star-studded evening Saturday as the Center for the Performing Arts hosted its 6th Annual Songbook Celebration presented by Krieg DeVault. The gala in the elegant Palladium concert hall drew 550 attendees and raised over $600,000 to support the Center's artistic and educational programming. BroadwayWorld has photos from the event below!
Michael Feinstein, artistic director for the Center and founder of the Great American Songbook Foundation, led tributes to this year's Songbook Hall of Fame inductees: singer Ella Fitzgerald and lyricist Ray Gilbert, both honored posthumously, and singer-dancer-actress Mitzi Gaynor, who announced the donation of her own extensive collection of musical charts and other memorabilia to the Foundation's archives.
Joining Feinstein in the tribute performances were three current and former Songbook Youth Ambassadors, winners of the Foundation's annual Songbook Academy summer intensive and competition: Annie Yokom (2010), Julia Goodwin (2013) and Finn Sagal (2017). The Academy is the nation's only such program for high school students, focusing on the jazz standards, classic Tin Pan Alley compositions and Broadway and Hollywood tunes that comprise the Great American Songbook.
"This being my first gala as the full-time president and CEO of the Center and the Foundation, I am extremely grateful to Kristin, Mitzi, Michael and all of our other performers, staff and volunteers for making it such a hugely successful evening," President/CEO Jeffrey McDermott said.
The Foundation's Songbook Archives & Library holds more than 100,000 items representing creators, performers and publishers of timeless popular music, including sheet music, recordings and other artifacts from artists such as songwriters Meredith Willson (The Music Man), Johnny Burke ("Swinging on a Star"), Gus Kahn ("It Had to Be You") and Hy Zaret ("Unchained Melody").
The Gaynor collection features original charts, orchestrations and other memorabilia covering six decades of her performing career on stage, television and recordings, including:
· selections from many composers of the Great American Songbook, including George and Ira Gershwin, Irving Berlin, Rodgers and Hammerstein, Cole Porter and Harold Arlen, as well as more contemporary composers such as Stevie Wonder, Peter Allen and Paul McCartney
· orchestrations by such acclaimed arrangers as Billy May, J. Hill, Billy Byers, Jerry Fielding, Pete King and Russell Garcia
· charts from her 1959 Verve albums Mitzi and Mitzi Sings the Lyrics of Ira Gershwin
· charts created for her live stage shows, beginning with her 1961 debut at Las Vegas' Flamingo hotel
· charts used in her eight Emmy-winning network television specials from 1968 to 1978, including fan favorites "Let Go," "You Are the Sunshine of My Life" and "Everybody Loves My Baby."
"This is an important collection that spans a vital era in American entertainment history," said Chris Lewis, the Foundation's executive director. "Now, these materials will be available to performers and researchers long into the future."
The 2017 Songbook Celebration was sponsored by Krieg DeVault LLP with additional support from Katz, Sapper & Miller and First Merchants Bank.
Photo Credit: Bill Crawford (unless otherwise specified)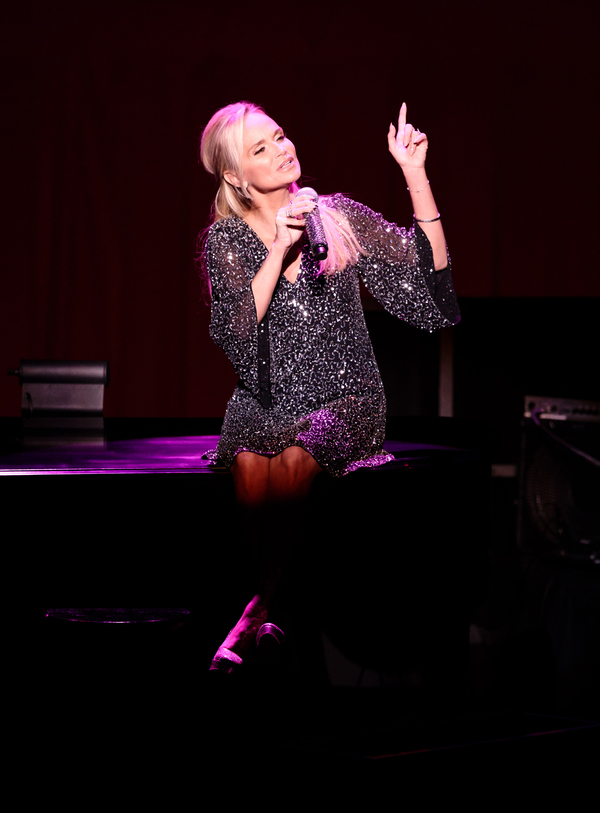 Kristin Chenoweth delivers the headline performance during Saturday's Songbook Celebration at the Palladium, an annual fundraiser for the Center for the Performing Arts' artistic and educational programming.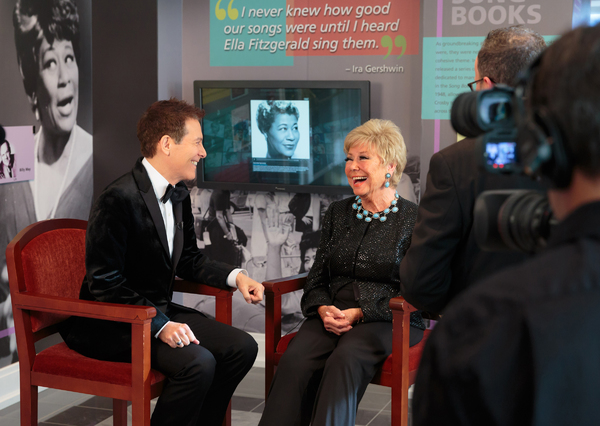 Michael Feinstein talks with Great American Songbook Hall of Fame inductee Mitzi Gaynor about her donation of materials to the Great American Songbook Archives. Photo by Sara Crawford.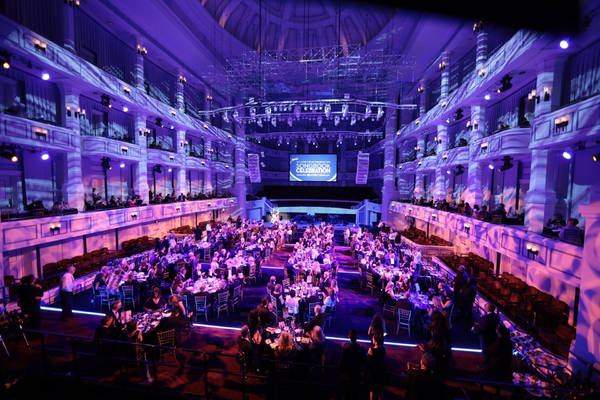 More than 500 guests attended the 6th Annual Songbook Celebration on Saturday at the Palladium.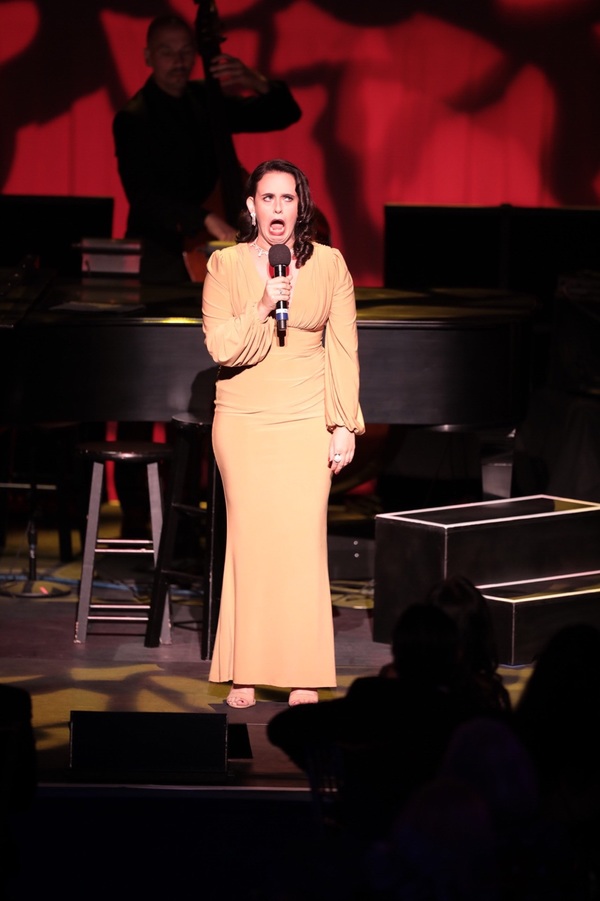 Annie Yokom, 2010 Songbook Youth Ambassador, performs 'A-Tisket, A-Tasket' in tribute to Songbook Hall of Fame inductee Ella Fitzgerald.

Finn Sagal, 2017 Songbook Youth Ambassador, entertains guests during the gala's after-party.

Julia Goodwin, 2013 Songbook Youth Ambassador, performs a medley in tribute to Songbook Hall of Fame inductee Mitzi Gaynor.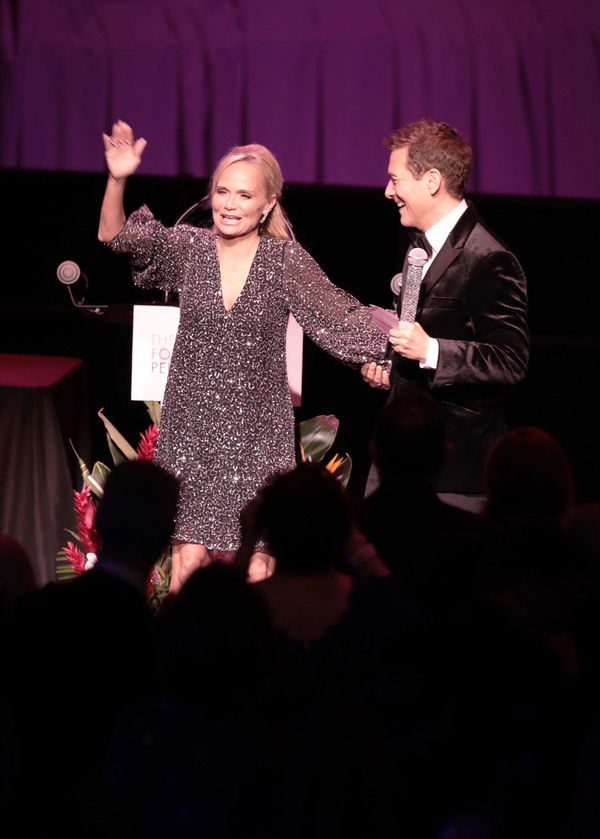 Kristin Chenoweth and Michael Feinstein share the stage for a rendition of Jerome Kern's 'All the Things You Are.'