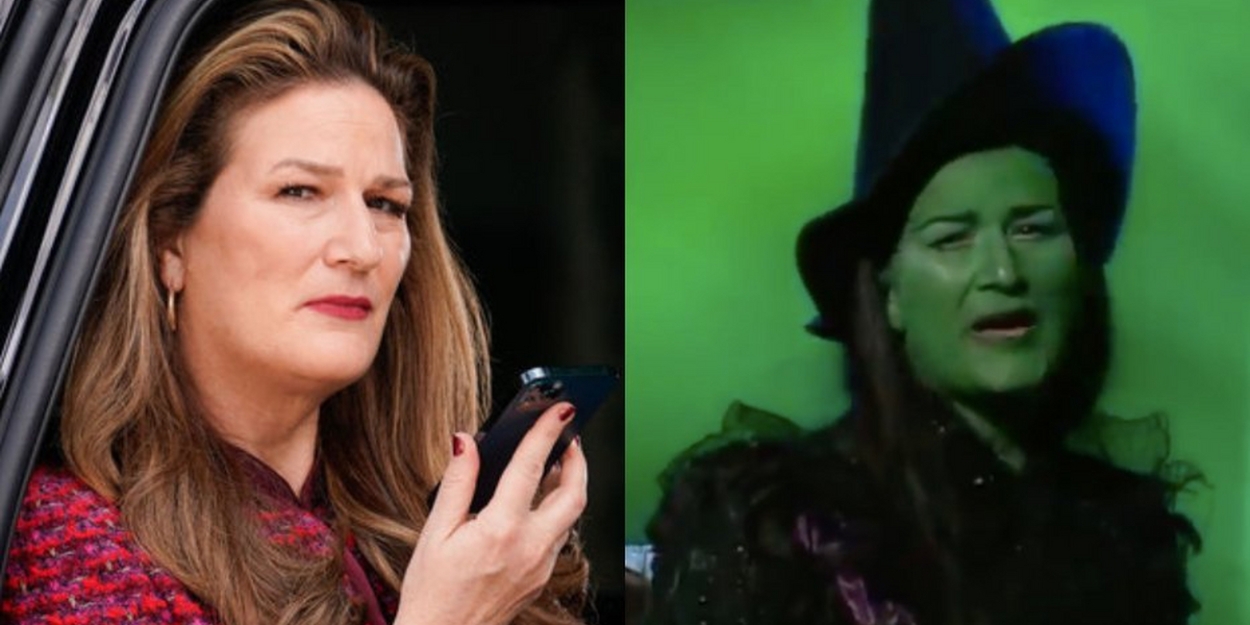 Interview: Ana Gasteyer Reveals What Her AMERICAN AUTO Character Would Think of WICKED
New episodes of American Auto premiere Tuesdays at 9:30 p.m. ET on NBC and will stream the next day on Peacock.
Ana Gasteyer is showing people who's boss on the second season of American Auto on NBC and Peacock.
From the creator of "Superstore" comes a new workplace comedy that takes the wheels off the automobile industry. Set in Detroit, the corporate executives of Payne Motors are at a crossroads: adapt to the changing times or be sent to the junkyard.
Shaking things up is the new CEO, Gasteyer's Katherine Hastings, whose leadership, experience and savvy is only slightly offset by her complete lack of knowledge about cars. Luckily, her team has some of the best minds in the business - when they aren't fighting or trying to outwit each other. From the corporate office to the factory floor, the crew of Payne Motors is driving home the laughs.
BroadwayWorld sat down with Gasteyer to discuss what to expect from the upcoming season, the differences between Saturday Night Live and Broadway, and what her character, Kat Hastings, would have thought of Wicked.
---
We're a couple episodes into the new season of American Auto, so how does it feel to be back?
Fantastic. It really does. It's, you know, the second season thing is so nice because, like everything, it's an ensemble and we're kind of firing as a little community on all cylinders now, so to speak. It's just great. It's really fun. I think that the episodes are really strong this season and everyone seems to know like their little job in the machine that we make every week together. So it's nice
You know, people are still discovering the show, which is nice. The one great advantage of having this concurrent streaming thing out there is that if people haven't heard of you, they don't have to wait until next season to find you. They can go back and binge this first season based on something we see in the second, which is nice.
You guys work so well together as an ensemble. When you were going into the second season, did you feel that sense of establishment? What was it like going back into it for the new season?
I mean, Justin [Spitzer] writes these fantastic scenes that are really long for television, you know? They're sometimes over four pages. As you I'm sure are aware, if you're a fan of the show, it's a very rapid fire dialogue. It's got a theatrical clip to it, you know? I think getting to know one another's nuances and voices is incredibly helpful, just being able to run that kind of dialogue in a really consistent way.
So coming back again, I think that's sort of answering your question. It's kind of corny to say it, but it's almost symphonic, you know, like everybody's got their little piece of the rhythm or the melody that they're playing. We're very familiar in an orchestral way with which note we're hitting and when in those scenes so it's nice and it's fun, just as an acting game, because these characters are incredibly self-absorbed, even though they are working together, and so everyone has their little agenda that they're pushing in their own dialogue. It's a fun game to play of like listening, but not really listening, but purely selfishly motivated. It's fun.
It really does feel like you guys have kind of just like the perfect recipe for that traditional NBC workplace comedy. How do you think that American Auto adds on to shows like Parks & Recreation and The Office?
I definitely think it's of the moment as well. We're dealing with huge HR problems that are incredibly relevant to today's workplace that just didn't exist 10 years ago. Both from a political standpoint, from a diversity standpoint, I feel like we have a much more diverse and accurate representation of the American workplace. I feel like we're able to tell stories as a result that feel very contemporary.
We're also just dealing with the corporate people. So you have the kind of built in comedy of clueless rich people. I feel like Americans are just hipper. I feel like what would've been relegated to like MSNBC and CNN 10 years ago it feels like is more household conversation. People are more aware of the power of shareholders and the vulnerabilities that companies face in this day and age because they're being held or not held accountable accordingly. So I feel like the show just kind of dances around all of that, if that makes any sense. The writing can kinda have fun with everything from, you know, the stock price.
Then there's just simple things like, yes, we've had female leads, but we haven't had a female lead who's the CEO. I mean, there's still only 8% of Fortune 500 companies have them. So there's just some demographic differences, I guess, would be the way to put it with all of those little shifts, you know, with representation, you tell different stories and it's nice.
Switching gears a little bit, we love to see you on stage and you've sort of done a plethora of different things on stage, live comedy shows, cabarets. Now that you're working back on like a television comedy series again, what are some of the pros and cons to doing comedy in front of a live audience and without a live studio audience?
They're really different animals. I don't really think so much about comedy live or not as I do about when I think of the stage, I think of singing more than anything else, and sort of the intimacy and the immediacy of live music performance. There's just nothing like it.
In terms of doing comedy per se, like, I mean, it's been a long time since I was on SNL, even though it's live television, it's not quite like being on stage live. You still have an audience there, but you're still very much playing for the cameras on Saturday Night Live. You are vulnerable because it's live and you are kind of subject to the timing variances and things like that, that are restraints that are placed upon you by being on a television show live. But, um, that's more about having to move really quickly, it has less to do with the audience.
Audience, I feel like in the live theater is where you really get a live audience vibe because you're uninterrupted by commercial breaks, you're uninterrupted by mechanics. It's just so much more intimate. It's you and the fourth wall and the audience andthat's kind of an irreplaceable vibe. So that's a very different kind of comedy than single camera comedy, which is, again, especially in our show, I think all about pace and all about being as truthful and somewhat self-aware, but having fun with the most kind of real version of ridiculous you can.
As much as I love the series, we miss hearing you sing. So if you could ever pitch any sort of musical moment, musical number on American Auto, would you have any ideas? Can you ever picture Kat Hastings singing at all?
You know, I'm actually a real stick in the mud about that because whenever I'm on a TV show, of course creators want to use everything you've got in your little bag of tricks. I'm such a bummer because I always feel like the Kat Hastings of the world absolutely cannot sing. Like, there's something that distinguishes me from them as a human being and that is that I could. So yes, I wanna sing again, but I don't ever wanna sing as Katherine because she just doesn't have that kind of creativity available to her.
In fact, she probably studies it scientifically, you know? I'm sure she saw Wicked, but she definitely saw it nine years running. She saw the 22nd Elphaba and she was pretty impressed, but then she was really excited about where she was going to dinner. We had like a karaoke thing in one of the episodes. I don't wanna even sing as Catherine. Like maybe she's good at it, but you know, those people have their gifts and we have ours. [Laughs].
Looking forward into the rest of the season, what can audiences expect?
Oh, boy, that's a really good question and of course I don't have an answer. I mean, I think they're fantastic episodes, I think the ensemble is tight. I think as the stakes mount, one thing that I love that our showrunner Justin has done is that they really deal with our show in an arc in a way that they know people will be binging. So we are careening towards D-Day, which is the six month edict laid down by the board where sacrificed my job basically on a six month bargain that we can get the stock price up so long as he doesn't fire the rest of my team. So as we careen towards it, let me just say, there's a lot of things that happen. Some of them involve live animals and car crashes.
---
Watch the season two trailer for American Auto here:
Photo by: Greg Gayne/NBC