Innovative Performances Of Traditional Japanese Art Forms Featured In Borrowed Light: Innovation In Ancient Arts At The Nuyorican Poets Cafe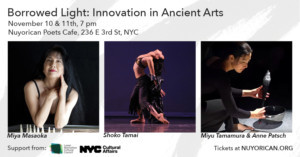 This November, the Nuyorican Poets Cafe presents two nights of performances that fuse traditional Japanese art forms with contemporary creative practices. A musician plucks sounds from the air using a laser interface combined with a 1,300-year-old instrument; a dancer melds the elegant movements of ancient warriors with ballet; and a calligrapher uses a centuries-old practice to reveal a new language hidden within our electronic communications.
Borrowed Light features three performances by classically-trained female artists of Japanese heritage (Miya Masoaka, Shoko Tamai, and Miyu Tamamura) who work at the cutting edge of innovation and experimentation. The program is curated by Anne Patsch, and made possible with support from the Lower Manhattan Cultural Council. A subsequent exhibit of calligraphic work created during these performances will take place at the Wild Project.

Miya Masaoka's hybrid acoustic electronic performance uses her proprietary creation, the Laser Koto, an interfaced version of the 8th century Japanese string instrument. The performance interweaves acoustic and processed koto sounds generated in real time. Masaoka's innovation with the koto stems from an interest in "aural gesturalism," a term she coined that refers to a physical act that is performed with a musical intention, yet makes no sound. The unique "non-sonic" hand gestures that accompany gagaku koto playing led Masaoka to expand the realm of the instrument. Her innovative and virtuosic approach to the koto has evolved for over two decades.
Masaoka is a composer, sound artist and classically-trained musician based in New York City. Her work operates at the intersection of spatialized sound, frequency and perception, performance, social and historical references. Her work has been exhibited at the Venice Biennale, Park Avenue Armory, MoMA PS1, Kunstmuseum Bonn, Institute of Contemporary Art Philadelphia, Museum of Contemporary Art Chicago, and the Laboratorium for Contemporary Art Museum at Ujazdowski Castle and Siggraph. Miya Masaoka is the director of the Sound Art MFA program at Columbia University and has been named a Park Avenue Armory Studio Artist in 2019.

Shoko Tamai is an internationally-renowned dancer and choreographer who founded the Ninja Ballet dance company in 2016. Ninja Ballet's performances fuse the elegance of classical ballet with thrilling martial arts fight choreography; Tamai has pioneered a new genre in which Swan Lake meets the Matrix. For Borrowed Light, she has choreographed a performance that explores the concept of strength through invisibility.
Shoko Tamai began her classical ballet training at the age of two and has since toured with The Central School of Ballet (London, UK), The American Academy of Ballet (NYC, USA), The Paris Opera (France) and The Madrid Ballet School (Spain). She has performed at notable venues included London's Royal Opera House, Shakespeare's Globe Theater, and The Theatre Royal in Glasgow. She was a Finalist in The World Ballet Competition and a Gold Medalist in the New York Ballet Competition (via the American Academy of Ballet).

In Tamamura and Patsch's collaborative performance, 'Invisible Language', Sho calligraphy is used to emulate the movement patterns of fingers as they type common text messages. When Tamamura moves her brush to map the movements of thumbs texting specific phrases, complex and compelling kanji-like symbols emerge. These symbols are part of a hidden language we have all learned, and every day we increase our fluency as we pick up our phones and our fingers glide from key to key. By revealing an unconscious process that accompanies digital communication, 'Invisible Language' uncovers a beauty in mindfully engaging with technology.
Miyu Tamamura is a native of Kyoto who has practiced Sho, Japanese calligraphy, for decades. Her calligraphy designs have been sold as prints and cards nationwide. Her passion for calligraphy and the healing arts has lead to public art performances where audiences experience the power of creation in action.
Anne Patsch is a New-York-based curator and artist. Her practice revolves around seeking out subtle or invisible phenomena around us. Her work has been shown nationally and internationally, including exhibitions at The American Embassy of Rome; Carnegie Museum, Pittsburgh; Collins Gallery, Glasgow; and Nautilus Art Temporary, Berlin.

Since 1973, the Nuyorican Poets Cafe has served as a home for groundbreaking works of poetry, music, theater and visual arts. A multicultural and multi-arts institution, the Cafe champions the use of spoken word and music as means of social empowerment for minority and underprivileged artists. Our community of spectators, artists and students is a reflection of New York City's diverse population. Allen Ginsberg called the Cafe "the most integrated place on the planet", the Wall Street Journal says the Cafe is "a thriving arts center with partnerships across the city" and John Leguizamo says the Cafe "put the street on stage... Made our lives real, our emotions real."

The production runs for approximately ninety minutes, with two brief intermissions.
TICKET PRICES: $20 online; $24 at the door; $15 for students at the door with valid ID
TO PURCHASE TICKETS:
Visit www.nuyorican.org or use these shortcuts:
Tickets for 11/10: bit.ly/borrowedlight1
Tickets for 11/11: bit.ly/borrowedlight2

The Nuyorican Poets Cafe (located at 236 East 3rd Street, between Avenues B and C in Manhattan) is a short walk from the 2nd Avenue Station of the F train and the Essex/Delancey Station of the J/M/Z trains. For more detailed directions or other information about the Nuyorican Poets Cafe, visit www.nuyorican.org or call 212-780-9386

A subsequent exhibit of calligraphic work created during this program will take place at Wild Project, which is located at 195 E 3rd St, between Avenues A and B in Manhattan. For information about the Wild Project, visit www.thewildproject.com.

Borrowed Light is made possible in part with public funds from Creative Engagement, supported by the New York City Department of Cultural Affairs in partnership with the City Council and administered by Lower Manhattan Cultural Council (info: LMCC.net).

Additional in-kind support provided by the Nuyorican Poets Cafe and media partner Arts Japan 2020.
Related Articles
More Hot Stories For You