GROUNDHOG DAY's Gerard Canonico Joins On The Quays And Cas Di Cultura's Aruban Premiere Of RENT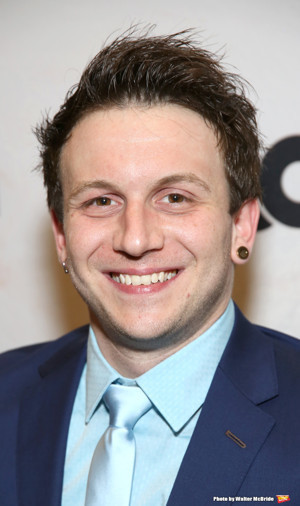 Gerard Canonico (Groundhog Day, American Idiot, Spring Awakening) has joined cast of On The Quays and Cas Di Cultura's Aruban production of 'RENT'.
Canonico will play the role of Roger Davis in the Tony and Pulitzer Prize winning musical's Aruban premiere at Cas Di Cultura - Aruba's National Theatre, beginning November 1st. The limited engagement will play through November 5th. This marks the first time the world famous musical will have ever been performed in Aruba, signifying a very exciting moment in Cas Di Cultura's history.
In addition to Canonico, RENT features a cast of professional actors from New York City, including Janet Krupin (If/Then, Bring It On), Michael Quadrino, Jonathan Christopher, Will Bellamy, Zia, Zachary Infante, Magdiel Cabral, Hannah Fairchild, Hakim Rashad McMillan, Injoy Fountain, Joseph Spinelli, Evan Maltby, Matt Engle and Lisa Helmi Johanson.
Nicola Murphy directs, with music direction by Keiji Ishiguri and choreography by Tommy Bracco.
RENT will be Cas Di Cultura's first major professional theatrical event in its 69 year history. Vicky Arens, the new managing artistic director was eager for a chance to bring a professional production from New York City to Aruba.
"I was fortunate enough to watch RENT's original cast in 1996 at the Nederlander," Arens said. "It was truly a life changing experience of finding beauty in a rugged looking theater space and finally understanding the realness of it all. I became a fan right then and there. Aruba is going through changes and development, socially, artistically, and culturally. This is the right time to introduce RENT to our community and we are most excited to be a catalyst for that."
Cas Di Cultura is working with Muse Theater & Events in Aruba on the production of the show on the island. Dyon Lutter, founder of Muse believes that RENT is an important story to tell.
"When Vicky Arens came to me for help with RENT, I was really interested," said Lutter. "I read about the story and immediately saw the importance to tell such a story in Aruba We've been working on this project for almost a year and are very eager to make it happen!"
Last September, Aruba joined only a handful of Caribbean nations to grant registered partnerships for same-sex couples. This is a significant step forward for Aruba and the LGBTQ rights on the island. One of RENT's central themes is love. The show celebrates love of all kinds, using it as means to cope with loss and struggle, encouraging the audience to "measure your life in love".
RENT is produced in New York City by On The Quays, an international Production Company founded in September 2016 by Nicola Murphy, Michael Quadrino, Keiji Ishiguri, Matt Engle, and Jenna Tanzola. Dedicated to creating and producing work in theatre, film, and digital media, they are inspired to tell relevant and engaging stories. Their production of RENT previously played a sold-out, critically acclaimed run at the Edinburgh Festival Fringe, the largest performing arts festival in the world. The production garnered 5-star reviews, hailed as "RENT for a new generation, with a faultless cast, exquisite performances, and vocals that move the soul."
RENT begins performances on November 1st at 7:00pm and continues with performances on November 3rd, 4th at 8:00pm and November 5th at 3:00pm at Cas Di Cultura - Joost van den Vondellan 2, Oranjestad. Tickets are $27/50AFLS and can be purchased in person at Cas Di Cultura's box office, Super Food Plaza, Cosecha San Nicholas, and the concierges at many of the hotels. Tickets can also be purchased by calling +297 582 1010.
More information about RENT On The Quays can be found at www.onthequays.com.
Information on Cas Di Cultura and Muse can be found at www.casdicultura.aw and www.arubamuse.com.
Photo Credit: Walter McBride / WM Photos