Grandma Cher, No Meryl? What We Learned From the MAMMA MIA! 2 Trailer!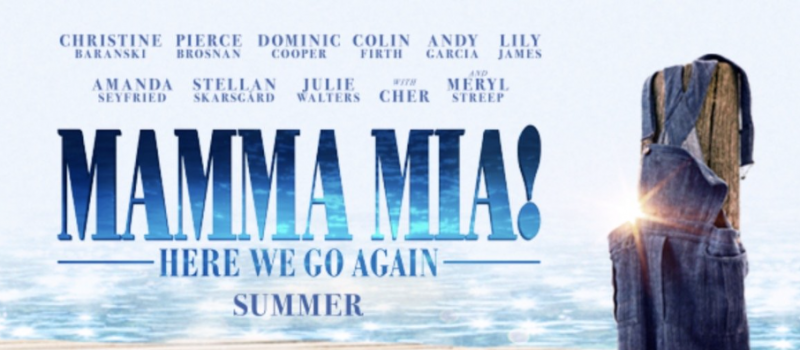 Universal Pictures' MAMMA MIA! HERE WE GO AGAIN has released its first official trailer! Based on the Broadway musical, the new installment will hit theaters on July 20, 2018. Check out the full trailer here!
Oscar winner Meryl Streep will reprise her role as Donna in the film, alongside Julie Walters as Rosie and Christine Baranski as Tanya. Amanda Seyfried and Dominic Cooper will also return as Sophie and Sky, while Pierce Brosnan, Stellan Skarsgård and Colin Firth return as Sophie's "dads" Sam, Bill and Harry.
Joining the cast will be Lily James as 'Young Donna', Alexa Davies as Young Rosie and Jessica Keenan Wynn as Young Tanya. (Go Green). Also appearing will be Young Sam played by Jeremy Irvine, Young Bill played by Josh Dylan and Young HARRY played by Hugh Skinner. Ol Parker writes and directs the sequel from a story by Catherine Johnson, Richard Curtis and Parker. Benny Andersson and Björn Ulvaeus will provide music and lyrics and serve as executive producers.
We could hardly sleep last night knowing that the MAMMA MIA HERE WE GO AGAIN TRAILER would be released today. After we watched it (and replayed it again and again), we noticed some important details that clue us in to where the sequel is heading!
Take a look at our thoughts below!
---
Is Meryl Streep's Donna Dead?
The Internet was freaking out this morning after the trailer dropped hints that Donna, played by Meryl Streep, died. Donna's pals Tanya (Christine Baranski) and Rosie (Julie Walters) tell Donna's daughter Sophie (Amanda Seyfried) about Donna's past. "Your mother was the bravest person we ever knew," the friends say to Sophie (notice the past tense), "Let me tell you how she did it, all on her own." Could our iconic Donna be dead? The trailer seems to hint so. We were not expecting that twist!
---
Grandma Cher! We repeat, Grandma Cher!
Just when you thought the trailer was over, here comes Cher dressed in all white from head to toe, looking fabulous as usual. We learn that Cher is playing Sophie's Grandma and Donna's mother. We also learn that she wasn't necessarily invited to the festivities. Her response to the cold welcome? "That's the best kind of party, little girl." We don't know what kind of trouble she will cause, but we cannot wait for her to mix it all up!
---
Is Sophie The New Leading Lady of Donna and The Dynamos?
There is a shot of Sophie in the center of the Tanya and Rosie, in the spot where her mother always stands, performing. Could she perhaps be taking over for her recently deceased mother in the band? It will take some getting used to not seeing Donna as the lead, but we think the only true replacement for Donna is Sophie.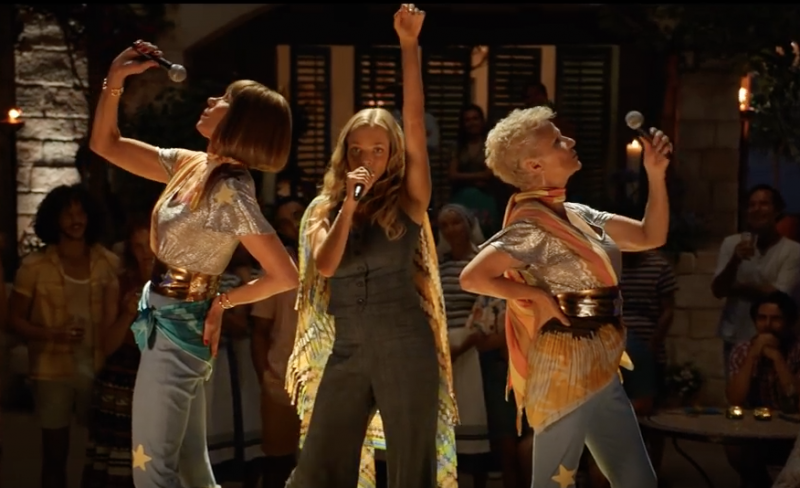 ---
The Movie Will Have a Healthy Dose of Flashbacks
Sophie discovers her mother's past in the sequel, allowing for a lot of flashbacks. There is a whole new cast of "young counterparts," including Lily James as "Young Donna." We imagine at least half the movie will be spent in the past, as about half the trailer focused on the past. We are excited to get to know more of Donna's past!
---
Sophie is Pregnant
The reason Sophie gets back together with Tanya and Rosie is because she is getting ready for motherhood. This fact leans us closer to the fact that Donna has passed away, if she is not seeing her mother in the present for mom advice. We are happy for Sophie and Sky (Dominic Cooper), but sad that Donna may not possibly meet her grandchild.
---
Lily James is Perfect Casting For Young Donna
Lily James looks exactly like we imagine a Young Donna (and for that matter a young Meryl Streep) would look like. She captures her personality so well, while also giving her a breath of fresh air. Plus, she sings beautifully. Filling Donna's fabulous shoes is not an easy task, but we feel confident in Lily's abilities.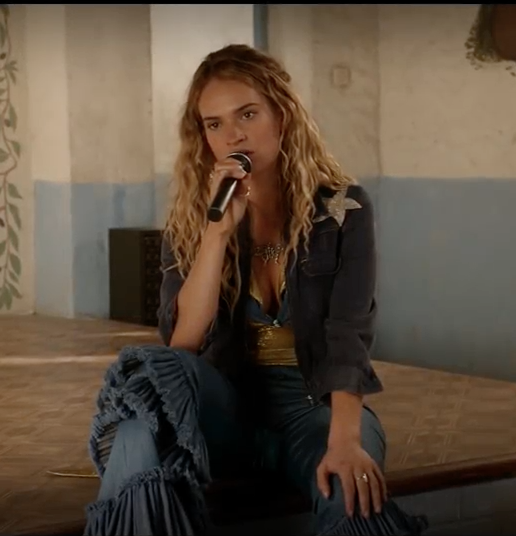 ---
Hearing ABBA Will Never Get Old
Is this even a revelation or just the truth? As soon as the beat for "Dancing Queen" kicked in toward the beginning of the trailer, we instantly got chills. And then the theme song "Mamma Mia" creeps in, and we could not help but sing along. Long live ABBA!