Cast Announced For Rebel Playhouse's THE FANTASTICAL DANGEROUS JOURNEY OF Q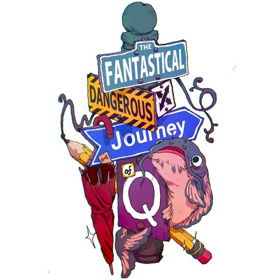 Emerging theater for young audiences, Rebel Playhouse, is thrilled to announce the cast of its next world premiere production, THE FANTASTICAL DANGEROUS JOURNEY OF Q, written by Ric Averill with music and additional lyrics by Dax Dupuy, directed by Sarah Sutliff, with music direction by Christina Bottley, and co-presented by The Theater at the 14th Street Y. The show tells the story of Q, an upper elementary student struggling with gender and identity issues.
The cast of The Fantastical Dangerous Journey of Q will be: Liza Couser (The Feather Doesn't Fall Far From the Wing, Signature Theater); Adelaide Dicken (butyou'reaman or: The Seven Men I Came Out to in India, NY International Fringe); Mia Longenecker (Sandwich Program, The Public); Jasmin Malave (Stinky Kids The Musical, Vital Theatre Company); Jacqueline Salvador (James and the Giant Peach, Atlantic Theater Company); and Bryan Walton (It Came From Beyond, St. Luke's Theater).
Rebel Playhouse's premiere show, Old Turtle and the Broken Truth, was nominated for New York Innovative Theater Awards for Outstanding Production of a Musical and Outstanding Choreography in 2017. New York Theatre Review said of Rebel Playhouse's world premiere of Loudmouth, "Making a great piece of children's theater - one that keeps kid's attention but also gets a message across - is like hitting a double bank shot in pool. And that's what the creative team at Rebel Playhouse has done."
Dramaturg Mak Morin says about The Fantastical Dangerous Journey of Q, "All ages can benefit from seeing a young person learning to embrace their identity despite all obstacles-cultural and emotional. [...] It is our hope that young people see themselves in Q and feel validated, but it is equally important to our team that those who don't identify with Q can either grow or shift their perspective in a way that benefits the Q and Nixes of the world."
Performances run December 1-16 at The Theater at the 14th Street Y and can be purchased online at https://www.14streety.org/theater-for-families/ or at the door.
The Fantastical Dangerous Journey of Q will additionally feature lighting design by Jo Cohen, dramaturgy by Mak Morin, and puppets designed by Rosa Douglas.

Related Articles
More Hot Stories For You
MATILDA THE MUSICAL Movie Is In The Works
Matilda the Musical is headed to the big screen!... (read more)

Dan DeLuca, Nicholas Podany, Keri Rene Fuller and More Will Perform at 54 SINGS HARRY STYLES at Feinstein's/54 Below
FEINSTEIN'S/54 BELOW, Broadway's Supper Club, will present 54 Sings Harry Styles on February 22nd, 2020 at 11:30pm. Get ready for an unforgettable cel... (read more)

The Public Theater Cancels THE TRUTH HAS CHANGED Due To 'Violations of Code of Conduct'
The Public Theater took to Twitter to announced that their production of The Truth Has Changed, which was part of their Under The Radar Festival, has ... (read more)

Four Connecticut Arts Organizations Sued In Connection with Sexual Abuse of Teen Girls
Lawsuits have been filed against four Connecticut arts organizations stemming from allegations of sexual abuse brought against local director, Daniel ... (read more)

Photo Flash: Michael McGrath, Erin Dilly & More Join PLAZA SUITE on Broadway; Go Inside Rehearsals!
Ambassador Theatre Group Productions, Gavin Kalin Productions, and Hal Luftig announced today the complete cast for the first-ever New York revival of... (read more)

Stephanie J. Block, Linda Lavin and More Will Star in World Premiere of Atlantic Theater Company's THE BEDWETTER
Atlantic Theater Company (Neil Pepe, Artistic Director; Jeffory Lawson, Managing Director) has announced casting for the world premiere production of ... (read more)