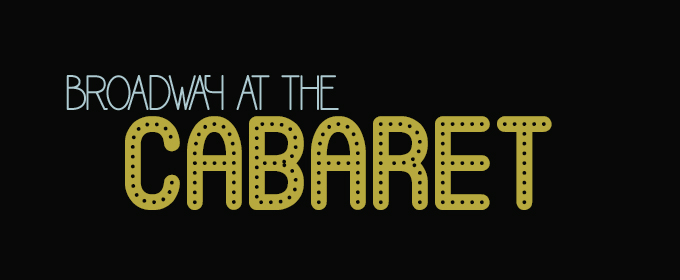 Click Here for More Articles on Broadway at the Cabaret
Broadway at the Cabaret: Frances Ruffelle, Jaime Cepero, Liz Callaway & More!
What good is sitting alone in your room this week? If you don't already have plans to see a Broadway show, come out to see your favorite Broadway stars in a cabaret act instead. After Broadway orchestras begin their overtures, ensemble members take their dance breaks, and performers belt out their eleven o'clock numbers, the party continues at various cabaret venues throughout New York City.
Below, BroadwayWorld brings you our top Broadway acts that can't be missed this week, May 20 - May 26, 2018. Come hear the music play!
---
Frances Ruffelle: LIVE(s) IN NEW YORK
May 20 at Green Room 42- BUY TICKETS!
How you know her: Les Miserables OBC
Tony Award winner Frances Ruffelle is back in town with her stunning solo performance: "Frances Ruffelle Live(S) in New York!" an intimate evening of song that whispers seductive secrets, lays bare the naked truth and explodes with the one of a kind bottle rocket charisma that's kept "Frankie's" ardent fans coming back for more since she created the iconic role of "Eponine" in "Les Miserables" and turned "On My Own" into one of Broadway's most beloved standards. "Frances Ruffelle Live(S) in New York!" is a wildly entertaining ride straight through the core of the most tender heart, fiery passion and loose comic confidence of a seasoned performer at the height of her game.
---
Jaime Cepero: Songs About Anxiety And The Boys That Played Me
May 20 at Green Room 42- BUY TICKETS!
How you know him: Smash!
Afro Latinx actor, writer, and activist Jaime Cepero swiftly became a fan favorite for his portrayal of love-to-hate character Ellis Boyd on the NBC musical series SMASH from executive producer Steven Spielberg. His musical FRANCOIS AND THE REBELS (a punk rock re-telling of the 1791 Haitian Slave Revolution) was recently produced through MTF Musicals at Joe's Pub to glowing reviews. Other film and television credits include MESS (Freddy) HereTV/Amazon, Indie features I Am Michael (Kidd) starring James Franco, Dating My Mother(Will), Daddy (Tee), and Disney's The Game Plan. He is an active voice for political activism - and recently received critical acclaim for his performance as CLAUDE in the 50th Anniversary revival rock musical "HAIR" at the Tony award winning Dallas Theater Center in TX. Join Jaime and a slew of broadway and recording stars as they bring to life his newest batch of music - and tell some awkward stories along the way.
---
Kathleen Turner
May 22 - June 2 at Cafe Carlyle- BUY TICKETS!
Screen icon Kathleen Turner has garnered critical acclaim for her performances in movies including Body Heat, for which she was nominated for a Golden Globe; Romancing The Stone and Prizzi's Honor, which earned her a Golden Globe Award for each; Peggy Sue Got Married, which brought Turner both an Academy Award nomination and a Golden Globe nomination; and War of the Roses, and yet another Golden Globe nomination. Turner's extensive film credits also include The Man with Two Brains, with Steve Martin; Jewel of the Nile, with Michael Douglas; The Accidental Tourist; V.I. Warshawski; John Waters' Serial Mom; Naked in New York; Moonlight and Valentino; The Real Blonde; and Sofia Coppola's The Virgin Suicides. Ms. Turner has also starred on Broadway in Cat On a Hot Tin Roof, for which she received a Tony nomination for Best Actress; Indiscretions; The Graduate; and Who's Afraid of Virginia Woolf, for which she received a second Tony nomination for Best Actress.
---
Liz Callaway: A Hymn to Her
May 20, 24, 25 & 27 at Feinstein's/54 Below- BUY TICKETS!
In A Hymn to Her, the all-new show from Emmy winner and Tony nominee Liz Callaway, Liz turns to the women who have inspired her to become the woman she is. Drawing from a vivid cross-section including Eydie Gormé, Barbara Cook, Carole King, Billie Jean King, Julia Child, Nora Ephron, and more, Liz pays tribute to her sheroes in story and song. In a career spanning four decades, Liz Callaway made her Broadway debut in Stephen Sondheim's Merrily We Roll Along, received a Tony Award nomination for Baby, and won acclaim as Grizabella in Cats for five years. She won the Emmy Award for her children's show "Ready to Go." She also starred on Broadway in the original casts of Miss Saigon, The Three Musketeers, and The Look of Love. She has recorded numerous solo albums, including the recent The Essential Liz Callaway and has toured the world as a major concert artist. She is also well-known as the singing voice of the title character of Anastasia, introducing the Academy Award-nominated song "Journey to the Past."
---
54 Sings Broadway's Greatest Hits!
May 25 at Feinstein's/54 Below- BUY TICKETS!
Previous volumes of this Scott Siegel concert event hit Feinstein's/54 Below like lightning! This was the show that every musical theater-lover had been waiting for... and now we're going to do it again, with a brand new line-up of Broadway's Greatest Hit Songs of All Time! If you skip through cast albums just to hear the very best songs in each show, this is the nightclub concert event for you. If you love the classics of the Great White Way, come and hear the songs that made Broadway great, that made your heart soar, that you used to sing (maybe still do) in the shower! But at Feinstein's/54 Below, you will hear the greatest Broadway songs of all time performed by today's greatest stars, singing them straight up, the way you want to hear them! Broadway's Greatest Hit Songs of All Time will be a thrilling night that you won't forget...
Related Articles
More Hot Stories For You
ANGELS IN AMERICA Tony-Winner Ron Leibman Has Passed Away
Tony Award-winning actor, Ron Leibman, best known to theatre fans for originating the role of Roy Cohn in the original Broadway production of Angels I... (read more)

Bernadette Peters To Host NEW YEARS EVE: CELEBRATING SONDHEIM with the New York Philharmonic
Tony Award winner Bernadette Peters will join the New York Philharmonic as host of New Year's Eve: Celebrating Sondheim, December 31, 2019. 'Considere... (read more)

THE SPONGEBOB MUSICAL: LIVE ON STAGE is Available to Purchase on Amazon Prime
Last night, Nickelodeon aired The Spongebob Musical: Live on Stage, a filmed version of the Broadway musical, which reunited members of the original c... (read more)

Voting Open For The 2019 BroadwayWorld Regional Awards Worldwide
Voting is NOW OPEN for the 2019 BroadwayWorld Regional Awards Worldwide, brought to you by TodayTix! The nominees are set, and now you can vote to mak... (read more)

Sally Struthers To Step Out Of ANNIE At Ogunquit Playhouse; Ruth Gottschall To Replace
Broadway's Ruth Gottschall has returned to the seacoast to step into the role of Miss Hannigan in the Ogunquit Playhouse production of Annie now on st... (read more)

Photo: First Look At Cynthia Erivo As Aretha Franklin On GENIUS
See the first image of Tony Award-winner, Cynthia Erivo, as soul legend, Aretha Franklin on the next installment of the National Geographic series, Ge... (read more)