Broadway Fans Unite to Support Broadway's 'Best Stage Doorman'
Donations have now surpassed $6K.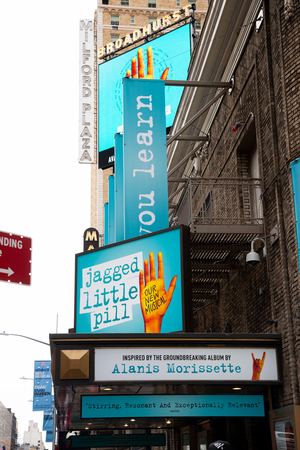 As first reported by Onstage Blog, Broadway fans have united in support of a special member of the community. After Ernest J. Paylor, doorman at the Broadhurst Theatre (recent home to Jagged Little Pill and Anastasia), was hospitalized last month, fans came to the rescue.
Kristy Poteat and Alisa Hurwitz called on the Jagged Little Pill fanbase to raise funds to help Paylor via GoFundMe, which has now reached over $6K in donations.
Since then, Paylor has released a statement of gratitude:
A message to you all...

Gratefulness & Gratitude:

How do you say thank you to people who taken their time to encourage you, support you, love you & open their wallets & pocketbooks to help you? I have been blown away by the generosity of my friends, Broadway families "Anastasia The Musical", "Freestyle Love Supreme " & " Jagged Little Pill" & most of all the fans of these shows. Broadway is shutdown and times are hard for everyone yet they have the finances to help me out. How do you thank these incredible people? How do you thank fans who may or may not have seen me at the stage door for their donations during this pandemic?

My heart is so filled with love for all of you. If you think I am strong going through this ordeal, you don't realize where my strength comes from.....YOU!!

You all make me strong when I am weak, give me hope when I feel hopeless & encourage me when I want to quit and just lay in this hospital bed & cry "why me, Lord"?

I was never born a rich man but God blessed me to have people like you in my life so I am vastly wealthy in friends..

I so love all of you & I am so grateful for each & everyone of you for your support. Your love & positivity sustains me and I will be forever humbled by your graciousness & love.

Love Always,
Ernie
Broadway's Best Stagedoor Man