Click Here for More Articles on DEAR EVAN HANSEN Film
Ben Platt Talks Broadway Return, MERRILY, DEAR EVAN HANSEN Film and More
According to Ben, there were a few Broadway offers on the table before coronavirus took hold.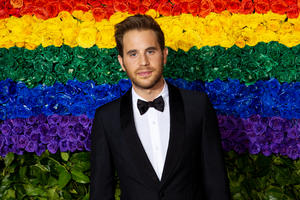 In a new interview with Deadline, Tony Award-winner Ben Platt has revealed updates on a few of his many upcoming projects, including his 'hankering' to return to Broadway following the pandemic.
According to Ben, there were a few Broadway offers on the table before coronavirus took hold.
He says, "I was really excited about the prospect of doing some sort of classic dramatic piece, a straight play, and sort of experiment with the experience of getting to have the live Broadway lifestyle without all of the stress of maintaining my vocal ability and all that. So we were looking at some titles, and I was talking to some producers, but nothing concrete."
He continued, "I'm definitely hankering - I think we're all hankering - to have live experiences. I'm certainly hankering to be back on stage and in the theater. I'm looking at film offers and scripts, but once it's possible, I'm certainly looking to get back on stage."
Ben also has two high-profile musical film projects in the works, a real-time adaptation of Stephen Sondheim's Merrily We Roll Along and the film adaptation of Dear Evan Hansen.
According to Ben, a portion of Merrily had already been filmed before the Covid-19 pandemic began.
"We have to reshoot that," Ben says, "The small amount that was filmed. So it's really like we're starting over."
The film is an adaptation of Stephen Sondheim's musical, which was based on the 1934 play of the same name by George S. Kaufman and Moss Hart.
The play takes place over the course of 20 years. Merrily We Roll Along follows Franklin Shepard, a talented Broadway composer who abandons his theater career in New York and all his friends in order to produce movies in Los Angeles. Like the play, the musical begins at the height of his Hollywood fame and moves backwards in time, showing snapshots of the most important moments in Frank's life that shaped the man he is today.
Platt will play Charley Kringas, opposite Tony and Golden Globe Award-nominee Beanie Feldstein as theatre critic Mary Flynn and Blake Jenner as Frank Shepard.
The film is being shot in reverse chronological order, as the play and musical end when the characters are in their mid-20s and just embarking on their entertainment careers.
Ben also discussed the likelihood that he will still be able to reprise his Tony-winning role in the Dear Evan Hansen film after Covid-19 effectively halted the film's production.
Last week, in response to Jimmy Fallon asking if the film is still happening, Platt said, "We're kind of in this weird COVID limbo where kind of anything can happen. It's something we definitely have been trying to get together and make happen. I know Universal really wants to make the film, and, you know, it's kind of a toss-up at this point, just based on, "Can we do it safely, and can we get it together in time?" And, you know, some of us are getting a little long in the tooth. So I think it's kind of a now-or-never kind of thing. But I'm hoping -- I'm hopeful that it can come together and we can find a safe way to do it."
It was recently rumored that Booksmart star Kaitlyn Dever is in talks to play Zoe Murphy in the adaptation opposite Platt who won a Tony Award for his portrayal of the title character.
In addition to his film roles, Ben has also been at work remotely on his second album throughout quarantine, he said, "I've obviously been promoting the things that have been coming out, but I've also spent a lot of time writing music for the second album that I'm trying to put together over Zoom with my cowriters."
Platt can currently be seen in the much anticipated second season of the acclaimed series, The Politician, which premiered exclusively on Netflix last month.
This year, Platt also unveiled the deluxe edition of his hit debut album, SING TO ME INSTEAD. The album has amassed over 60 million global streams and has earned acclaim from fans and critics alike. The album saw Platt making a remarkable arrival as a solo recording artist and a songwriter.
The winner of the 2017 Tony Award for Best Leading Actor in a Musical for his performance in Dear Evan Hansen, Platt is also the winner of a GRAMMY Award for his role on the cast recording of Dear Evan Hansen and a 2018 Daytime Emmy Award for his part in the cast's powerful performance of "You Will Be Found" on NBC's TODAY.
His body of work also includes memorable roles in The Book of Mormon and the blockbuster films, Pitch Perfect and Pitch Perfect 2, amongst many others.
Read the full interview at Deadline.