Click Here for More Articles on Backstage Bite with Katie Lynch
Backstage Bite with Katie Lynch: SUMMER's Storm Lever Cooks Up Some HOT STUFFed Peppers!
In Backstage Bite with Katie Lynch, come into Katie's kitchen with some of Broadway's brightest as they eat, drink and merrily mix it up. See your favorite stars out of their element as they whip up dishes inspired by their Broadway show. Watch what happens when these actors trade belting for baking!
In this episode, we bring you the star of Summer- Duckling Donna herself, Storm Lever! Check out the recipe for Katie's HOT STUFFed Peppers below!
Lever is making her Broadway debut in the role she created at La Jolla Playhouse! Off-Broadway: Dorothy in The Wringer (City Center). Regional: Freaky Friday (Signature Theater, Alley Theater, Cleveland Playhouse, La Jolla); Emotional Creature (Berkeley Rep); Kansas City Choir Boy (Arsht Center, Miami). New York theatre: Fashion Academy (Vital Theater); Good Swimmer (Prototype Festival).
Backstage Bite with Katie Lynch, is presented by In The Raw. The In The Raw family of sweeteners has been making life a little bit sweeter since 1970! From indulgent to mindful there's a sweetener for every occasion. Visit www.intheraw.com to learn more!
---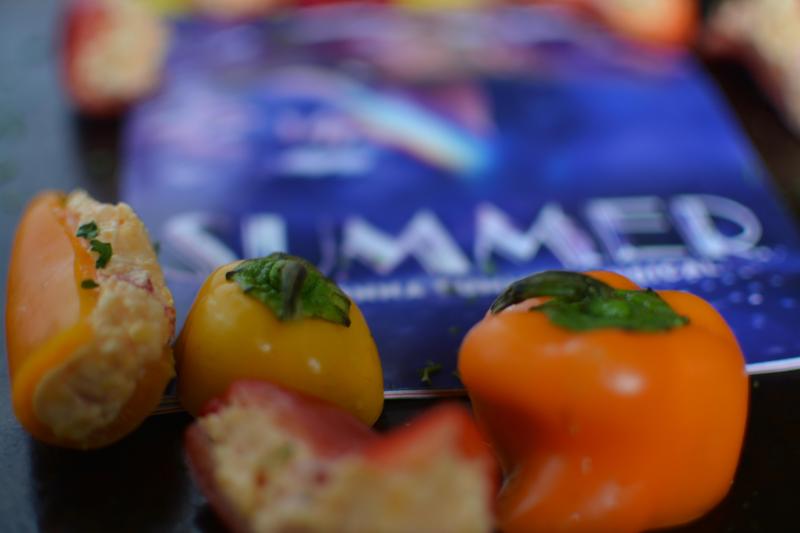 HOT STUFFed Peppers with Pimento Cheese
Ingredients:
-1 Bag Sweet Mini Peppers
-1C Plain Greek Yogurt
-8oz Freshly Shredded Cheddar Cheese
-4oz Freshly Shredded Monterey jack Cheese
-1/4C Chopped Pimento Peppers + Juice
-Cayenne Pepper to Taste
-Dried parsley
Directions:
-Slice Peppers in half vertically to make pepper boats.
-In a large bowl, mix together yogurt, cheese, pimentos and pimento juice until fully combined.
-Season with Cayenne pepper to desired level of spice.
-Stuff pepper boats with pimento cheese and garnish with parsley flakes.
-Set aside in fridge until ready to serve.
-Enjoy your sweet peppers to the sweet tunes of the Queen of Disco herself, Donna Summer!
Related Articles